Sinn Fein TD's eviction tweet 'cut deep' with Garda membership, says Harris
Justice Minister Simon Harris has said a Sinn Fein TD's sharing of an eviction artwork on social media "cut deep" within An Garda Siochana's membership.
TD Eoin O Broin said he did not intend to "drag" gardai into the political debate over the eviction ban, which was lifted on the same day the artwork was shared on Twitter and Instagram.
A Garda representative had criticised the party's housing spokesperson for misrepresenting the force, before Mr O Broin said the two had spoken and the issue had been clarified.
Sinn Fein president Mary Lou McDonald said it was not Mr O Broin's intention to "have a go" at gardai, and she was pleased clarity had been given.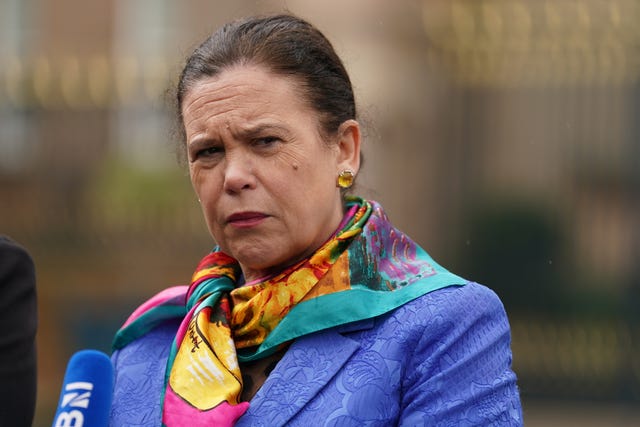 "He has been passionate in confronting the Government with the reality of the failures of their policies, and the sharpest end of that is the experience of homelessness," she said on RTE's Six One programme.
"It was never his intention to have a go at the gardai, it was always his intention to continue a very necessary commentary on the real effects of failed Government policies, one of the most traumatic of which is the experience of eviction – which, by the way, thousands and thousands of families are now facing."
The artwork Mr O Broin shared depicts Garda members and private security at a thatched cottage.
The image appears to compare a forced eviction in Dublin's Frederick Street in 2018 to Famine-era evictions in 19th-century Ireland.
Mr O Broin shared the image on Saturday alongside the caption "No words needed", and credited the artist Mala Spiosrai.
Antoinette Cunningham, general secretary of the Association of Garda Sergeants and Inspectors (AGSI), criticised the Dublin Mid-West TD for sharing the artwork.
"Gardai do have a role to play in evictions, as we know, but our role is simply to prevent a breach of the peace occurring," she said on RTE's Morning Ireland.
"So I suppose in relation to the tweet itself, it does misrepresent the role of gardai and sort of puts us out there and sets society against gardai when we are not the ones that have caused the issue in relation to this Government policy."
On Monday afternoon, Mr O Broin said he had had a "very positive phone conversation" with Ms Cunningham.
He said on Twitter: "I stressed it was not my intention to offend, criticise or drag An Garda Siochana into a political controversy.
"My intention was solely to highlight the issue of homelessness/evictions and criticise Government policy."
Ms Cunningham said it was "important and welcome" clarity from Mr O Broin, which she would convey to the AGSI membership in an address at a conference this week.
Mr Harris, who addressed the conference on Monday, told the membership that the force should not be used "as a political football in a game of 'kick the Government'".
Speaking to the media before the address, Mr Harris said the evictions artwork shared by Mr O Broin had "cut deep" with the force.
"I think it's been extraordinarily regrettable that he would endeavour to drag the men and women of An Garda Siochana into political debate," the Fine Gael minister said.
"We don't do that in this country. We have a police force – the Garda – who have policed with consent and with community support for a century.
"I think the image shared is an awful attempt to try and compare the Garda to perhaps some sort of colonial force of the past. So I welcome the fact that he has shown remorse."
Mr Harris said it was not his place to accept the apology, adding: "It's easy to send out a tweet, it's quite a different thing to put yourself in harm's way," as members of An Garda Siochana do.
It comes as figures from the Residential Tenancies Board showed it was notified of 4,329 notices to quit in the final three months of last year, with over half reporting that this was because they were selling their properties.
Housing Minister Darragh O'Brien said a notice of termination "does not necessarily result" in an eviction, but added that "a large number" of landlords appeared to be leaving the rental market.
The minister listed a number of policies and schemes that aimed to help prevent people from becoming homeless.
"It's also important that tenants are aware of their rights and that not all NoTs served and copied to the RTB will be valid, and if a tenant wishes to refer a dispute to the RTB as to the validity of any, I would encourage him or her to do so," he added.
Wayne Stanley, executive director of the Simon Communities of Ireland, said the figures were "very concerning".
He said that there were "very few options" for families to find new homes, particularly those on low or modest incomes.
"The Simon Communities across Ireland are particularly concerned that this will see homelessness grow in the coming weeks and months even beyond the current shocking levels," he said.
The latest homelessness figures, published on Friday, indicate there are 11,742 people homeless in Ireland, the second highest figure on record.
This figure is based on the number of people in emergency accommodation, and does not count rough sleepers, people in refuges or direct provision, or people who are couch surfing.
"These figures and the current state of the private rental market further call into question the decision of the Government to lift the moratorium on no-fault evictions," he said.