Judge dismisses 'flimsy' arguments from Enoch Burke in High Court case
A judge has dismissed what he called "flimsy" and "stupid" arguments from Irish teacher Enoch Burke in favour of a delay in a High Court case with his former employer.
Mr Burke has claimed that evidence submitted to the High Court in Dublin had been tampered with, as the case opened on Tuesday.
Representatives for Wilson's Hospital School in Co Westmeath denied the "outrageous" allegations "in the strongest possible terms".
After the judge ruled not to delay proceedings based on the allegations made by Mr Burke, a row erupted between Mr Burke and the presiding judge for over an hour, during which Mr Burke was asked by the judge if he had a problem with his ears.
Before the lunchtime break, the judge ruled that as he had been "continuously in contempt of court", Mr Burke will not be allowed to return to court when proceedings resume in the afternoon, and will be facilitated to watch proceedings via a video link.
Wilson's Hospital School and Mr Burke are pursuing claims against each other in the case.
Mr Burke was accompanied in the packed courtroom by his sister Ammi Burke, his brother Isaac and his mother Martina.
At the beginning of proceedings, Mr Burke told the court that he believed something from a book of evidence submitted to the court had been "tampered with" and "surreptitiously erased".
He said the matter concerned "the whole chassis of the case", and that it had been taken out of the booklet and replaced by the repeat of another email.
Mr Burke also complained of WhatsApp messages being typed out as evidence, and requested screenshots of the communications.
He said he noticed this while preparing for his cross-examination on Monday at 3pm, with "some of it balanced at the edge of the bed".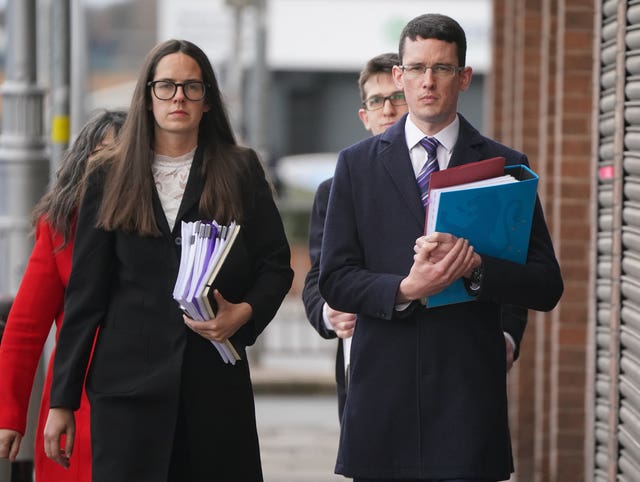 "I am bringing this to your attention now, it is misleading the court," Mr Burke said, calling the allegations "grave".
After a back-and-forth between Mr Burke and the presiding judge Mr Justice Alexander Owens, the judge rebuked Mr Burke over the manner in which he was addressing him.
"I'm not going to be cajoled by litigants, or barristers on behalf of litigants," the judge said, adding that he would "come down very heavily" on those who show disrespect in the courtroom.
Alex White SC, representing Wilson's Hospital School, rejected the allegations made against his solicitors and his client.
"The case should not be further delayed," Mr White told the court.
"There's no fraud, there's no tampering – Mr Burke is very quick to assign base motives to matters that don't suit him."
Mr Justice Owens ruled that he was not prepared to say that there had been deliberate tampering – adding that this was "most unlikely", as both sides had the original document where the material in question was still present.
The judge also said he was "wary" of Mr Burke's request for screenshots of WhatsApp messages as they should have been requested prior to the evening before the trial.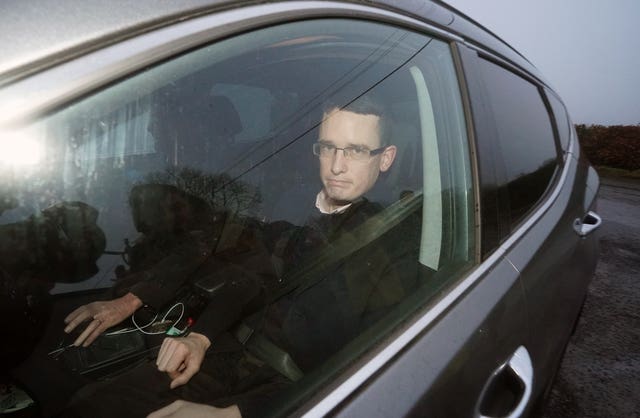 He also raised concerns about the minutes of meetings of the board of the school being sought that may not necessarily be relevant to the case.
"This isn't really a basis upon which there should be a delay of proceedings," he said, adding that he could not see how Mr Burke had been inconvenienced nor was he himself misled, and calling the arguments put forward "flimsy".
Mr Burke continued to address the court on the matter several times after this, despite the judge's objections that he had already ruled in the case.
"I've ruled in relation to this matter now, we cannot continue to hear… Mr Burke, have you some problem with your ears? I said I've ruled on this issue now."
When Mr Burke continued, the judge dropped his head in both his hands.
"I'm going to invite Mr White or Mr Connaughton to simply talk over Mr Burke," he said.
"You don't tell me what I can do, I hold all the cards in relation to this, you hold none of them – now please stop."
When Mr Burke referenced the four-day trial, the judge remarked: "You've wasted a day of it with stupid arguments already."
Mr White said that Mr Burke is inclined to label anyone who disagrees with him as a liar.
He said that if Mr Burke outlines his concerns about the several aspects in the book of evidence, it can be dealt with as a matter in dispute between the two parties.
Mr White said he had offered to deal with the concerns, despite not believing there was much to it, but told the court that Mr Burke's aim was to "torpedo" proceedings.
When Mr Burke offered to go through his concerns again, the judge said: "No, no, no," prompting laughter in the courtroom.
"You're the author of your own misfortune," the judge said, before leaving the courtroom during the recess.
Mr Burke was suspended from work on full pay last year pending the outcome of a disciplinary process following incidents stemming from a row with the school over a student who was transitioning genders.
Teachers at the school had been asked to address a student by a new name and to use the pronoun "they" in an email from the school's principal, sent in May 2022.
A number of incidents followed, which led to injunctions being taken by the school against Mr Burke, preventing him from attending the grounds of the Co Westmeath establishment.
He was later committed to prison by a High Court judge in September after breaching a temporary court order to stay away from the school while suspended. He was released before Christmas.
Mr Burke has been dismissed from his role at the school since then.