Irish Defence Forces 'barely tolerates women', review told
Almost 90% of female respondents to an independent review of the Irish Defence Forces said they had experienced some form of sexual harassment.
The independent review group's (IRG) report found a "discernible pattern of rape and sexual assault" in its analysis of participants' contributions.
Of those that said they experienced incidents of unwanted physical contact/sexual assault, 76% of respondents did not report the incident.
The main reason for not reporting the assault was the feeling there was no point and none of the respondents had contacted An Garda Siochana.
The IRG concluded the current complaints system is not fit for purpose and requires radical change and removal from the Defence Forces.
On misogyny in the Defence Forces in general, different sources available to the IRG conclude that, at best, the Defence Forces "barely tolerates women" and, at its worst, "verbally, physically, sexually and psychologically abuses women in its ranks".
The overwhelming number of persons experiencing any form of harassment reported it was carried out by a member of a higher rank to them and in 85% of cases it was perpetrated by a male.
One respondent reported having "suicidal thoughts" due to harassment they faced.
Another respondent said a senior officer made their life "miserable" after they rejected unwanted sexual advances while another recalled a sergeant commenting on "the size of my rear".
More than a third of respondents said they faced bullying within the Defence Forces.
Respondents outlined behaviours such as "tubbing", which is when an individual is put in a barrel which may contain items such as chemicals, oil, fuel or animal carcasses as a form of punishment.
Others described punishment through arduous exercises known as "beasting" and "mobbing", where an individual is harassed and isolated to ultimately "make life so difficult that they resign their post".
One respondent said they were followed, mocked and threatened with violence while others said they faced "constant slagging off and jeering".
The independent review also head about a culture of reprisals and retaliations for complaints.
Respondents reported being referred for psychiatric treatment with no basis, having gardai sent to their home over unfounded claims of being absent without leave, physical assault with "top cover" from command, insults, and the withholding of opportunities.
Members also claimed they faced reprisals for having a baby or for speaking up for someone else.
Others faced "trumped-up charges" and felt pressured to plead guilty to lesser charges at a court martial.
The IRG outlined a "loyalty test" where the testimony of an officer is required to support the chain of command or members colluding to silence or punish someone who speaks out or "doesn't fit".
It was reported that important papers or files go missing or are changed.
"Those who co-operate and pass the loyalty test are rewarded through support in their careers while those who do not co-operate see their careers as over," it said.
The IRG raised concern over the historic rate of suicides within the Defence Forces, with interviewees describing extreme examples of negative impacts on mental illness.
"They alleged that in the case of some suicides, they were told that if they were not denoted as 'accidental deaths' rather than suicides, there would be adverse consequences," it said.
Many interviewees described their experience of training as "literal torture" and said some members of their class died by suicide.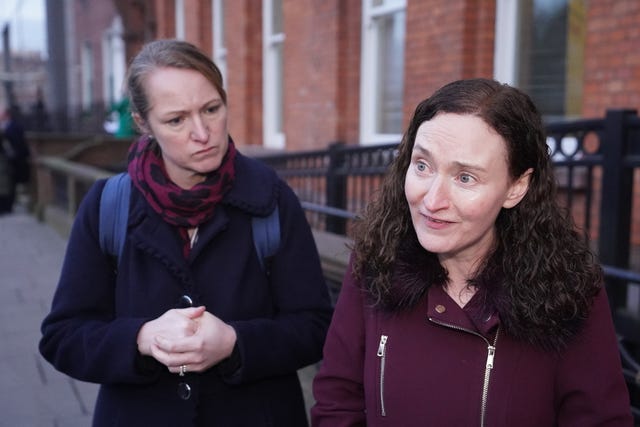 Chief of Staff Lieutenant General Sean Clancy commended the bravery of members who came forward and "brought their lived experience to light".
Lt Gen Clancy accepted the findings of the report and said general staff intend to implement the recommendations as approved by Government.
He said his first priority when he was appointed was to tackle allegations of sexual assault, harassment and bullying.
"There is no place for any form of abuse or failure to act on any form of inappropriate behaviour within the Defence Forces," he said.
The Women of Honour Group, which represents female former members of the Defence Forces, said it hoped the inquiry "will start the process of healing".
Reacting to the publication of the report, it said: "In the light of the findings made by the independent review group, nothing less than a full statutory inquiry was ever appropriate.
"Also, inevitably, the military hierarchy, the Department of Defence itself and the military system in its entirety will now be subject to that investigation in a manner that has been required for some considerable time.
"It is hoped that this commitment by Government to the establishment of a full statutory inquiry will start the process of healing for those persons who have suffered within the Defence Force system the appalling litany of abuse that is part of the findings of fact of the IRG report.
"We await the necessary discussions to start the process of agreeing terms of reference for an all-encompassing full statutory public inquiry where that process should start within days, rather than weeks, as justice delayed is justice denied."