Schools to get almost 100 euro per pupil under free books scheme
Primary and special schools across Ireland will get almost 100 euro per pupil under the rollout of the Government's free book scheme.
Education minister Norma Foley said the 96 euro per pupil represented an increase on the 85 euro for each pupil in the scheme's initial pilot.
Following a three-year pilot in 100 schools involved in the Delivering Equality of Opportunity in Schools (DEIS) programme, the more than 50 million euro scheme will be in place in around 3,230 schools, including 130 special schools in the autumn of this year.
Ms Foley said more than 558,000 pupils will be enrolled in the scheme.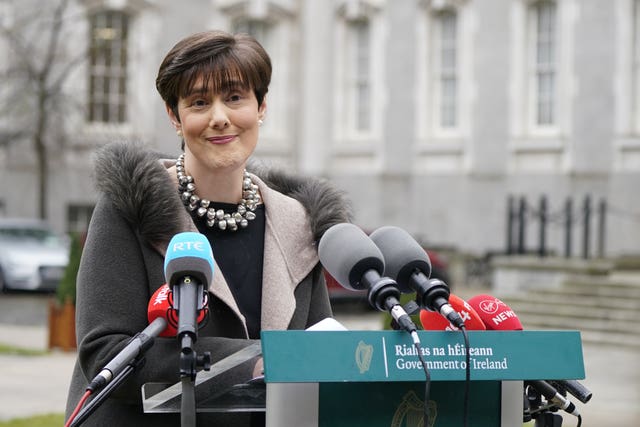 "It is a significant day of advancement in terms of lessening the load on parents and families in terms of the cost of schoolbooks," Ms Foley told reporters in Dublin.
"It's also an acknowledgement of education being the greatest leveller of all and when we can support access to education the Government is committed to do it."
The minister insisted the 96 euro allocation would be adequate to source the necessary books for pupils.
The initiative will provide free schoolbooks and also workbooks and copybooks. The schoolbooks will remain the property of schools.
The scheme will also provide schools with an administration grant to support its rollout and implementation.
Ms Foley said the scheme would ensure that parents and guardians will not be asked to buy or rent any schoolbooks, workbooks or copybooks.
"I am delighted to announce details of the funding package of over 50 million euro secured in Budget 2023 for the landmark new scheme to provide free schoolbooks in all primary schools and special schools," she said.
"This ground-breaking, permanent measure will ease some of the financial burden facing families with the back-to-school costs."
She added: "By providing our primary school children with free schoolbooks, we are enhancing their educational experience, not just in the classroom but reaching out into the family home."
The Minister of State for Special Education and Inclusion, Josepha Madigan, welcomed the rollout to special schools, noting that schools had flexibility to spend any excess funding on other learning materials.
"This flexibility is particularly important for students with special educational needs attending mainstream classes at primary and over 19,000 students attending special classes in primary schools and special schools," she said.