Varadkar hopes exclusion of McDonald from protocol talks is not 'new precedent'
Irish premier Leo Varadkar said he hopes the decision to exclude Mary Lou McDonald from a meeting with Foreign Secretary James Cleverly is not a "new precedent".
The Sinn Fein leader was told she could not attend the meeting to discuss the Northern Ireland Protocol and the Stormont political deadlock.
Mr Cleverly insisted Sinn Fein were not excluded from a meeting with him in Belfast, stating that the party vice president Michelle O'Neill was invited to attend but opted not to.
The party withdrew from the roundtable talks with Mr Cleverly on Wednesday.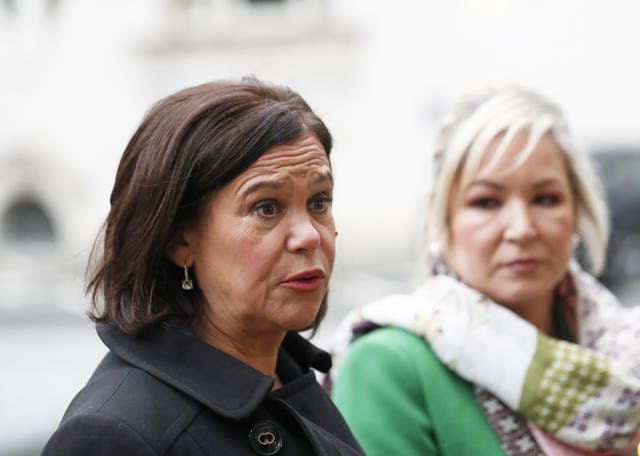 The decision to exclude Ms McDonald from the talks was criticised by the Irish government, with Mr Varadkar saying it is not usual practice to tell other parties who should be on their delegation.
"I know when I visit Northern Ireland tomorrow (Thursday) to meet with the different political parties, Deputy McDonald will be part of the Sinn Fein delegation," Mr Varadkar said on Wednesday evening.
"It's never been our practice to tell other people who should be on their delegation.
"If you ask to meet somebody or somebody comes to meet you, it really should be for them to decide who's on their delegation and who leads it.
"That's the approach that we take, it had been the approach that the British Government took in the past, so I hope this was a one off and that doesn't represent a change of policy."
Mr Cleverly defended the decision, stating that the meeting was to hear from political representatives in Northern Ireland and he would meet Irish politicians "in the near future".
Deputy Irish premier Micheal Martin said the decision by his British counterpart was "unfortunate".
Mr Martin said: "I don't know the background to it at all, but that said I don't think it will be an impediment.
"I had a good discussion with Michelle O'Neill earlier in the week.
"I think everyone is up for working constructively to try and resolve these issues and get the Executive up and running.
"Our objective of this government is to have the mandate that was given in the last Assembly elections fulfilled in terms of the Assembly being convened and also the Executive being established in line with the results of the election.
"I would hope that, notwithstanding what happened today, that it will not act as an impediment. I don't think it will."
The two leaders will travel to Northern Ireland on Thursday.
Mr Varadkar is to meet with representatives of Stormont's five political parties, while Mr Martin will hold talks with Northern Ireland Secretary Chris Heaton-Harris.