Queen of Jordan says Belfast group is helping refugees to 'thrive' in city
The Queen of Jordan has said a Belfast community group is helping refugees to "thrive and find themselves again" as she visited the organisation.
She also said the group was helping to restore refugees' dignity and that "nobody chooses to become a refugee".
Queen Rania was born in Kuwait to Palestinian parents and has been a vocal advocate for refugee and women's rights.
The Queen visited the Conway Education Centre (CEC), a community-based education facility situated between the Falls Road and the Shankill Road in west Belfast, and met members of the refugee community who have made their home in Belfast.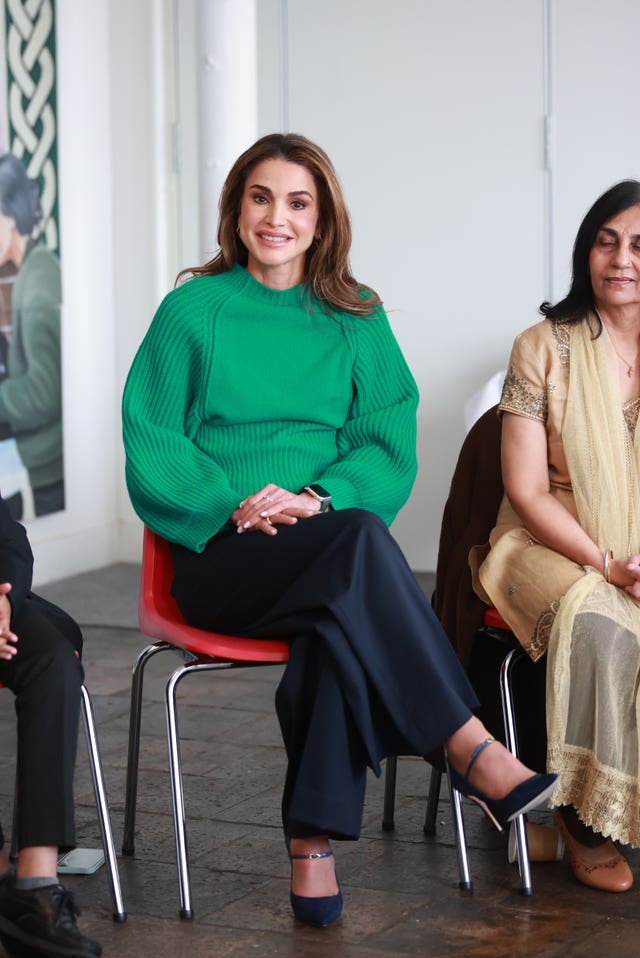 "It was so encouraging to see a woman in her 60s or 70s saying how she feels like she has been reborn here," Queen Rania said.
"In most countries refugees are just trying to survive, whereas here you see them really thriving and finding themselves again.
"And so the example that you have here is something that we can really look at.
"The people of Northern Ireland and the community centres are looking at the refugees, the human behind the refugee, they're looking at the person, not just the political tool that sometimes leaders use for fear-mongering or for getting more votes in elections."
In 2015, the CEC introduced a number of programmes to serve Belfast's growing refugee population, including English language classes and a homework club for primary and secondary school students.
Based on the feedback of refugees participating in courses, Conway recently launched a capacity-building programme to help adult refugees build on their existing skills and enhance their independence.
The children and adults who gathered at the centre on Tuesday told Queen Rania about how these programmes helped them to establish themselves in Northern Ireland.
The Queen also spoke to several of the older women in Arabic.
She said the CEC enabled them to build relationships as well as receive support.
"This is really giving value to the human and understanding that nobody chooses to become a refugee," she said.
"I think in all this debate and all these passions that are elicited from talking about refugees, people really forget that it's not a choice.
"Nobody wants to be uprooted from their country and it's not just the home that they lose, it's the people and places that they're familiar with that defined their lives and it's so difficult to be uprooted from all of that.
"So having a welcoming environment like the Conway Education Centre, that provides education which is really an entry point for young people, it's not only a basic right, but it helps them restore their dignity, gives them a chance of life and just gives them hope.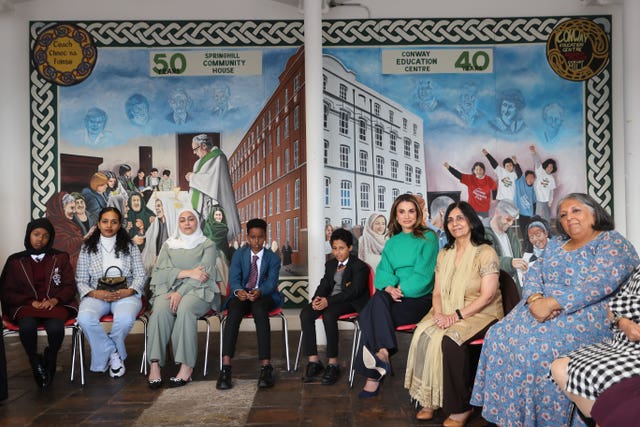 Queen Rania also said there was an opportunity for the exchange of ideas between Jordan and Northern Ireland in dealing with the global refugee crisis.
"I think other countries like Jordan can have these kinds of partnerships and cooperation so that we can exchange experiences because, as you know, in Jordan, one in eight people in my country is a refugee. We've taken in over a million Syrian refugees," she said.
"So I think we have a lot in common but again, I just want to pay tribute truly to the people of Northern Ireland for their generosity and hospitality, and the example that they set for everyone in the world, so thank you."
The One Young World Summit has brought thousands of young leaders from over 190 countries to meet in Belfast to discuss global issues such as hunger and climate change.
The summit has been recognised by the City of Belfast and the UK Government as being part of the official celebrations for the 25th anniversary of the signing of the Good Friday Agreement.
Queen Rania gave the keynote address at the opening ceremony.
Mona Arnous is a refugee and volunteer at the CEC who originates from Syria and learned to speak English aided by teachers from the centre.
Ms Arnous, who is hoping to go on to study nursing at Queen's University Belfast, said it was an "honour" to meet Queen Rania.
"I never thought I would maybe one day meet the Queen herself. It was a shock for me when I received the invitation from Conway. I think she's such a wonderful person. She's very sweet," she said.
"When she came in I was just fine. It's just like talking to a normal person. She made me feel really nice and calm. She was such a chill person."
Pauline Kersten, centre manager at the CEC, said the visit was "amazing".
"The Queen had an opportunity to get introduced to all of them and to have a chat," she said.
"Because they have so many stories, to talk to the refugees about how their life in Belfast is, the services that they received from Conway and how that has helped them in settling in Belfast and making a life for themselves."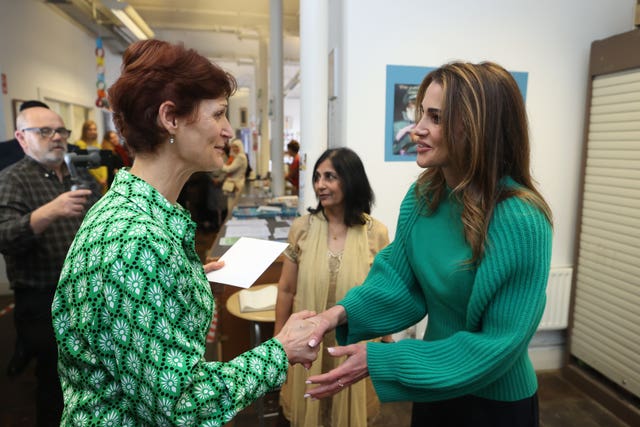 Ms Kersten also said that she hopes the Queen's visit will highlight the need for a refugee integration strategy in Northern Ireland.
"I think the visit of the Queen helps to highlight the issue that refugees are not only people that need charity, but that they also have a lot to offer.
"But I think as long as there is no official refugee integration strategy, we don't have any policy on accommodation of refugees.
"So that means that many refugees and asylum seekers are housed in areas of multiple deprivation where it's already difficult to survive.
"So if you add big groups of newcomers to that you create more community tension. You don't provide opportunities for integration, you create community tension.
"So I think that's something for the powers-to-be to look at so that there's a better policy or that there is a policy – because at the moment there's not – that there's a policy of settling refugees and asylum seekers in all the different areas of Northern Ireland and not only in the poorest and most deprived areas."
The One Young World Summit will continue in Belfast until Thursday.