Northern Ireland finances not on a sustainable footing, MPs are told
Public finances in Northern Ireland are currently not on a sustainable footing, Chris Heaton-Harris has told MPs.
The Northern Ireland Secretary refused to give a date when he would set a budget for the region during an appearance before the Northern Ireland Affairs Committee on Tuesday, but said he would do so "in very short order".
It came as the heads of more than 50 public sector bodies warned that the lack of a budget is jeopardising the delivery of key services.
The Public Sector Chairs' Forum, which represents public bodies across Northern Ireland, has written to Mr Heaton-Harris calling on him to act urgently.
The body also said its members were alarmed by the potential impact of "drastic reductions" on public services.
In the absence of devolved Stormont ministers, Mr Heaton-Harris is responsible for setting the budget, in which several departments are facing large cuts.
Permanent secretaries, who are currently running Stormont departments, have been asked to find savings.
Mr Heaton-Harris told the committee: "Northern Ireland's public finances are currently not on a sustainable footing.
"The necessary strategic decisions have not been taken for a long period of time.
"For four out of the past six years Northern Ireland has been without its locally elected representatives.
"What we are seeing now essentially are the implications of that."
The Northern Ireland Secretary said that when Stormont collapsed there was a £660m "black hole" in public finances, which had since been reduced to £297m through work with permanent secretaries.
He said: "Over years sometimes budgets haven't been set, sometimes policy priorities haven't been set, 2016 was the last plan for government.
"There have been issues which have gradually built us up to this point."
He added: "That is why it is fundamentally important to get the executive up and running again because any decisions in this space should be made by locally elected politicians.
"I can perfectly understand why permanent secretaries feel uncomfortable."
SDLP MP Claire Hanna asked if the £297m overspend could be recouped over multiple years. Mr Heaton-Harris said he was talking to the Treasury on that issue.
When asked when he would bring forward the budget, the Northern Ireland Secretary said: "As soon as I possibly can."
Ms Hanna asked: "What is the latest you will allow things to go without a budget being set?"
Mr Heaton-Harris said: "There are still ongoing conversations I need to finish off with the Treasury and maybe a couple of conversations with departments but as soon as I possibly can.
"I think in very short order."
In the letter from the Public Sector Chairs' Forum, chair Nicole Lappin warned that an "outline financial envelope representing up to 20% reductions on 2022-23 spending has been indicated".
It added: "Members are alarmed by the potential impact of such drastic reductions, which is exacerbated by the uncertainty brought about by the lack of a definitive budget.
"This non-strategic approach is neither practical nor cost-effective and is jeopardising our ability both to deliver key services and support their essential transformation.
"In the absence of locally elected ministers, the legal responsibility to set a budget for Northern Ireland falls to you.
"Following considerable discussion, members are therefore taking the unprecedented step of writing to call on you to act urgently and provide a strategic and manageable way forward."
The letter continued: "Given that we are already one month into the financial year, we call on you to provide urgent clarity."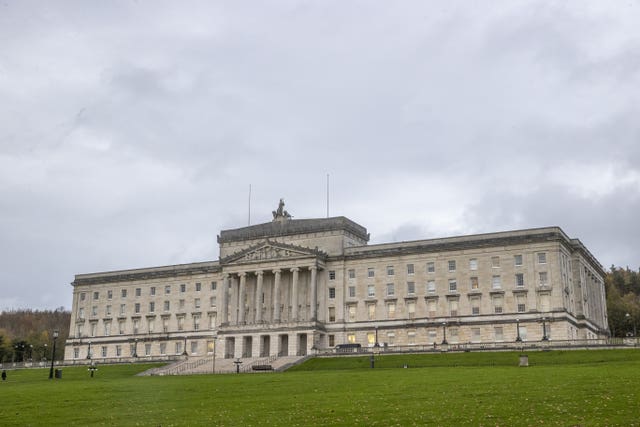 A leaked Northern Ireland Office briefing paper recently estimated the devolved executive is losing £700 million a year by failing to charge for services like domestic water supply, prescriptions, domiciliary care, transport for the over-60s and having significantly lower university tuition fees than England.
The briefing paper estimated that £345 million could be generated by introducing domestic water charges, while raising tuition fees could bring in an additional £145 million a year.
The document said Northern Ireland is receiving 21% more per head of population than England for the period 2022-25.
DUP MP Gavin Robinson said there had to be a reform of how Northern Ireland is funded.
He said: "The primary problem is not a lack of Stormont, it is a lack of money. That is a decision made by Treasury.
"I have been warning for some time that the Barnett Formula used for divvying up the budget for the UK regions is unfair to Northern Ireland and will continue to get even worse in coming years.
"There needs to be a complete reform of the funding model.
"The Treasury contribution to fund public services in Northern Ireland is going down rather than rising.
"As an example, in England up to 2025, spending will increase by 6% but only 3.6% in Northern Ireland."
Mr Robinson added: "The cost of providing public services for a small place is more expensive than a large one.
"We don't benefit from economies of scale or critical mass.
"To provide vital services, we need a disproportionately larger public service, and for as long as we receive 3% of what England needs under the Barnett formula, we won't and don't get enough."