Anniversary events can help restore powersharing at Stormont, says Martin
Events marking the 25th anniversary of Northern Ireland's landmark peace accord can provide an impetus to restore devolved governance at Stormont, Ireland's deputy premier has said.
Micheal Martin was commenting as political leaders from the Good Friday Agreement era prepared to participate in a major three-day conference in Belfast commemorating the 1998 deal.
Former US president Bill Clinton, ex-US secretary of state Hillary Clinton and chairman of the Good Friday talks Senator George Mitchell attended several events in Belfast over the weekend ahead of the start of the conference at Queen's University on Monday.
Former UK and Irish prime ministers Sir Tony Blair and Bertie Ahern will also be among the high-profile figures participating at Queen's.
An attending US delegation appointed by President Joe Biden will be led by his special envoy to Northern Ireland, Joe Kennedy III.
Current UK prime minister Rishi Sunak and Taoiseach Leo Varadkar are due to attend later in the week.
The commemorations are taking place at a time when the powersharing political institutions created by the Good Friday deal are in abeyance due to a row over post-Brexit trading arrangements.
The DUP is blocking the functioning of the Stormont assembly and executive in protest at economic barriers on trade between Northern Ireland and Great Britain.
"I would like to think that there's a genuine desire to get the institutions back up and running," Mr Martin said in Dublin on Sunday.
"I've met with all of the party leaders over the last year and, irrespective of their positions, they've all resolutely said that they want the institutions back up and running."
Mr Martin, who will also attend the conference, said the Windsor Framework recently agreed by the UK and EU had resolved many of the issues created by the contentious post-Brexit Northern Ireland Protocol.
He expressed frustration that Stormont was still in cold storage nearly a year after last May's Assembly election.
"All around the world when elections happen, parliaments get convened," he said.
"And I think there was a real necessity to do that in Northern Ireland to respond to the mandate that the people have given their public representatives to enable them to deal with very significant challenges facing Northern Ireland, in respect of economy, health and housing, and many other issues.
"And there are many newly elected MLAs who I know would dearly love the opportunity to participate in the Assembly. Indeed, I've met a number of them from different parties.
"And they're impatient with the fact that the mandate that they have been given by the electorate, they do not have the opportunity to reflect that mandate in the Assembly.
"I would like to think next week may give an impetus and a cause for reflection. I think there is space being provided for people to assess the situation, analyse it from their perspectives.
"But there is no getting away from a very basic democratic thing, which is basically when elections happen, parliaments get convened."
Mr Martin was speaking to reporters after attending an annual Fianna Fail commemoration at Arbour Hill Cemetery in Dublin for the leaders of the 1916 Easter Rising against British rule in Ireland.
On Saturday evening, both Bill and Hillary Clinton were guests at a special screening in Belfast of a film about murdered journalist Lyra McKee.
Ms McKee, 29, was shot dead by dissident republicans as she observed rioting in Derry in April 2019.
On Sunday, Ms Clinton attended an event for young leaders who have taken part in the Washington Ireland Programme.
Meanwhile, Mr Mitchell was given a standing ovation as he arrived at Belfast's Lyric Theatre on Sunday afternoon for a performance of a play about the striking of the agreement in 1998.
Across the city, a church service was held in Clonard Monastery to reflect on the Good Friday Agreement.
Northern Ireland Office minister Steve Baker and US envoy to Northern Ireland Mr Kennedy III were among those who attended the service of recommitment that was organised by peacebuilding group, the Corrymeela Community.
The leaders of both the Catholic church in Ireland and the Church of Ireland, archbishops Eamon Martin and John McDowell, also attended.
Later on Sunday, a special dinner was organised at Hillsborough Castle to mark the contribution to the peace process by the late Mo Mowlam, who was Northern Ireland Secretary in 1998.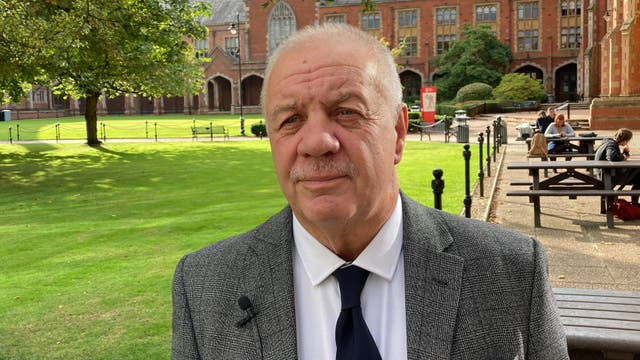 One of the events in the extensive programme of events at Queen's is the screening of a film telling the stories of several victims of the Troubles.
Raymond McCord, whose son was murdered by loyalists during the Troubles, said the film created by members of the Truth and Justice Movement would convey a powerful message of opposition to Government plans to offer a limited immunity from prosecution to perpetrators of Troubles crimes.
"The GFA is 25 years old, yet some of our group has been fighting over 50 years for truth and justice and none of us can't or won't rest until we get the justice our families deserve despite the British government's fear of the truth and justice," he said.