Biden greeted by Irish President as day of ceremony in Dublin begins
Joe Biden has met with his Irish counterpart Michael D Higgins, ahead of the US president's historic address to the Irish Parliament later.
Mr Biden is expected to set out a "shared vision" for the future of US-Irish relations when he address both houses of the Oireachtas, part of a series of ceremonies and honours to be held for the world leader.
Mr Biden will take part in a tree-planting ceremony and the ringing of the Peace Bell at the President's official residence, Aras an Uachtarain. The bell was erected in 2008 to mark the 10th anniversary of the Good Friday Agreement.
Mr Higgens welcomed Mr Biden to his home in Phoenix Park, Dublin, where a meeting with Irish premier Leo Varadkar will also be held later at nearby Farmleigh House.
Mr Biden, who was joined by an official delegation that included the US secretary of state Antony Blinken, was met with cheers from onlookers as his motorcade entered the park.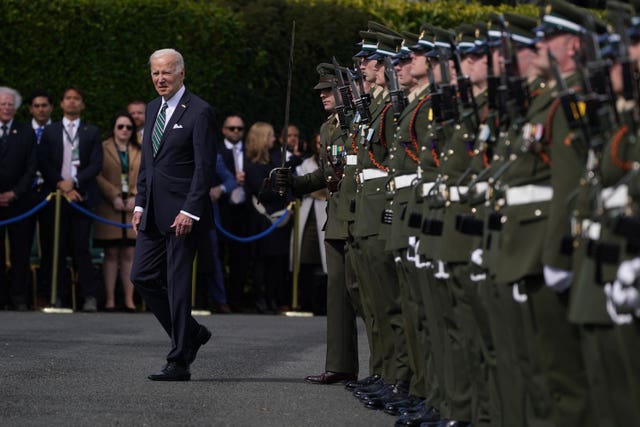 Arriving at Aras an Uachtarain with the sun shining down, Mr Biden emerged wearing sunglasses and a broad smile as he walked the red carpet to be met by Mr Higgins and his wife Sabina.
It is Mr Biden's third visit to the residence, but his first as president.
"It's a pleasure to be back", Mr Biden told Mr Higgins.
After signing the visitors book in the historic State Reception Room, Mr Biden told the waiting media that he had referenced an Irish proverb: "Your feet will bring you where your heart is".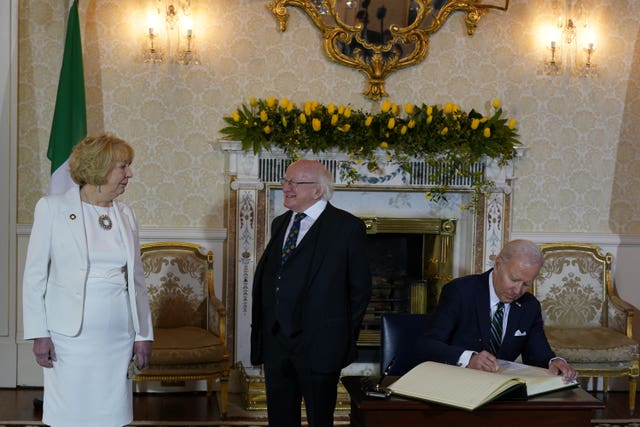 He also quipped: "I'm not going home. Isn't this an incredible place? All you American reporters, it's just like the White House, right?"
A military band played the American national anthem as Mr Biden stood outside Aras an Uachtarain with his right hand on his heart.
After listening to the Irish national anthem, the president inspected a guard of honour before being introduced to Irish dignitaries including Irish Defence Forces Chief of Staff Lieutenant General Sean Clancy and head of the Irish police, Garda Commissioner Drew Harris.
At Farmleigh later, the president will be invited to watch a sports demonstration by young Gaelic games players.
The White House said Northern Ireland and Ukraine would top the agenda as Mr Biden meets Mr Higgins and Mr Varadkar, with US National Security Council senior director Amanda Sloat telling reporters that his Oireachtas address will refer to areas of close partnership between both countries and "setting out a shared vision for the future".
Mr Biden will be accompanied to the Irish Parliament by Marie Heaney, the widow of his favourite poet, Seamus Heaney.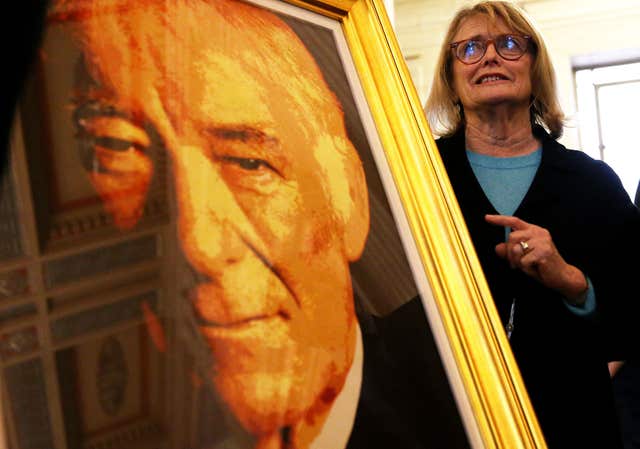 Nine members of the US Congress, one senator as well as Mr Biden's sister Valerie and son Hunter will attend the event, as well as former Irish president Mary McAleese, two former taoisigh, Bertie Ahern and Enda Kenny, Northern Ireland political leaders and Larysa Gerasko, ambassador of Ukraine to Ireland.
Mr Biden, who is on a four-day trip to the island, will attend a banquet in his honour at Dublin Castle hosted by Taoiseach Mr Varadkar in the evening.
His first full day of engagements on Wednesday began in Northern Ireland, where he delivered a keynote address in Belfast.
In his speech to Ulster University, Mr Biden expressed the hope of a return to powersharing at Stormont, saying a stable devolved government could deliver an economic windfall for the region.
His visit north of the border came as the region marks the 25th anniversary of the landmark Good Friday peace accord.
After his address in Belfast, Mr Biden travelled to Dublin and from there to Co Louth, where he can trace some of his Irish ancestors.
In a speech at a pub in Dundalk, he described how he felt as though he had come home.
His remarks also included an apparent gaffe when he appeared to confuse the All Blacks rugby team with the Black and Tans, a contentious police unit from Ireland's War of Independence era.
Asked about that gaffe, Ms Sloat said: "It was clear what the president was referring to, it was certainly clear to his cousins setting next to him."