Feuding drugs gangs are expelled members of UDA, senior officer says
Members of drugs gangs involved in a feud in Co Down are expelled members of the UDA, a senior police officer has said.
Superintendent Johnston McDowell also confirmed that police have made a further four arrests on Thursday following a gathering of masked men in Newtownards.
There have now been 11 attacks in the dispute linked to rival loyalist factions – including a pipe bomb attack on a house with four children inside.
The Loyalist Communities Council has condemned the spate of incidents in Ards and North Down as the "work of competing drug cartels".
Read more:
The PSNI said that to date 11 homes across Newtownards, Bangor, Ballywalter and Donaghadee have been attacked.
These have included petrol bomb attacks, windows being smashed with hammers and bricks, and the pipe bomb attack.
There have also been attempted hijackings and graffiti daubed on properties.
In the latest incident, a petrol bomb was thrown at a house in Donaghadee on Wednesday night.
Mr McDowell told the media that the attacks are linked to a feud between drugs gangs.
He said: "We continue to work tirelessly day and night to bring those responsible to justice.
"This afternoon we arrested four men in Newtownards.
"The arrests were made after a group of individuals, some of whom were masked, made their way into Weaver's Grange after gathering at the courthouse at Regent Street this morning.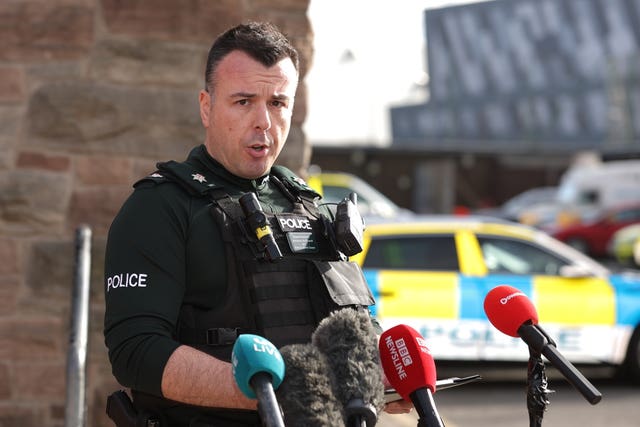 "Today's arrests bring the total number of people arrested to 10 – that is 10 arrested in connection with attacks on homes by rival factions previously linked to the UDA."
The senior officer added: "To date, 11 properties across Bangor, Newtownards, Donaghadee and Ballywalter have been subject to attack, many of these were the homes of young children.
"We have implemented a robust policing operation to both investigate these attacks and to deter further incidents of violence to families and homes.
"These attacks are completely unacceptable and incredibly reckless and place our communities at grave risk.
"We don't want to see an escalation of violence between these gangs.
"Along with high-visibility patrols, with both our neighbourhood and local policing teams, we are utilising the specialist expertise of armed response unit officers and tactical support group officers working closely with our colleagues in the Paramilitary Crime Task Force to counter the threat posed by these gangs.
"I am also aware of speculation and misinformation circulating both locally and online, particularly with regard to the presence of masked men in local schools.
"I can reassure local people that nothing of this nature has been reported to police."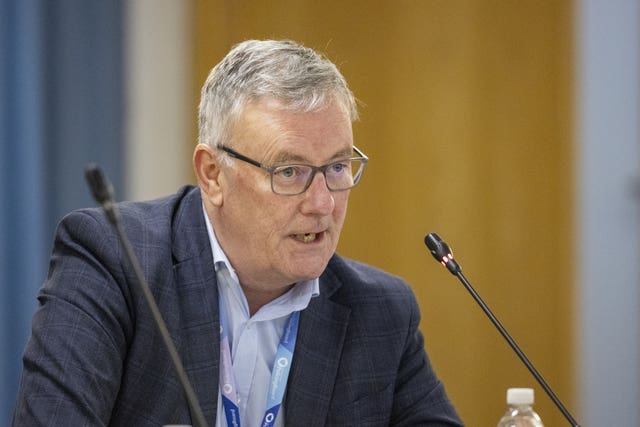 Referring to the feuding gang members, Mr McDowell said: "They are expelled members of what would have been south-east Antrim UDA and west Belfast UDA.
"Our assessment would be that they are drugs gangs and this is a feud between rival drugs gangs."
UUP MLA Mike Nesbitt expressed his concern, and said that a three-year-old girl was in a house that was attacked on Tuesday night, while the property of an elderly woman was also targeted in a case of mistaken identity.
In a statement on Thursday, the Loyalist Communities Council (LCC) condemned "the illegal peddling of drugs in our communities" and said it "rejects the use of loyalist 'flags of convenience' as a cover for criminal activity".
"Their information has been vital and further searches and arrests will come."
"The LCC considers the recent feud in North Down and Strangford to be the work of competing drug cartels," it said.
"They are not loyalists. We urge everyone to reject their activity and in particular we ask parents to ensure their children are not being used to convey illegal substances."
The statement continued: "We look to the PSNI to do their job and remove this type of open criminality from our communities."
In relation to the latest attack in Donaghadee, a PSNI spokesperson said: "Shortly before 9.50pm on Wednesday March 29, officers received a report that a house in the Beechfield Drive area had been petrol bombed.
"The fire was extinguished and thankfully there was no-one in the property at the time.
"Inquiries are continuing and at this stage it is believed that this incident is linked to an ongoing feud between two rival drug gangs in the Ards and North Down area.
"We are following a number of lines of inquiry.
"I am appealing to anyone who was in the area (on Wednesday) evening and saw anything suspicious, or anyone who may have any information which may assist us with our inquiries, to call 101, quoting reference number 2055 of March 29 2023."
Police have increased their presence in the Bangor and Newtownards area in response to the recent UDA-linked attacks.
Two people have appeared in court on charges linked to earlier incidents.
North Down DUP MLA Stephen Dunne condemned the violence.
"There is absolutely no place for this type of activity on our streets," he said.
"This violence and destruction, which is endangering lives, is totally unrepresentative of our local community and the area which we are proud to call home.
"Violence and criminality in whatever form it takes is and always has been wrong and must be unequivocally condemned.
"I would appeal for calm and urge people to end this violence and criminal behaviour immediately. Those responsible must be brought to justice.
"The PSNI are appealing for information and I would encourage anyone to contact the PSNI to assist with their ongoing inquiries."