Annual budget will be 'catastrophic' for public sector, says Michelle O'Neill
Sinn Fein's Stormont leader Michelle O'Neill has said the annual budget will be "catastrophic" for Northern Ireland's public sector.
Budget decisions will be finalised by Secretary of State Chris Heaton-Harris in the absence of a Stormont Assembly.
Mr Heaton-Harris met party representatives at Hillsborough Castle on Thursday to discuss the Windsor Framework and his plans for the budget.
Ms O'Neill said the budget should be agreed by MLAs at Stormont.
"The budget is about to be agreed with no ministers at the helm," she said.
"A budget is going to be agreed by the Secretary of State working with permanent secretaries who should not be in this position – this is a budget that's going to cause demonstrable damage to public services."
Read more: Secretary of State insists Windsor Framework 'is not a sticking plaster'
Ms O'Neill said she and Sinn Fein president Mary Lou McDonald made their views clear to Mr Heaton-Harris.
"So we made a very strong message to Chris Heaton-Harris. What is the plan?" she said.
"There needs to be a plan to restore the executive because this budget is about to cause catastrophic damage to public services.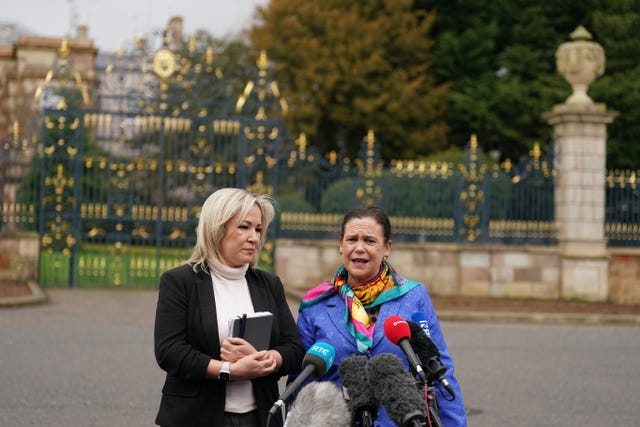 "I believe our public services are already stretched, I know that our public sector workers are right across the board on strike action, and rightly so, for fair pay and conditions.
"These are all things that need to be settled, that's the job of politics.
"So that's why I'm saying very, very clearly that we're in for eye-watering, catastrophic implications of a budget that would be an unadulterated Tory budget, because it would be a secretary of state who gets to call it not local politicians."
Mr Heaton-Harris said: "The budget is definitely not in a good state. I can tell you that."
After discussing the challenges of the budget he inherited in October, he said: "I've just received some of the figures from the permanent secretaries for next year's budget and decisions are still yet to be made, but it will be a very tough budget.
"And that's why the decisions that might go behind it need to be taken by elected representatives of the people in Northern Ireland, not permanent secretaries and certainly not the Secretary of State."
DUP leader Sir Jeffrey Donaldson said his party could not form a stable government under the Windsor Framework but reform for public services was needed.
"We do need to reform our public services in Northern Ireland and the DUP will not be found wanting in this assembly term," he said.
"When devolution is restored we will drive forward the reform agenda, we will work with the other parties to deliver the reform and transformation that is needed to get our public finances and public services back into better shape."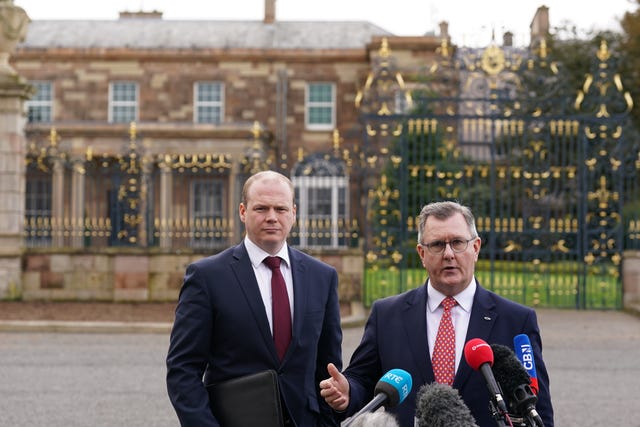 Alliance MP Stephen Farry said: "This is an absolute crisis for Northern Ireland."
He reiterated Ms O'Neill's sentiment that the Windsor Framework is a done deal, and the restoration of powersharing is his party's main priority.
"This is a major crisis for Northern Ireland and this is what we should be focusing our minds on," he said.
"The Windsor Framework discussions are over. We need to get back to work and address what is most important to people in Northern Ireland, which is our quality of life."
UUP deputy leader Robbie Butler said: "The other thing that I wanted to bring to the attention of the Secretary of State was the budgetary pressures.
"We were just out of a meeting with the head of the civil service and there are significant financial pressures facing permanent secretaries at this moment.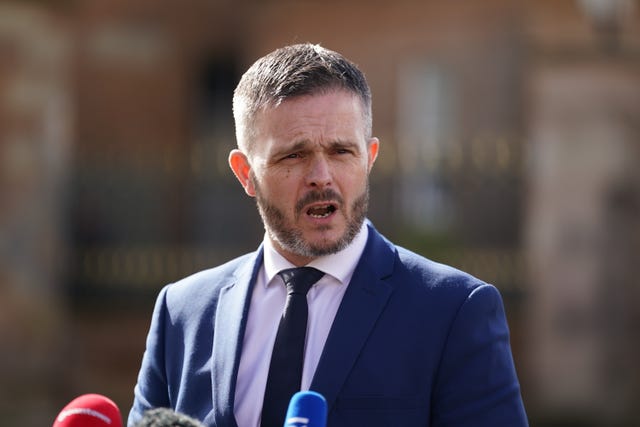 "We've seen the loss of some services which is going to impact seriously on the lives of some of the most disadvantaged people in Northern Ireland.
"So we are at pains to point out to him that we need to restore the executive with the priorities of the people of Northern Ireland.
"The rate of cuts that are on that cliff-edge at the moment actually is quite alarming."
SDLP MLA Matthew O'Toole said the budget would be better set by the devolved government.
"First of all, we don't have a budget set yet," he said.
"That responsibility will fall to the Secretary of State and, with all due respect to the Secretary of State, I would much rather the local politicians, local ministers, are setting a budget for constituents and people here in the North rather than letting a Tory cabinet minister, with all due respect to Chris Heaton-Harris, set it."