Rise in Covid and flu cases adding to hospital pressures, top scientist warns
A steep increase in the number of patients with Covid and flu is adding to already severe hospital pressures, Northern Ireland's chief scientific adviser has said.
Professor Ian Young also said employers should have conversations with employees about when it is reasonable to come to work to help limit the spread of the illnesses.
On January 5, there were 374 patients in Northern Ireland hospitals with confirmed Covid-19, up from 226 on December 5 2022.
UK-wide figures indicate that Covid-19 infections have jumped to their highest level since the summer, with nearly three million people likely to have had the virus at Christmas.
According to the Office for National Statistics (ONS) about one in 16 people in Northern Ireland are likely to have had Covid-19 over the festive period.
Northern Ireland's health service has faced months of pressure, with hospitals dealing with capacity issues and patients in emergency departments facing long waits.
Prof Young told the BBC Good Morning Ulster programme: "Numbers of hospital patients with Covid have been rising since early December when they were in the very low 200s, now they are in the high 300s.
"It is a number which has been rising and obviously now over 10% of our hospital beds are occupied by somebody who has Covid.
"The fact that they have Covid will make their stay longer and more complicated than it would otherwise be.
"It certainly adds to the hospital pressures."
Prof Young said the number of people with Covid was at the highest level since last winter.
He said: "Just before Christmas it was around one in 16 of our population had Covid, which is the highest number it has been since probably last winter.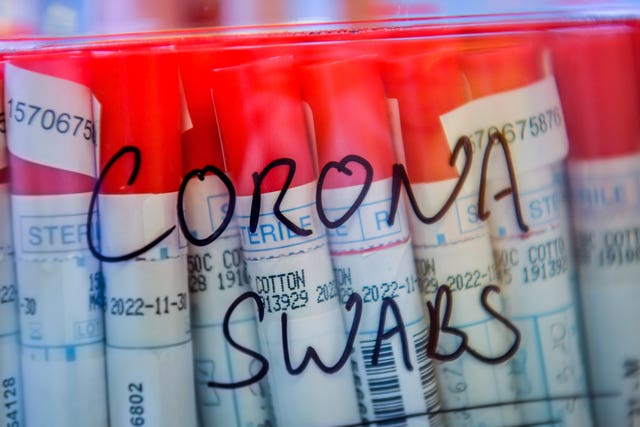 "That we expect to feed through into increased hospital pressures after a delay of 10 days to two weeks.
"For the vast majority of people Covid is a relatively minor, though by no means a trivial illness. Most of our population will have experienced Covid.
"The percentage of people who need to go into hospital as a result of Covid is very small. Those are mainly the older people and those who are clinically vulnerable.
"People will go into hospital with another condition which would require their admission.
"They will be found to have Covid, it makes their stay longer and more complicated.
"It gives additional stress to the health and social care system which we already know is under severe stress.
"Flu is also on the way up and also giving additional stress in the system. I think it's likely that in terms of flu the numbers requiring critical care support are likely to be somewhat greater than for Covid.
"We are concerned both about Covid and about flu. We are moving into the middle of the winter, the health and social care system is under significant pressure and Covid and flu are partly contributing to that."
The scientist encouraged people who had Covid or flu symptoms to stay at home.
He said: "We need people to use a degree of common sense about this.
"In terms of employers, there needs to be discussions between employers and employees about the extent to which it is reasonable for people to come to work or not to come to work.
"It is not in anyone's interests that infections like flu or Covid get spread rapidly through what can be a small workforce working closely together."