Families criticise British government's handling of the past
THE nephew of a Catholic man stabbed to death by the British army more than 40 years ago has urged the government to set up a process for dealing with the past.
Fermanagh man James Naan spoke out as more than 150 relatives of people killed during the Troubles backed an open letter to British Secretary of State Teresa Villiers accusing her government of failing in its obligations to deal with the past.
The letter, in Thursday's Irish News, comes just weeks after politicians failed to reach agreement over how to investigate the past as part of the Stormont House Agreement.
Sinn Féin and the SDLP blamed for the British government for insisting on a 'national security' veto which would give them control over the information provided to families.
James Naan said the death of his uncle Michael (31) has never been fully explained.
He and a neighbour Andrew Murray (23) were stabbed to death by members of a British army foot patrol near Newtownbutler in October 1972.
The deaths later became known as 'the pitchfork killings'.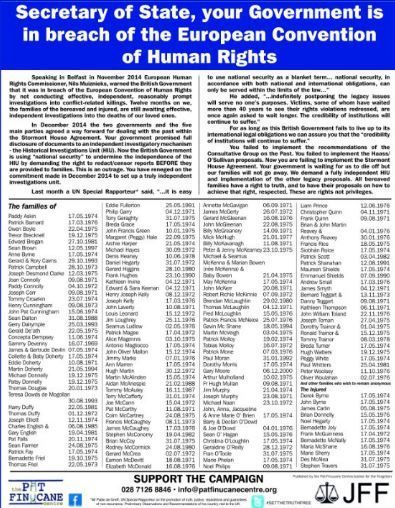 While several members of the patrol were subsequently convicted for their part in the murder, Mr Naan said questions remain including why the crime scene was not immediately sealed off.
He said the family has never been told which doctor pronounced the men dead and if an inquest was held.
"It certainly has hung over me for years," he said.
"From time to time questions are coming up that need to be answered and should be answered.
"I believe it is very important that families should know the facts, someone had to give the go-ahead for these murders."
Paul O'Connor from the Pat Finucane Centre said: "The anger and hurt expressed by bereaved families today is the tip of a very large iceberg."
"Families, whether Catholic or Protestant, from both communities, in the privacy of their own homes, are both angry and grieving."