Facebook plays down News Feed test that buries publisher pages in new Explore Feed
Facebook has moved to play down the significance of a News Feed test it is running in six countries that some publishers claim has dramatically cut their traffic.
The social network recently rolled out a new Explore Feed, which shows Public Pages, Groups and other content from accounts users don't follow in one place to help them discover new things.
However, in six countries this new layout has been taken even further – removing all non-advert Pages content and relocating it to the Explore Feed, a move which some publishers claim has already had a significant impact on their referral traffic as a result.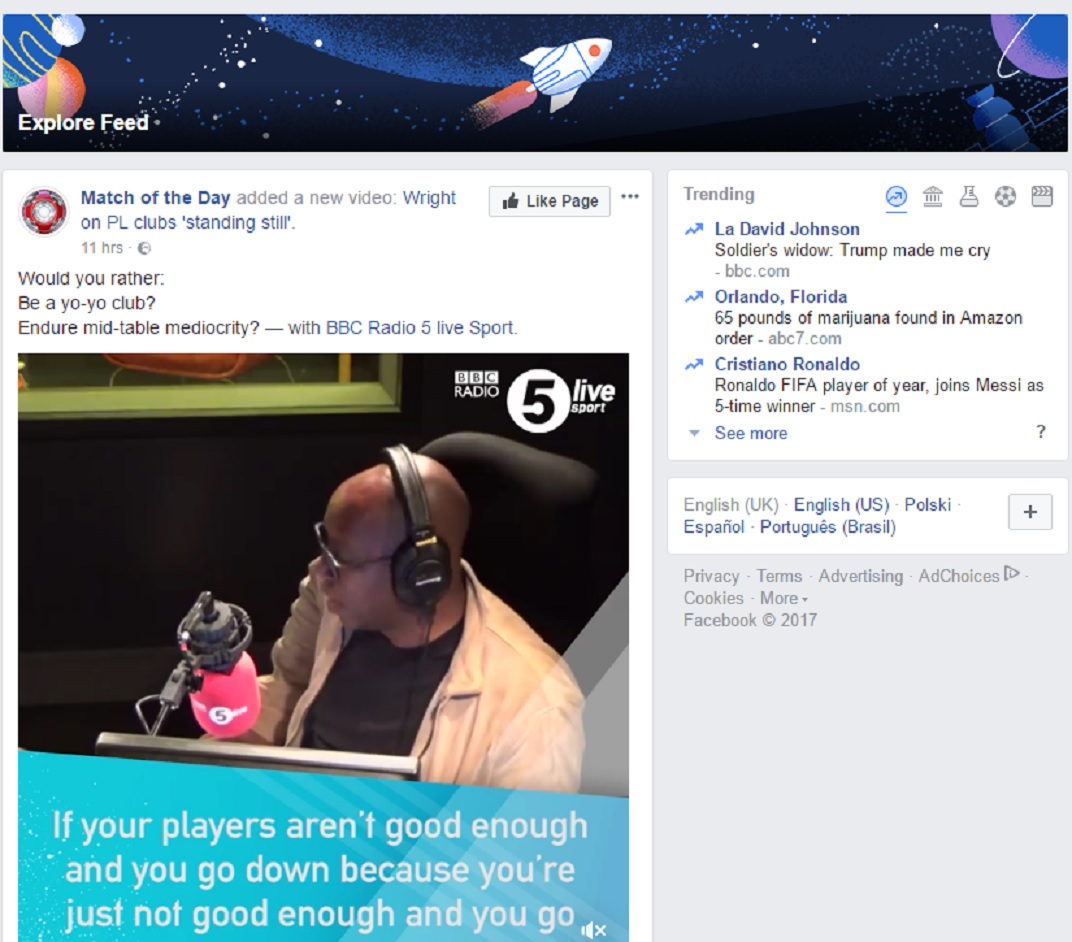 The test, taking place in Sri Lanka, Bolivia, Slovakia, Serbia, Guatemala and Cambodia, has been seen by some as the precursor to Facebook eventually charging publishers to place their content in people's News Feeds. But the social network has jumped in to quash such rumours.
"Some have interpreted this test as a future product we plan to deliver globally. We currently have no plans to roll this test out further," Facebook's head of News Feed Adam Mosseri wrote in a blog post.
"We always listen to our community about ways we might improve News Feed. People tell us they want an easier way to see posts from friends and family.
"We are testing having one dedicated space for people to keep up with their friends and family, and another separate space, called Explore, with posts from pages.
"The goal of this test is to understand if people prefer to have separate places for personal and public content. We will hear what people say about the experience to understand if it's an idea worth pursuing any further.
"There is no current plan to roll this out beyond these test countries or to charge pages on Facebook to pay for all their distribution in News Feed or Explore. Unfortunately, some have mistakenly made that interpretation — but that was not our intention."
The new Explore Feed, which has been rolling out to users around the world, has been created as a new way of finding content Facebook thinks might be interesting to each individual user. However, right now it is relatively buried in the Explore section in the left hand column of the website.
It is this current placement of the Explore Feed and the movement of Public Pages from publishers to this feed that has alarmed some about Facebook's intentions.
Figures published to Medium by social media manager Filip Struharik in Slovakia – one of the countries taking part in the trial – showed the test had caused the "biggest drop in Facebook organic reach we have ever seen", and he said that 60 of the biggest Slovak pages have seen four times fewer interactions as a result of the trial.
The impact on figures highlights the influence Facebook can have on publishing, an issue that has arisen with other genres too.
Some gaming developers have been affected by Facebook changes – Zynga saw its influence plummet after Facebook cut back on the ability of games such as FarmVille to spam users with messages about playing the game.
The current trial of the Explore Feed is likely to last for "months" according to Mosseri, who also said Facebook will be "looking to improve the experience in the meantime", activity publishers will no doubt watch with interest.