Cosplayers and 3D art on the Southbank celebrate the launch of Final Fantasy XIV: Stormblood
3D artwork combined with cosplay of characters from the Final Fantasy universe have appeared in London to mark the launch of Final Fantasy XIV's latest expansion, Stormblood.
The game, which is out today on PlayStation 4, PC and Mac, is the first expansion to XIV's fantasy universe since 2015.
To celebrate the launch, fans of the series – in their finest cosplay – appeared on the Southbank alongside art by 3D Joe and Max depicting a scene from the world of Eorzea.
The online game has around six million players, many of whom are fanatical about the series and its characters – often taking part in fan festivals and meet-ups – some of whom were on the Southbank.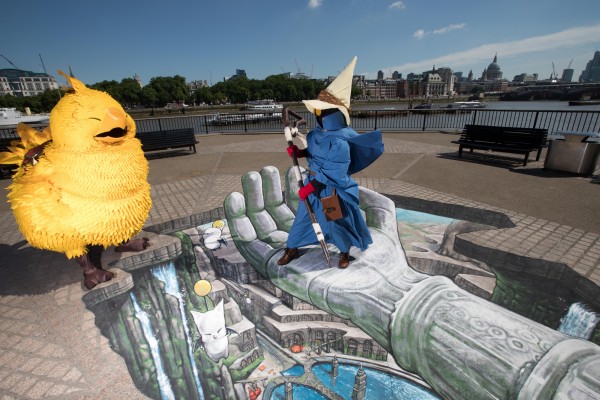 They included Donna Starling, a UK-based fan of the series who made the chubby yellow Chocobo costume herself, taking almost four months to complete.
The current popularity of the game is all the more impressive given its troubled past.
Upon initial release in 2010, Final Fantasy XIV was heavily criticised and abandoned by players to such an extent that developer Square Enix greatly reduced its projected income for the year, before eventually using an in-game apocalyptic event to recreate and relaunch it as Final Fantasy XIV: A Realm Reborn in 2013.