An adorable black rhino has been born at a Kent animal reserve
A black rhino has been born at an animal reserve in Kent.
It is the 40th successful birth of the critically endangered species at the Port Lympne reserve – which is currently home to 12 eastern black rhinos, three bulls and nine cows.
Eastern black rhinos (Diceros bicornis michaeli) are known for being difficult to breed in captivity, making the birth an important milestone for the reserve.
The species was once found throughout sub-Saharan Africa but relentless hunting by European settlers during the 1960s and 70s saw its numbers plummet drastically.
Black rhinos have been classed as critically endangered by the International Union for Conservation of Nature (IUCN) but breeding programmes and conservation attempts have seen a slight increase in numbers in recent years – from just over 2,000 in 1993 to around 5,500 today.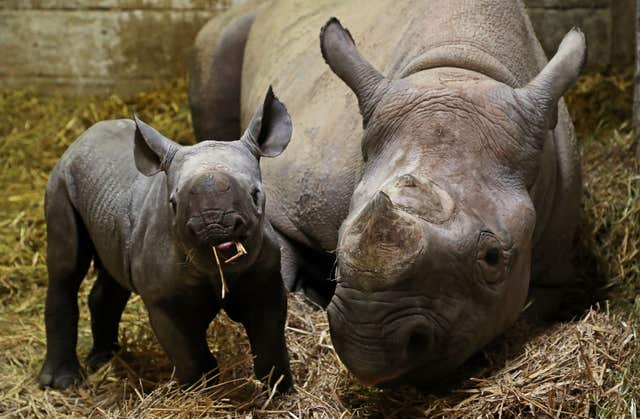 The Port Lympne reserve is part of an international breeding programme for the black rhino and is one of the most successful breeders of the species in the UK.
So far eight rhinos have been sent to protected reserves in Africa from Port Lympne in connection with the Aspinall Foundation – a British charity which works to promote wildlife conservation.
Black rhinos live for up to 40-50 years, with adults reaching 1.5 metres in height and weighing around 1.4 tonnes.