Astronomers create first detailed image of surface of giant star outside our solar system
This image is the first detailed picture of the surface of a giant star which sits outside of our solar system.
It shows how the giant star, in the constellation Grus, has a nearly circular, dust-free atmosphere with complex areas of moving material.
And the star really is a giant. It's 350 times larger than the Sun.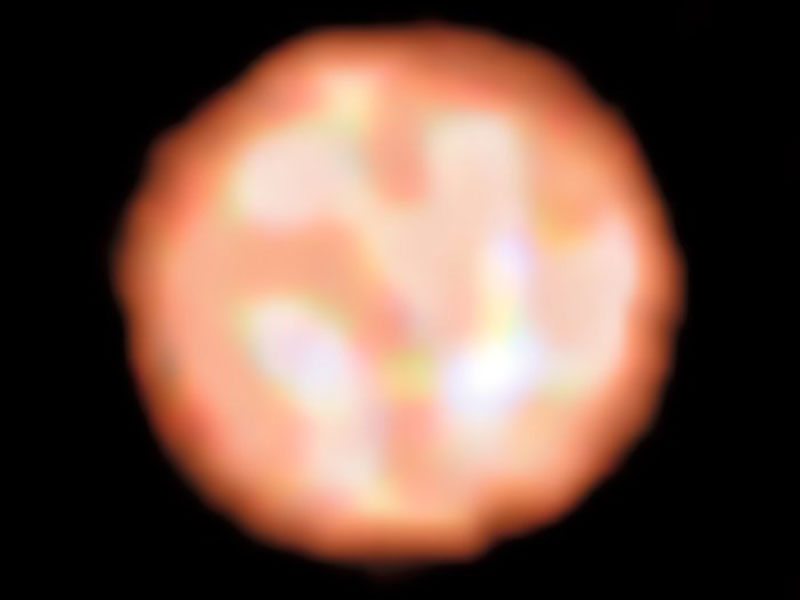 It resembles what our Sun will look like at the end of its life in around five billion years.
Scientists are keen to study this star because it gives them clues about the future of the Sun.
As part of the latest research, the scientists looked at the star's convection cells or granules.
The Sun has about two million convection cells that are typically 2,000 kilometres across.
In this study, published in the journal Nature, the scientists found the star had a complex convective pattern with the typical granule measuring more than a quarter of the diameter of the star, about 120 million kilometres across.
"This is the first time that we have such a giant star that is unambiguously imaged with that level of details," said Dr Fabien Baron, assistant professor in the Department of Physics and Astronomy at Georgia State University.
"The reason is there's a limit to the details we can see based on the size of the telescope used for the observations. For this paper, we used an interferometer. The light from several telescopes is combined to overcome the limit of each telescope, thus achieving a resolution equivalent to that of a much larger telescope."
It was observed with the European Southern Observatory's Pionier instrument in Chile.
The detailed images also showed different colours on the star's surface, which correspond to varying temperatures and provide clues to what's happening underneath.
The hotter, more fluid areas become brighter colours such as white and the cooler, more dense areas become darker colours such as red.