Barbie passes Grease and Full Monty in ascent of all-time box office chart
Barbie is continuing to sashay its way into the record books, with box office takings in the UK and Ireland surging past a string of historic blockbusters, including Grease and The Full Monty.
The fantasy comedy, which stars Margot Robbie as the world-famous Mattel fashion doll, has grossed a mighty £89.1 million since its release six weeks ago, figures show.
It is now sitting just outside the top 20 highest-earning films of all time – and is likely to climb still further.
The list of titles Barbie has outperformed at the UK and Ireland box office reads like a catalogue of some of the most-loved movies of recent decades.
It has already passed E.T. The Extra-Terrestrial, first released in 1982 (£75.9 million in today's prices); Toy Story 2, released in 2000 (£73.5 million); and the 1977 James Bond film The Spy Who Loved Me (£67.3 million).
But it can now boast of leapfrogging Daniel Craig's debut as James Bond in 2006's Casino Royale (£87.2 million) as well as 2002's Harry Potter And The Chamber Of Secrets (£88.3 million), along with 1978's Grease (£88.0 million) and 1997's The Full Monty (£88.8 million).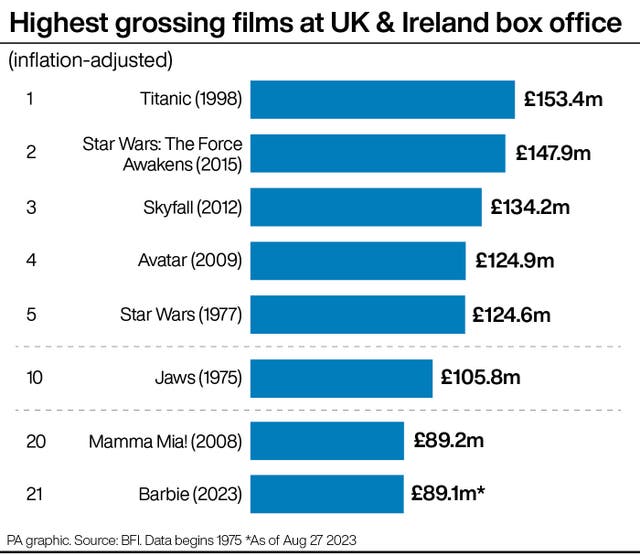 The figures have been prepared for the PA news agency by the British Film Institute (BFI) and are based on inflation-adjusted box office takings for all films released since data began in 1975.
Barbie's takings fell by 28% between its fifth and sixth weekends on release, but it should have enough momentum to see its overall earnings rise higher in future weeks.
It will almost certainly overtake 2008's Mamma Mia! (£89.2 million) to enter the all-time top 20, though it needs to make at least £96.2 million to get as far as the top 15.
To reach the top 10, Barbie would need to gross at least £105.9 million – enough to overtake the title currently in tenth place, 1975's Jaws (£105.8 million).
The all-time highest-grossing film in the UK and Ireland is 1998's Titanic, which to date has made £153.4 million, when adjusted for inflation to today's prices.
Box office data for the UK and Ireland is counted together for the purposes of reporting.