The 1975's Matt Healy talks Lewis Capaldi and break-ups at Finsbury Park gig
The 1975 frontman Matt Healy shared a message of support to Lewis Capaldi during the band's emotionally charged, theatrical headline show in London which saw him discuss relationship break-ups and masculinity.
The indie-rock band offered up an ambitious production to the 45,000 strong crowd at Finsbury Park on Sunday with a multi-levelled set designed like a 1990s style home, which was seen as a game-changer for arena shows when used as part of their recent At Their Very Best tour.
Singer Healy kept the audience entranced during the more than two-hour show with his melancholic persona while performing bizarre antics such as completing a number of push-ups and eating a raw steak.
The show, which was billed as the Cheshire band's biggest UK headline concert to date, was a family affair for Healy as it saw his father, actor and musician Tim Healy, take to the stage for a song and his mother, Loose Women star Denise Welch, watch from the VIP stand.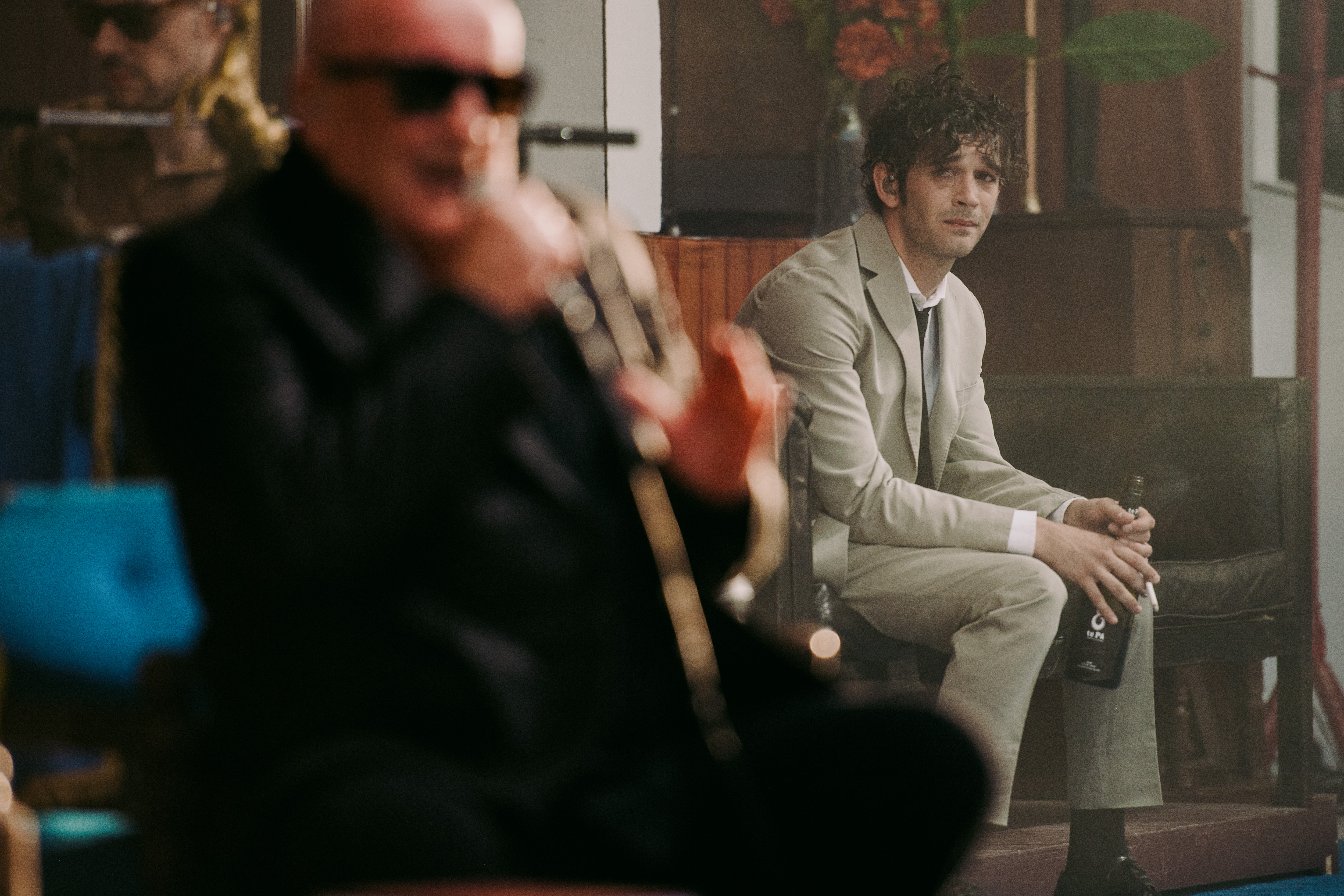 The masses of fans were immediately launched into the theatrics as Healy acted as a member of the crew performing a sound check before changing into a grey suit on stage and each member of the band was introduced with their own title card flashing on the screen, reminiscent of a 1990s family sitcom.
As they moved through their first half which included tracks from their 2022 album Being Funny in a Foreign Language such as Looking For Somebody (To Love) and Happiness, Healy smoked cigarettes and appeared to take swigs from a bottle of wine.
Addressing the crowd, Healy admitted: "It's really hard to do the first half of this show when I'm supposed to be to be all nihilist and dour but who gives a f***. This is too much fun to do that."
After moving into a more playful energy for I'm in Love With You, Oh Caroline and Paris, Healy revealed he was getting "quite emotional" as it reflected on a "tough time" in his life.
He said he needed to "man up" but assured his fans things were "good" as he introduced his father, 71-year-old Benidorm actor Tim, who sang a rendition of the group's song All I Need to Hear which made the frontman tearful.
Reflecting on the message behind the tour show, which made headlines for a number of viral moments, the singer explained: "It started with the tones of the crisis of masculinity that I touched upon when I stayed in my house for year by myself… went down many a rabbit hole and the show was about that."
Gesturing to the audience, he added: "I really excited, look at this, this is the culmination. I'm not a nonchalant person, I'm not someone who takes things for granted so I was excited.
"And The 1975 isn't a dry band, there's a lot of irony in it… so I was always trying stuff and some stuff I got right and some stuff I got wrong, there's a lot of things that were said, jokes that I've made and there's probably a couple of songs I'd take back if I had the choice.
"I'm only doing this because I want to make you guys laugh and feel good because that's what my favourite art does and that's all I'm trying to and I get a bit excited, and you know what I'm proud of myself."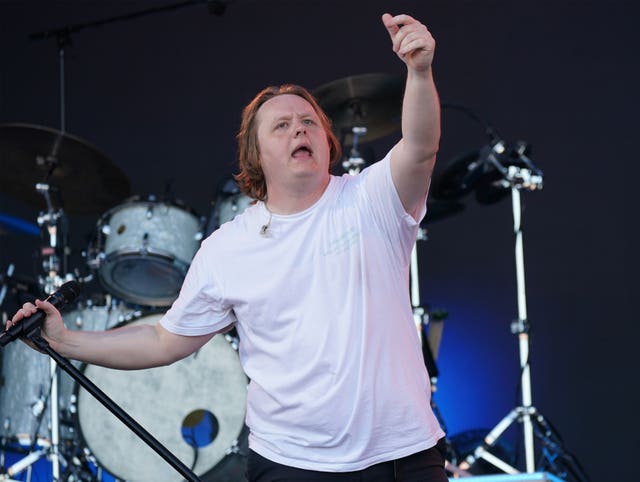 He paid tribute to singer-songwriter Capaldi, who made a guest appearance during The 1975 tour and announced be was taking a break from touring "for the foreseeable future" after he struggled with voice issues and his Tourette's flaring up during his Glastonbury performance last weekend.
Healy said: "I want to send my sincerest thoughts to Lewis Capaldi who is a good friend of mine. Who on the day when he had to cancel his tour, checked in on me."
"And it's also a reflection on how hard being a solo artist is as I would not be doing this show if I didn't have these amazing men and women behind me."
The show also saw a couple on the front row get engaged, with the singer offering his congratulations, as well as an appearance from singer Carly Holt-Hann for their song About You.
Before launching into hit Somebody Else, Healy said: "You know when you break up with people, you feel a sense of sexual ownership, that is not a good feeling, especially not nowadays, you can't own people sexually but that's how it feels, sexual ownership over your past partner.
"And if you're a man, you're made to feel like some kind of misogynist and if you're a girl, you're like some crazy b**** who just won't chill. It's not my fault I love them."
Healy has been romantically linked with many famous faces over his career with speculation that he was in a relationship with singer superstar Taylor Swift emerging this year after they were pictured together multiple times and The 1975 frontman gave a surprise performance at Swift's Eras Tour show last month in Nashville.
Earlier this month, US outlets reported that the pair were "no longer romantically involved".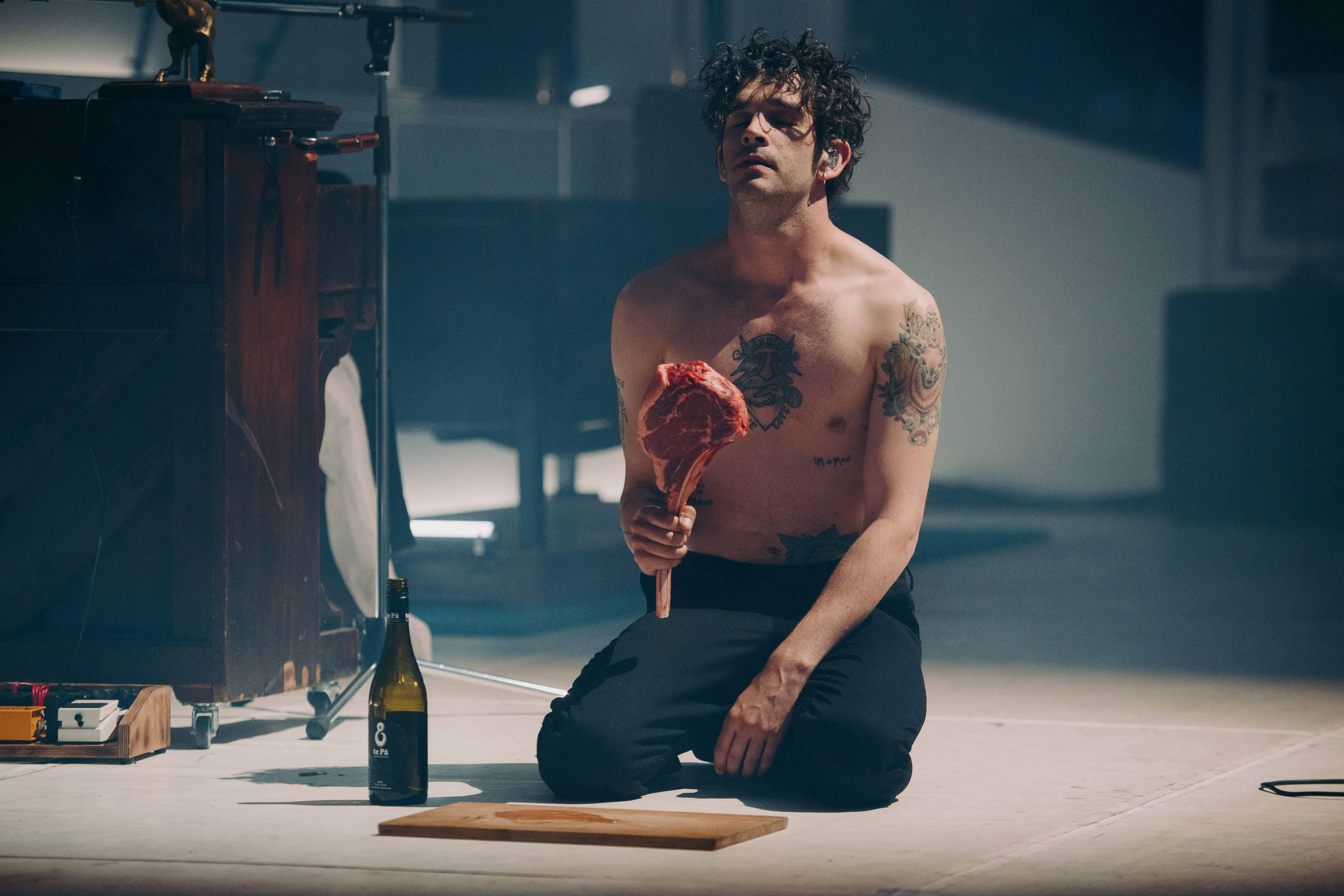 In an unusual ending sequence, after the band closed with heavy rock number People, Healy took off his shirt and bit into a raw steak before doing a series of push ups and dramatically leaving the stage by crawling into one of the old fashioned TVs which was part of the set.
The group headlined the show which saw a string of bands play before them including dream pop band Cigarettes After Sex, indie-pop singer The Japanese House, and rock bands American Football and Bleachers – the latter fronted by Grammy award-winning record producer Jack Antonoff.