Leah Williamson's first fiction book inspired by women's football ban protest
The first fiction book by footballer Leah Williamson has been inspired by female footballers who continued to play the sport in protest against being banned from holding certain organised matches.
The Wonder Team And The Forgotten Footballers, which will be the first in a series published by Macmillan Children's Books, is co-written with the Lionesses captain's cousin Jordan Glover.
Illustrated by The Underpants Of Chaos artist Robin Boyden, it is based on one of Williamson's biggest inspirations, the Dick Kerr Ladies.
The Football Association (FA) banned women from playing on its member grounds between 1921 and 1971.
In objection, Dick Kerr Ladies continued to play football in non-FA grounds until the team disbanded due to a lack of players in 1965.
The Lancashire football team has reformed to play commemorative matches and it had the first female football player, Lily Parr, posthumously inducted into the National Football Museum Hall of Fame in 2002.
Williamson also made history with the Lionesses after the team become the first England side to win an international tournament since 1966 when they won last summer's Uefa Women's Euro championship.
She said: "When I was younger I loved fiction that encouraged me to pursue my passions and educated me through inspirational stories.
"I was lucky enough to have that same support at home with family. So, the opportunity to work with my cousin Jordan on this is incredible."
The 26-year-old Arsenal player previously signed a three-book deal with Macmillan Children's Books.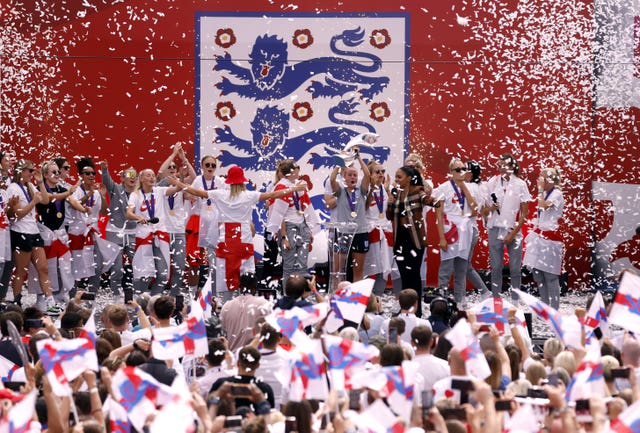 The first book with the publisher, You Have the Power: Find Your Strength And Believe You Can, a non-fiction book focusing on how her own story can inspire young people to believe in themselves, was released in March.
She also has another book commissioned in The Wonder Team adventure stories series, which will focus on "inspiring and fascinating women from all walks of life".
Glover said: "We're really excited to share the stories of so many inspirational women with a new generation of readers.
"Writing this book has been an incredible experience in itself, but it's been made so much better by the fact that I've been able to do it with my cousin Leah."
The captain was among the Lionesses recognised in the New Year Honour List, where she became an OBE.
The Wonder Team And The Forgotten Footballers will be available from August 31.