If someone is tipped to be next James Bond, 'you know they've been rejected'
James Bond author Charlie Higson has said that if an actor is talked about as "being considered" as the next 007 "you know that they've been rejected".
The 64-year-old, who is also an actor, on Thursday released On His Majesty's Secret Service – a Bond adventure set two days before the King's coronation.
Commissioned by Ian Fleming Publication, the novel will celebrate the coronation and tell the story of Bond being tasked with thwarting a last-minute attempt to disrupt the ceremony by a new villain, the eccentric Athelstan of Wessex.
When asked if he has heard anything about who the next actor to play Bond could be following the departure of Daniel Craig after 2021's No Time To Die, Higson told PA news agency: "As soon as the papers say, so and so is being considered as the next James Bond, you know that they're not going to be the next James Bond, you know that they've been rejected.
"Eon (Productions) who make the films play their cards very close to the chest and a lot of times they really surprise people… in particular, Daniel Craig, nobody had any idea at all that he might be Bond and if you'd been asked in advance, you'd have said, 'Daniel Craig, James Bond, surely not'.
"But then he's just so good in Casino Royale… any doubts you might have had immediately go out the window, so they're pretty clever on that front and they will inevitably wait to make the announcement at the right time to get the maximum amount of publicity."
Higson, who has written for the Young Bond series, said he would opt for Happy Valley star James Norton as he is a "fantastic actor" that can play "tough as well as sensitive" and is "good looking" but not in a "sort of classical male model way".
His book comes 60 years after the publication of James Bond creator Ian Fleming's tenth novel, On Her Majesty's Secret Service, which was published in 1963.
Fleming's first novel Casino Royale was published in 1953, the year of the late Queen's coronation, and the royal family have continued to be associated with Bond, often attending 007 film premieres.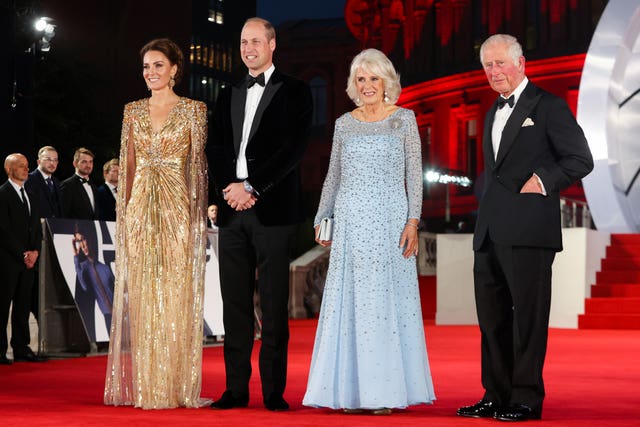 The late Queen also famously featured alongside Craig during a skit for the opening ceremony of the London 2012 Olympics when someone dressed as the monarch was seen jumping out of a helicopter.
Higson, also known for creating and starring in The Fast Show in the 1990s, said: "Charles is reputedly a James Bond fan… most of us from that generation, James Bond was such a huge part of our growing up…
"I've had some dealings with Queen Camilla, she's involved in the National Literacy Trust, which is the charity that the proceeds (of the book) are going to.
"When I meet her again, I might, if the opportunity arrives, I might ask her, if it's true, that Charles is a James Bond fan."
When Queen Elizabeth II was celebrating children's authors during one of her birthdays, Higson recalled meeting her and Prince Philip, the late Duke of Edinburgh.
He said: "Philip sort of came along… mopping up behind her, and he said, 'Oooh, what is it that you do then?'
"I said, 'Oh I'm writing a series of books about the young James Bond' and he said, 'Oh he'd probably have got an Asbo, wouldn't he?' I thought (that) was quite funny off the cuff."
All royalties from the sale of On His Majesty's Secret Service will go towards supporting the National Literacy Trust, which works with schools and communities to provide disadvantaged children with the literacy skills they need to succeed.
The book is available digitally as an eBook, as an audiobook – read by Higson – and as a hardback, online and in bookshops.