Prince of Wales congratulates Hollywood-backed Wrexham on Football League return
The Prince of Wales has congratulated Wrexham on getting promoted to the Football League after a 15-year absence.
Hollywood actors Ryan Reynolds and Rob McElhenney, who co-own the club, were among a 10,162 crowd watching the Welsh side secure the National League title on Saturday by beating Boreham Wood 3-1.
In a personal message after the match, William, who is president of the FA, said: "Congratulations @Wrexham_AFC! A club with such amazing history, looking forward to a very exciting future back in the Football League. Doing Wales proud. W"
Deadpool star Reynolds said the victory showed exactly why they bought the club, while It's Always Sunny In Philadelphia co-creator McElhenney said the experience had been the "honour" of his life.
Wrexham players were seen spraying champagne and singing in the changing room after the match in celebration.
Reynolds and McElhenney were joined by fellow actor Paul Rudd in their executive seating area as they celebrated Wrexham's title and promotion.
The co-owners went on to the pitch after the match to hug the players and hold the trophy.
Reynolds told BT Sport: "I'm not sure I can actually process what happened tonight, I'm still a little speechless.
"One thing that's running through my head over-and-over again is people said at the beginning: 'why Wrexham, why Wrexham?' this is exactly why Wrexham.
"What's happening right now is why."
McElhenney, speaking about the crowd, said: "I think we can hear how it feels to the town and that's what's most important to us.
"I think this is a moment of catharsis for them and celebration and for us to be welcomed into their community and to be welcomed into this experience has been the honour of my life."
Ant-Man star Rudd was seen drinking beer and singing songs with fans at the Turf next to the town's Racecourse Ground before the match.
Paul Novielli, a fan from Kentucky in the US on his fourth trip to Wrexham, took a selfie with Rudd and Sandy, a fan from Canada, at the Turf and described the actor as "super nice".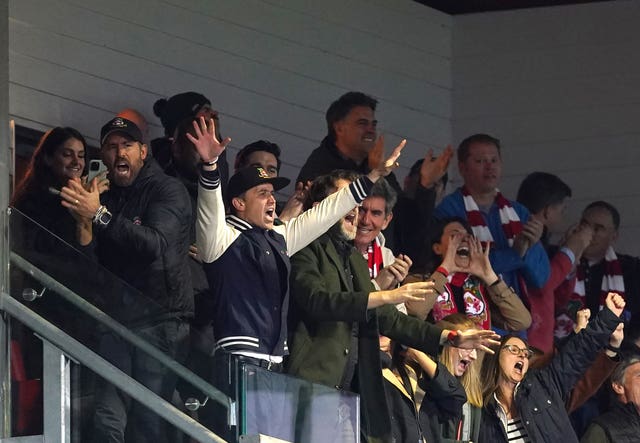 Mr Novielli, who runs a podcast called Up The Town dedicated to Wrexham AFC, said Rudd joined in with songs including Super Paul Mullin and Allez Allez Allez at the pub as he shared drinks with fans.
Formed in 1864, Wrexham are the oldest club in Wales and the third oldest professional football team in the world.
The club spent 15 consecutive seasons in the National League – the fifth division of the English football system- but will be playing in League Two next season.