Lee Child 'absolutely delighted' by honorary doctorate from Coventry University
Lee Child has said he is "absolutely delighted" after receiving an honorary doctorate from Coventry University in recognition of his experience in broadcasting and achievements as a novelist.
The 68-year-old British author, whose real name is James Grant, was born in the Styvechale area of Coventry and became a Doctor of Letters during a university graduation ceremony on Thursday.
Dressed in a ceremonial blue and yellow hat and gown, Child went up on stage at Coventry Cathedral to collect his doctorate before sitting to watch the remainder of the ceremony.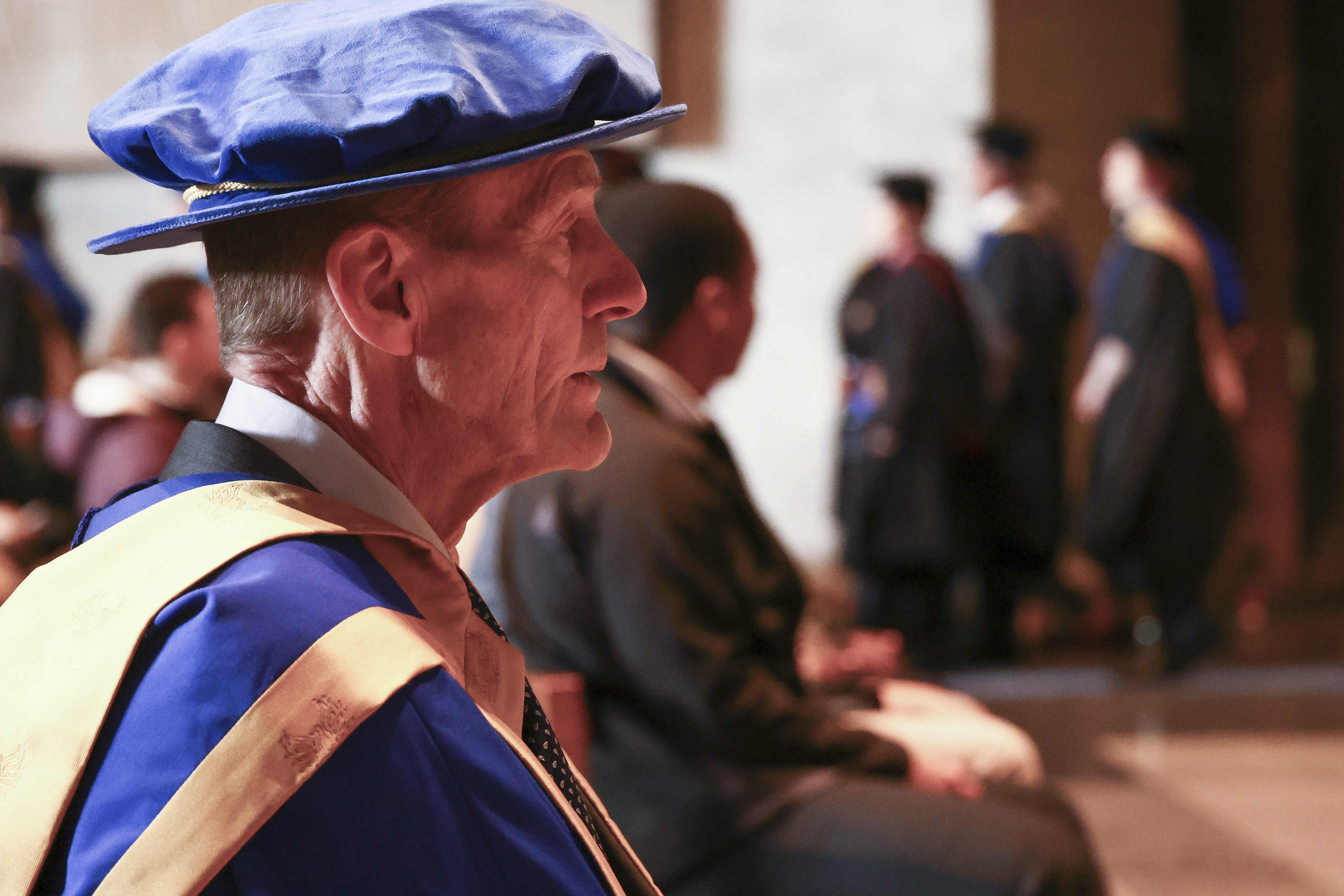 In a statement to the PA news agency following the event, he paid tribute to the many students becoming the first graduates in their families.
He said: "I was absolutely delighted to get the honorary doctorate. What it really means is someone has read the books and have enjoyed them.
"I'm very grateful for that but the thing that I got a real big kick out of was the real students getting their degrees that they have worked very hard for.
"Many of them were the first ever in their families to be at a university – I was the second of my family – and I know what it means to the student and their family."
Ahead of accepting the honorary doctorate, Child said: "As I got older I was still always aware of Coventry being there and had fond memories.
"I was supporting City of Culture and was scheduled to show up but the pandemic laid waste to that.
"From my point of view it's lovely that someone has read my books and thinks I'm worthy of being given something like this.
"Coventry University didn't exist by that name when I was here and I'm happy it's doing so well."
Child is best known for his popular Jack Reacher novel series, which follows a former American military policeman, Reacher, who travels across the country solving mysteries and attracting trouble.
Child, who grew up in Birmingham and later attended university in Sheffield, has lived in the US for much of his life and travelled from his New York home to attend the Coventry University ceremony.
Before finding success as an author, Child worked as a presentation director at Granada Television in Manchester.
During his time at the network, Child worked on popular TV programmes including Prime Suspect, Brideshead Revisited and Cracker.
After being made redundant in 1995, Child began writing novels and found great success with his first Jack Reacher thriller Killing Floor, which was published in 1997.
Since then Child has written more than 25 Jack Reacher novels and a number of short stories.
Jack Reacher novels One Shot and Never Go Back were adapted into two films, released in 2012 and 2016 respectively, and starring Tom Cruise as Reacher.
Last year Amazon released a Prime Video series, Reacher, based on the novels.
Child is currently in the process of retiring and has chosen to hand over the Jack Reacher baton to his younger brother Andrew Grant.
Coventry University's vice-chancellor, professor John Latham, said: "I would like to congratulate all those who will be getting this recognition from Coventry University.
"They are richly deserving of their honour for their incredible achievements in areas such as writing, music, health and social injustice.
"Their inspirational life stories and work show what can be achieved and echo what we here at Coventry University hope to inspire within our students as we help them be the very best they can."