Illuminated birds and a Eurovision winner form part of Liverpool's EuroFestival
Liverpool will see 12 huge lit-up nightingales and a Ukrainian Eurovision Song Contest winner perform as part of a series of events which will take place around the same time as the international competition.
The Soloveiko Songbirds – which will have accompanied audio to represent different regions of Ukraine and are designed with unique plumage – are one of the 24 commissions announced by EuroFestival on Tuesday. The nightingale is a national bird of Ukraine.
Last year, Ukraine won Eurovision with Kalush Orchestra but due to the ongoing Russian invasion is unable to host the song contest so the UK has stepped after Sam Ryder came second.
EuroFestival in May – a two week series of events which includes collaborations between artists in the UK and Ukraine – will be "unique in every sense" according to the director of Culture Liverpool, Claire McColgan.
She added: "No other Eurovision host city has ever curated a creative programme of such scale and scope, paying homage to the culture and heritage of both Liverpool and Ukraine in the most unforgettable way.
"This is the spirit of Eurovision spilling onto our streets. Free for all. Accessible to all. Uniting us all."
The main stage of the Eurovision Village will see performances from Welcome To Eurotopia – a supergroup made up of Liverpool musicians collaborating with Ukrainian artists – and 2016 Eurovision winner Jamala, who will perform her new Crimean Tatar folk song album Qirim, accompanied by the BBC Philharmonic orchestra.
Ukrainian singer-songwriter Jamala said: "During these dark times for Ukraine, the presentation of the new album in Liverpool is an essential mission for me.
"Just like the most precious memories of our lives, we cherish our culture as the most valuable treasure."
Other points of interest include With Fire And Rage, an immersive audio experience accessed via QR codes located around the city which follows the stories of frontline Ukrainian artists, and The Unity Theatre, which will also see Urkland: Stories From Ukraine along with other theatre performance.
The Nelson Monument in Exchange Flags will be surrounded by more than 2,500 sandbags for the art project Protect The Beats to replicate the way statues in Ukraine are being protected from bombardment.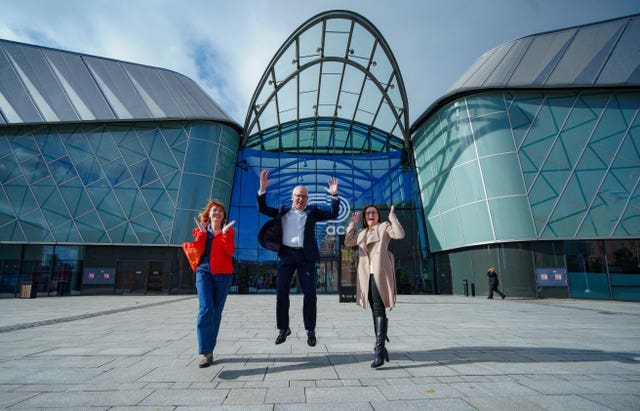 Esther Simpson, director of Whispered Tales, who is behind the idea, said: "Embedded within the artwork is a short film created with Ukrainian musicians that features soldiers singing on the front line, late-night raves in Kyiv's metro station and an underground gig in an air raid shelter."
Elsewhere, fans will be able to experience an LGBT+ focused three-day festival in Chavasse Park featuring drag and performances called EuroCamp Presents… as well as Xpressia Festival – an underground counterculture event, The People's Flag – a mass participation dance event, and film festival Storyville Live from the BBC Four documentary series.
Eurovision minister Stuart Andrew said: "EuroFestival will be a spectacular showcase of artistic and creative talent from the UK and Ukraine in a wonderful collaboration.
"From installations and performances to 900 kites flown by British and Ukrainian children, this two-week cultural festival will bring people together and create long-lasting memories for visitors to Liverpool as they get involved in the Eurovision Song Contest."
EuroFestival takes place from May 1 to 14 throughout Liverpool.