Coronation parade troops treated to Big Lunch as they prepare for pageant
Presenter Mel Giedroyc has hailed the "incredible" soldiers who will take part in the King's coronation as she joined them at a barracks in central London for the first Coronation Big Lunch.
The actress and comedian tucked into a picnic spread on Tuesday afternoon with guardsmen, troopers, musicians and horses who will play a key ceremonial role across the coronation weekend on May 6 to 8.
Britons are being invited to gather with their neighbours and take part in the thousands of Big Lunch street parties that will mark Charles' formal accession to the throne.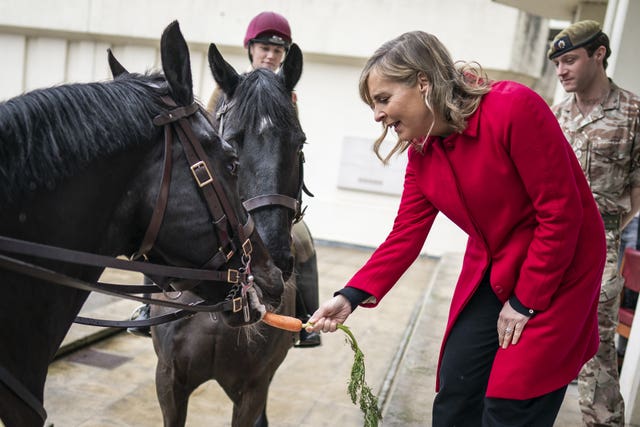 Speaking to the PA news agency from Wellington Barracks near Buckingham Palace, she said: "We are doing a special lunch today for the coronation and the reason we are doing it early at the end of March is because these guys are all training from now on within an inch of their lives to make the coronation day the kind of ceremonial, extraordinary, splendiferous occasion that it will be.
"They are incredible. They are so much fun.
"When you watch these amazing events, I don't know about you, but when I do I cannot take my eyes off of them.
"There are certain members of my family that kind of go, 'what are you doing?'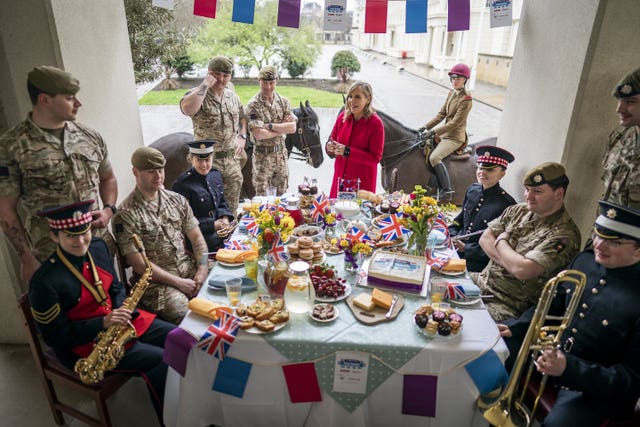 "But this is live, this is happening, this is unfolding.
"The colours, the music, the spectacle of it all I find utterly compelling and extraordinary and it is so part of our tradition."
Mel joined six guardsmen from the Scots Guards, two musicians from the Coldstream Guards, two from the Scots Guards, and two troopers and horses from the Household Cavalry for the lunch despite drizzly weather.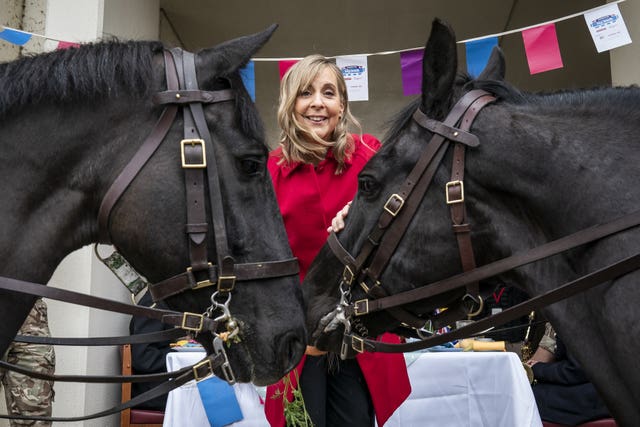 The regiments do not get together often and some of the soldiers were meeting each other for the first time.
They tucked into a spread of sandwiches, strawberries, cakes, scones, scotch eggs, cheese, tea and squash around a table decked with union flags and vases of daffodils, roses and tulips.
Mel fed carrots to the two dark brown horses, named Hastings and Warrior, as she chatted to their riders.
Captain Thomas Windsor-Clive, who as adjutant of London central garrison will lead a sector of the coronation parade from his horse, told PA the lunch was an opportunity for the soldiers to come together as their preparations start to ramp up.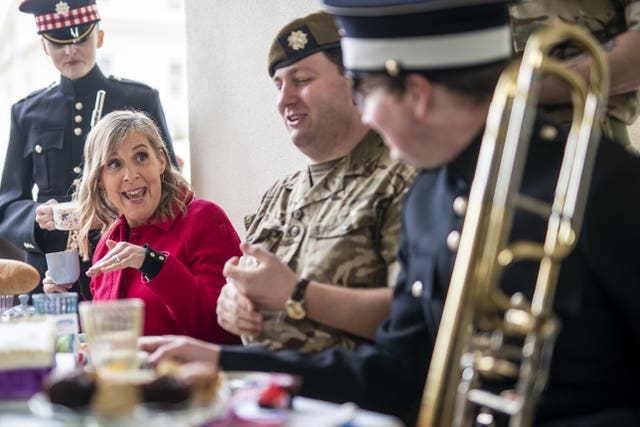 He said: "I think it's just great to get everyone together from all different regiments.
"We are all different but we are all one big family and we come together to work together as a family to work towards the greater good of the coronation.
"For everyone here it was a great sadness when the Queen died in September.
"But it was a great privilege to have been on that parade and now to celebrate the coronation of King Charles.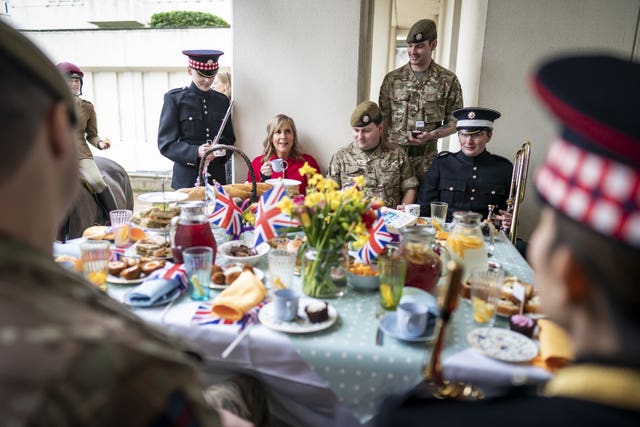 "As an officer in these fine regiments, we are very lucky to have phenomenal guardsman and officers within the family.
"To be part of that and to have such special soldiers is a privilege."
The Big Lunch is an annual community lunch that has been held on the first weekend of June since 2009, but has been moved to May this year to coincide with the coronation.
It is run by the Eden Project charity and funded by the National Lottery.
Lindsay Brummitt, programme director for the Big Lunch, said they did not need to be overly extravagant and coming together as neighbours is the most important part.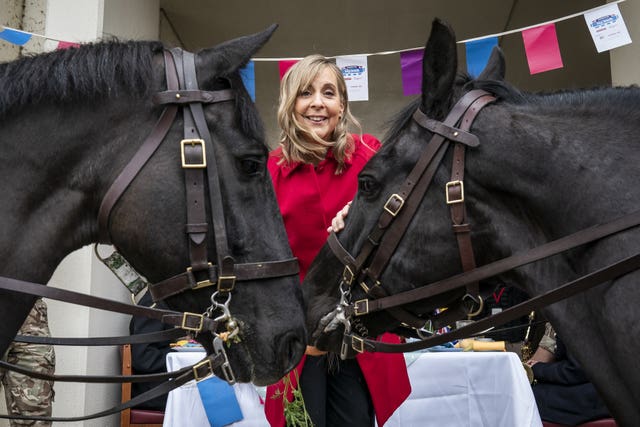 She told PA: "The fantastic thing about the Big Lunch is that it is everybody doing it at the same time that makes it big.
"Knock on one neighbour's door, have a cup of tea and a plate of sandwiches and you're part of it.
"This is not about doing big party spreads, this is about lots of people taking part in a way that works for them."
She added: "It is fantastic to have Mel along today.
"What it helps us to do is really shine a light on the great stuff we are expecting to see all over the country."