Alan Shearer says last week was 'difficult' as Gary Lineker returns to BBC
Gary Lineker has returned to live presenting on the BBC as part of the broadcaster's coverage of the FA Cup quarter-final between Manchester City and Burnley.
The 62-year-old was told to step back from hosting Match Of The Day (MOTD) over a tweet comparing the language used to launch a new Government asylum seeker policy with 1930s Germany.
He was joined in the studio on Saturday by Alan Shearer – who said last weekend was "really difficult" – and fellow former England footballer turned pundit Micah Richards.
Shearer reflected after he and BBC Sport colleagues walked out in "solidarity" with Lineker, with highlight shows significantly shorter than usual and aired without presentation or commentary.
The 52-year-old said: "I just need to clear up and wanted to say how upset we were (to) all the audiences who missed out on last weekend.
"It was a really difficult situation for everyone concerned – and through no fault of their own, some really great people in TV and in radio were put in an impossible situation and that wasn't fair.
"So it's good to get back to some sort of normality and be talking about football again."
Following on, Lineker said: "Absolutely, (I) echo (those) sentiments."
The former England striker earlier said it was "great to be here".
Before coming on air, Lineker posted a photo of himself at the Etihad Stadium in Manchester and told his Twitter followers: "Ah the joys of being allowed to stick to football."
He was also pictured greeting former journalist and Labour spin doctor Alastair Campbell, who is a Burnley supporter and hosts The Rest Is Politics – which is produced by Lineker's company Goalhanger Podcasts.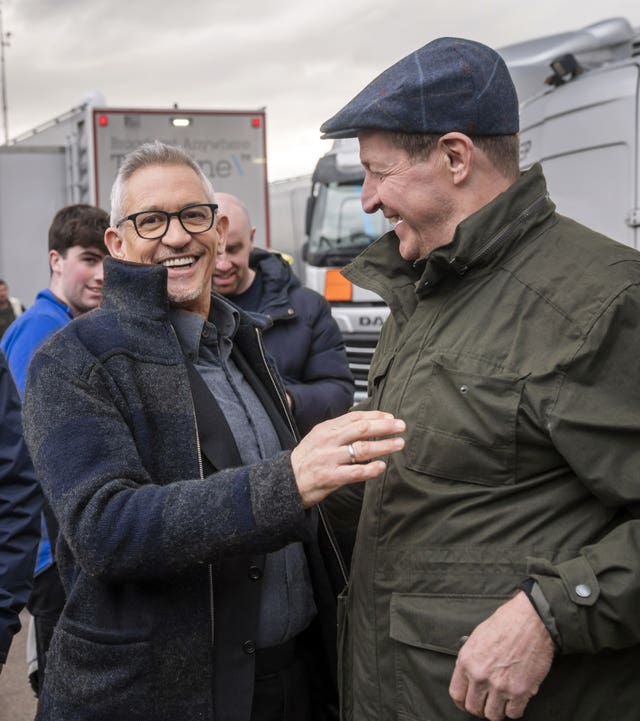 Later in the evening, broadcaster Mark Chapman is set to host the MOTD highlights show – which aired for only 20 minutes last weekend without accompanying commentary or analysis from presenters.
Sunday's edition also had a similar format and ran for just 15 minutes.
On Monday, BBC director-general Tim Davie said in a statement the corporation has commissioned an independent review of its social media guidelines, particularly for freelancers.
Mr Davie apologised for what he acknowledged had been "a difficult period for staff, contributors, presenters and, most importantly, our audiences" and described the BBC's commitment to freedom of expression and impartiality as a "difficult balancing act".
He added: "The potential confusion caused by the grey areas of the BBC's social media guidance that was introduced in 2020 is recognised. I want to get matters resolved and our sport content back on air."