Clarkson's farm is 'crown jewel' of sustainable farming, villagers say
Villagers defending Jeremy Clarkson's farm shop have described it as the "crown jewel" of sustainable living as they pleaded with their local council to allow his expansion plans.
A two-day Planning Inspectorate meeting continued on Wednesday to consider proposals by the 62-year-old former Top Gear presenter to extend the car park on his Oxfordshire farm plot to accommodate 70 vehicles.
Charlie Ireland, the land agent who features on the Amazon Prime series Clarkson's Farm, also spoke at the hearing to defend the farm.
The plans are opposed by West Oxfordshire District Council (WODC) on the grounds that it would encourage more visitors to Diddly Squat farm – which sits between Chadlington and Chipping Norton – adding to traffic problems.
WODC has also said allowing more vehicles would further disturb the tranquility of the Cotswolds Area of Outstanding Natural Beauty.
During Tuesday's meeting, Chadlington resident Hilary Moore described tourists attracted to the farm as "motorheads" who drive slowly on surrounding roads to "show off their cars".
On Wednesday, Annabel Gray, 32, who works on a catering trailer at Clarkson's farm, said this description was "unfair", and she had "witnessed local people" adding to traffic issues by driving slowly too.
She added that 16-year-old workers on the farm have had to "wear body cameras" as a precaution following "abuse" directed at them by villagers.
Ms Gray, who is also a farmer's daughter, said the farm shop provides an "important" education for visitors, some of whom do not realise that "beefburgers come from a cow".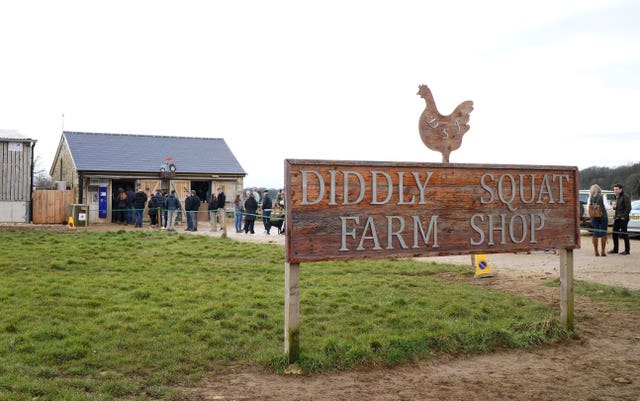 She told the hearing: "Diddly Squat has an important opportunity to educate people about local farming and I find it really frustrating that the council is overlooking that.
"There are few places about where you can experience where we get food from.
"Jeremy's following do not have that great a knowledge about farming – I have had to explain to people that beef burgers come from a cow – and they travel long distances with the hope they might see him, but also to experience farming they have seen on TV.
"They buy something that's being produced by the local farming community and they are wowed by it and then they go and seek it out in their local communities.
"This is a massive, massive opportunity for WODC. I am begging you that this is something that can be improved on rather than turn your back on."
Local butcher and Diddly Squat supplier Henry Lawrence, 33, said the shop could be "the crown jewel" of sustainable farming and that his business has grown "dramatically" since trading with it.
Mr Lawrence, who owns Hook Norton Butchers, said: "I would like to see a car park granted of the correct capacity, not only for the success of the farm shop, but for the success of local businesses too.
"Diddly Squat farm could be the crown jewel in the local sustainable farming movement."
Chadlington Parish Council chairman Andrew Hutchings, 56, emphasised that there was "a range of opinions" on the farm in the village, but most agreed that it had "clearly outgrown what it was built for".
He said: "We have reached a tipping point between a farm shop and a tourist type attraction for people who want to see the celebrity as well as the farm.
"The problem comes when you have too many visitors … the traffic is a major issue to the community at large.
"When you have a site which has significant traffic problems and cannot deal with the number of visitors, should we be adding more services and features that enable more people to spend longer on the premises?
"It's very hard to see the proposed car park dealing with that at peak times."
WODC has argued that the car park expansion indicates a change in the use of his land from being for the shop, to being for "leisure activities", which would require different planning considerations.
Clarkson's legal representative Richard Kimblin KC contested this, saying the extra parking space reflects increasing demand for the shop alone due to its "remarkable success in selling farm goods".
The council's lawyer said that if Clarkson's business were operating as a farm shop only, visitors would stay only for "around five minutes" to buy their goods, so a space for up to 70 vehicles is "too big".
It was previously heard that visitors stay longer to "take selfies", meet Clarkson, who now also hosts Who Wants To Be Millionaire, and have a day out at the site.
Mr Ireland said tourists spend "longer than five minutes" visiting the farm shop because due to its popularity, they often have to queue for entry.
He added that along with boosting local employment, the farm is contributing to local biodiversity through flowers planted to attract bees.
Mr Ireland added: "We have got some new products coming and it is vibrant farming business now.
"We have heard about the employment, which is great, we have heard about the local businesses we have been able to support – it's a really exciting venture to be part of."
WODC previously shut down a restaurant which Clarkson had opened last year – allegedly without planning permission – and the TV presenter has subsequently said he no longer wishes to reopen it.