Banshees' Martin McDonagh: It is strange Irish film has taken world by storm
Martin McDonagh said it is "kind of strange" that his Irish film The Banshees Of Inisherin has won the hearts of the nation after arriving at the 95th Academy Awards.
The British-Irish director's dark comedy secured nine Oscar nods including for best director and best original screenplay, and is also in the running for best film.
The movie stars Colin Farrell as Padraic and Brendon Gleeson as Colm, two old friends who find themselves in an unusual situation when Colm puts an abrupt end to their relationship.
The cast also includes Kerry Condon and Barry Keoghan, and the story is set on a remote island off the west coast of Ireland in 1923.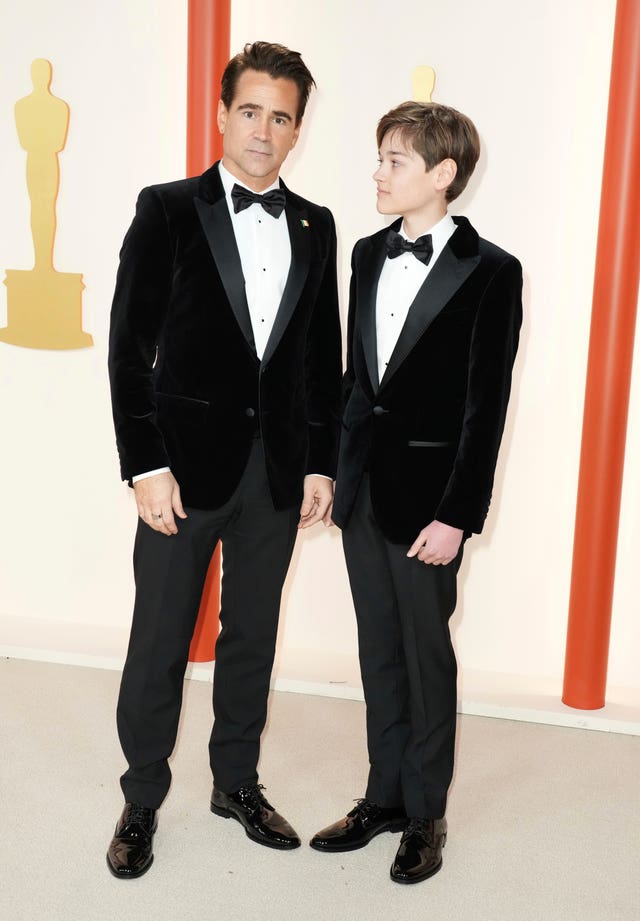 Speaking about the success of the film, 52-year-old McDonagh told Sky News on the Oscars welcome carpet: "It's been crazy. It's done (well) all over the world, it's kind of strange for a small-ish Irish film to have done all that, but we like it."
Farrell, who arrived on the carpet with his son Henry Tadeusz Farrell, is up for best actor while Gleeson and Keoghan are nominated for supporting actor and Condon for supporting actress.
McDonagh said of Farrell's performance: "He's so open to being broken, he's so sensitive, and he's so nuanced, both heart-breaking and funny all at the same time. His change from the first scene to the end is momentous so I'm not sure if I've seen that on screen before. He gets my vote."
He continued talking about Keoghan and Condon respectively: "(Barry Keoghan) is incredible.
"I kind of studied his work, even though he's quite young, for seven or eight years. He's been doing brilliant, idiosyncratic things. I'm so glad his brilliant work in this has been recognised.
"Kerry (Condon) and I go back 22 years, even though she's still very young. She was brilliant in a play of mine that…so I've always known how good she is, but I'm so glad that the whole world is getting to see that now."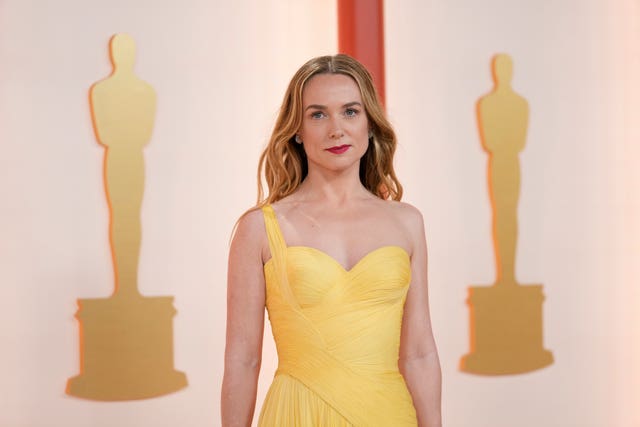 Irish actress Condon, 40, later told Sky News she is "so happy" to be at the Oscars that she does not mind what the outcome is.
She said: "It's the end of the road so I hope I won't get too emotional… I'm exhausted too and when I get exhausted I start crying. I'm just so happy to be here, I don't mind what happens."
Asked if she had an acceptance speech prepared, she said: "I have got people in my mind that I don't want to forget but I haven't written anything, no."
Condon was dressed in a bright yellow Versace gown, which she said had been the colour of her childhood bedroom.
"It makes me feel like me," she said.
Speaking on the carpet, Gleeson, 67, said he hoped McDonagh took home at least one prize at the Oscars ceremony.
"Honestly, no one is going to believe me when I say this, but I'm just taking joy out of all this. It's a historic occasion. It's a cinematic story that's ours, that works in a cinematic town and all over the world.
"What's great about Martin is he didn't want to come back with anything just to make it happen. I think this is his best writing so far…it could have been a very small film for a very small audience in terms of its reach but now it's universal reach that's what this is all about. It's fantastic."
Meanwhile, Paul Mescal said he feels like he is on a "crazy train" after being nominated for his first Academy Award.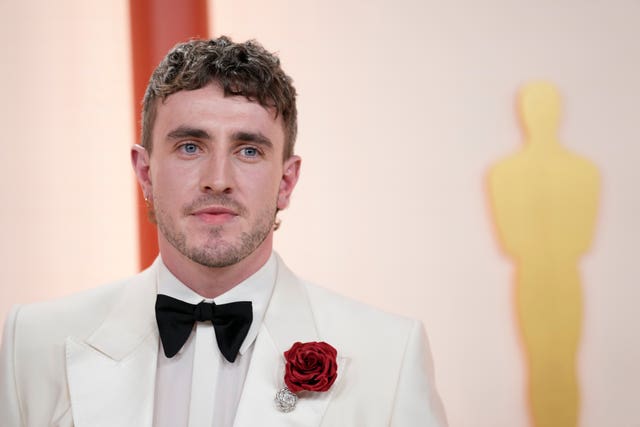 The Irish star, 27, takes on Farrell and his "idol" Brendan Fraser in the best actor category for coming-of-age drama Aftersun.
Asked on the event's carpet how he felt, he replied: "Like I'm on a crazy train right now and I haven't really caught my breath."
Mescal recalled how Fraser had reached out to him following the nominations, adding: "Brendan is one of my idols and has been for a long, long time.
"So him reaching out… it was so unbelievable. He's just an incredibly generous man."