Critics give 'shocking and satisfying' Happy Valley finale five stars
Critics have praised Happy Valley's finale for providing "shocking twists" and a "satisfying" conclusion as they gave it five stars across the board.
The "electrifying" writing of Sally Wainwright and Sarah Lancashire's performance as West Yorkshire Sergeant Catherine Cawood were hailed in the last episode of the BBC One drama, which was applauded for having an "unreservedly, unapologetically northern, middle-aged, female point of view".
After three series across nine years, the last 70-minute episode aired on Sunday, drawing in an average audience of 7.5 million viewers, according to the BBC's overnight figures.
Reviewers from The Times, The Telegraph, the Daily Mail, the i and The Guardian all focused on the final showdown between Catherine and her nemesis, the murderer, sex offender and escaped convict Tommy Lee Royce, played by James Norton, as they gave it their highest rating.
The Times called their meeting at the kitchen table "exquisitely bleak" and "surely, Bafta-winning".
Carol Midgley said the malicious war of words in which Lee Royce announces he has forgiven Catherine after concluding she gave his son Ryan, played by Rhys Connah, a happy home, was "12 minutes of electrifying dialogue" that was "genius" for its "low-key, domestic smallness".
Prior to the series beginning, Catherine's daughter Becky took her own life after giving birth to Ryan, after Lee Royce had brutally raped her.
The Daily Mail's Jan Moir wrote "one of British television's greatest dramas" showed that words are more impactful than a "knockabout throbbing with machismo and squashed noses".
The review added: "Happy Valley provided one of the greatest drama finales ever seen on British television; as moving and unexpected as it was thrilling and thought-provoking, with moments of choking emotion as well as flashes of humour."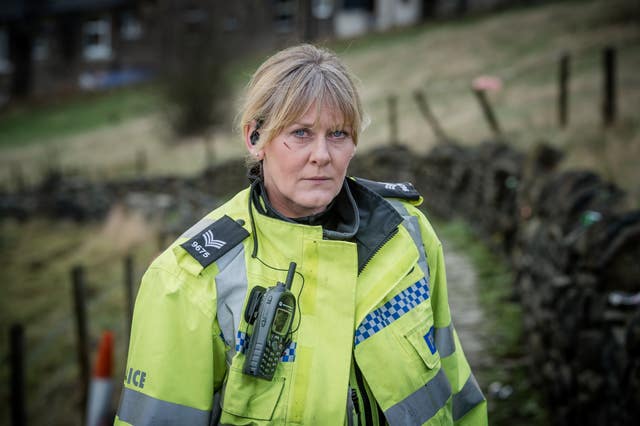 Viewers saw Lee Royce set himself alight before dying later in hospital.
Other storylines wrapped up on Catherine's last day of 30 years' service in the police included Lee Royce disclosing that it was Darius Knezevic who had killed Gary Gackowski eight years earlier.
Lee Royce made the revelation after the mafia boss appeared to organise his stabbing.
Catherine also deduced it was pharmacist Faisal Bhatti, played by Amit Shah, who had murdered his neighbour Joanna Hepworth, played by Mollie Winnard, after she threatened to report he had been illegally supplying her with diazepam.
Meanwhile, Joanna's abusive husband, Ryan's PE teacher Rob Hepworth, who found her body in the garage, was set to be charged over "indecent images" on his phone.
The Mirror's Ian Hyland said viewers were "dramatically punching the air in delight" as Catherine grabbed her "happy ending" on Happy Valley.
"Sgt Cawood, your work here is done. We thank you for your service," he added.
In the final moments, Catherine made up with her sister Clare (Siobhan Finneran), concluded Ryan was raised well and had the opportunity to head for a trip to the Himalayas.
The Telegraph's Anita Singh said the last episode was "not the most gripping episode of this series" as she referenced Lee Royce's earlier escape from court.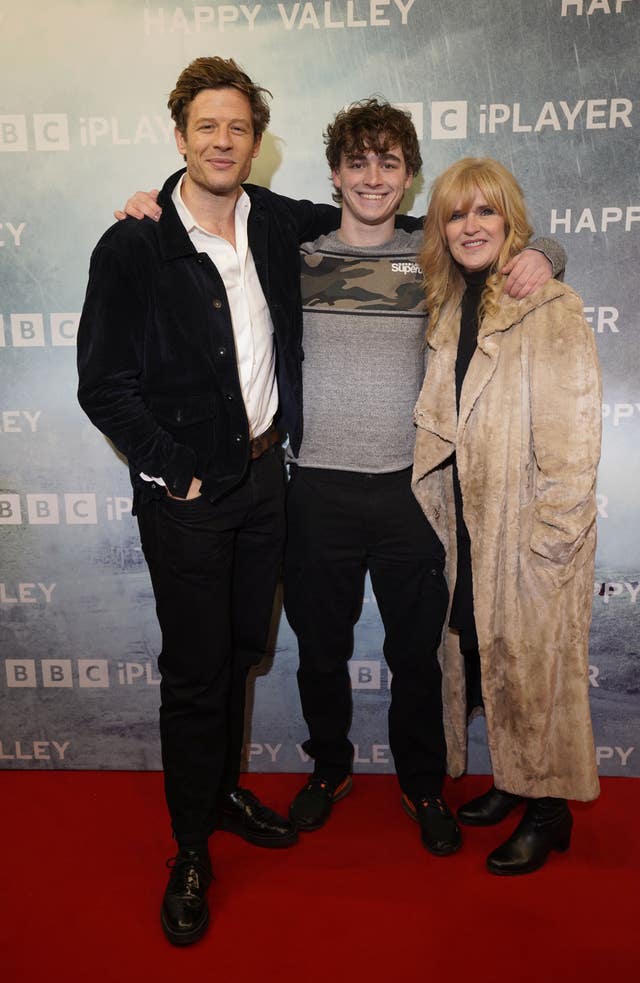 She instead praised Catherine's character for "her toughness, her vulnerability, her sense of humour" as she said the crime drama is at "its core" about the love she has for her family.
The Guardian's Lucy Mangan said "one of the greatest trilogies in modern television" has come to a "brutal, tender, funny, compelling and heartbreaking" end, showing off a "profoundly, unreservedly, unapologetically northern, middle-aged, female point of view".
The episode also saw Ivan Sertic (played by Oliver Huntingdon) and Matija Jankovic (played by Jack Bandeira), arrested in a dramatic police raid on suspicion of false imprisonment, money laundering and assisting Tommy in escaping lawful custody.
The arrest was just two hours before Ivan was set to walk down the aisle.
The Sun's Rod McPhee called the end "satisfying", while the i's Rachael Sigee said it was "a heart-stopping triumph".
The Independent's Nick Hilton also called it "an artisan police drama" and "a brief, extraordinary, respite from the raging winds of mediocrity".
Both series one and two won Baftas for best drama series and writing, while Lancashire won the leading actress prize for the second series, which last aired on BBC One in 2016.
Series three, which was previously announced as the last series, returned on New Year's Day for six episodes.