Sam Smith 'truly overwhelmed' after Gloria goes straight to number one spot
Sam Smith has said they are "truly overwhelmed" after scoring their third number one album.
Gloria is the fourth record from the 30-year-old pop vocalist, who is due to perform at the Grammys this weekend, and features collaborations with Koffee, Jessie Reyez and Ed Sheeran.
Lead single Unholy, with German trans singer Kim Petras, went to number one in September in countries including the UK, Australia and Canada.
Smith, who identifies as non-binary and uses they/them pronouns, said: "Thank you to all my amazing sailors who have made Gloria this week's number one album.
"I'm truly overwhelmed and could not have done this without you. I love you all, this is for us."
They previously said the album "feels like a coming of age" and helped them "through some dark times".
Smith went to number one with their 2014 debut In The Lonely Hour and 2017's The Thrill Of It All.
Their third album, Love Goes, peaked at number two in 2020.
Sunday will see them take to the stage during the Grammys in Los Angeles for a live performance, and they are also expected to bring their boundary-pushing dress sense to the red carpet.
The Stay With Me singer prompted an online backlash this week after releasing the risque music video for recent single I'm Not Here To Make Friends, in which they wore a corset and nipple tassels while performing a suggestive routine with scantily-clad dancers.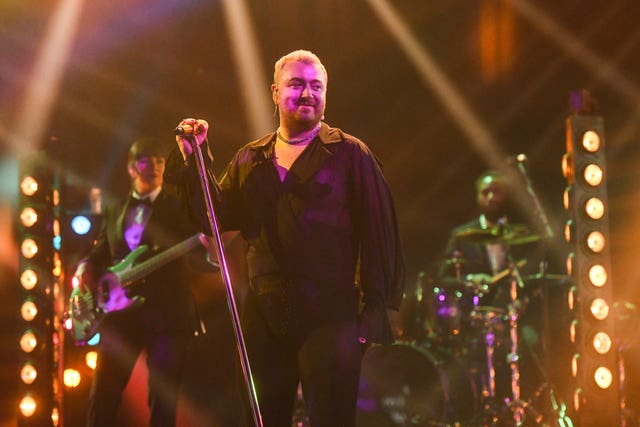 The video has been criticised by some as oversexualised, while fans of the singer have said they are a victim of double standards due to them being queer and larger in size.
Gloria has attracted mixed reviews with the NME giving it four stars and hailing it as "the most surprising, satisfying and vital work of their career", while The Times offered only two and argued that Smith too often resorts to "cliche" to tell their story.
On the singles chart, Miley Cyrus holds on to the number one spot for a third consecutive week with Flowers.
The US pop singer outsold her closest competition, Raye's Escapism, by more than two to one.
She claimed more than 106,000 chart units this week, including 12 million streams, once again making Flowers the most-streamed song in the UK.