Colin Farrell and Bill Nighy in the running to scoop first Oscar nominations
Colin Farrell and Bill Nighy are both in the running to receive their first best actor Oscar nominations.
If nominated, the pair are expected to come up against US heavyweights Austin Butler and Brendan Fraser who have also won acclaim for their performances in Elvis and The Whale respectively.
Nominations for the 95th annual Academy Awards are due to be announced on Tuesday from 1.30pm UK time, and will be read out by Riz Ahmed and Allison Williams.
Nighy and Farrell have already picked up nods for their performances at other award shows, with Farrell winning the Golden Globe for best actor in a motion picture, musical or comedy.
The Irish star appears opposite long-time friend and colleague Brendan Gleeson in Martin McDonagh's dark comedy, The Banshees Of Inisherin – which is set on a remote island off the coast of Ireland.
Nighy has previously been recognised for his turn in Living, in which he portrays a veteran civil servant who is inspired to make the most of his remaining days, following a life of tedium.
Paul Mescal, who stars in coming-of-age drama Aftersun, also stands a chance of scooping an Oscar nomination in the best actor category – boosting chances of homeside success.
The best supporting actor category may also turn out to be stacked with British and Irish talent, with Gleeson, Barry Keoghan and Eddie Redmayne all already having been recognised.
If all receive nods, they will likely have to contend with Ke Huy Quan, star of Everything Everywhere All At Once, who has led the field thus far with both nominations and wins for his performance.
The sci-fi thriller, also starring Michelle Yeoh, Jamie Lee Curtis and Stephanie Hsu, sees a family caught up in a scramble across the multiverse, following an interdimensional rupture.
The film dominated at the Critics Choice Awards, with wins including best picture, best director and best supporting actor for Quan.
Yeoh won best actress in a motion picture, musical or comedy, at the Golden Globes, and if nominated for the best actress Oscar, is likely to face stiff competition from Cate Blanchett.
Blanchett's performance in Tar, which follows the unravelling of star conductor Lydia Tar, has already earned her both a Golden Globe and Critics Choice Award.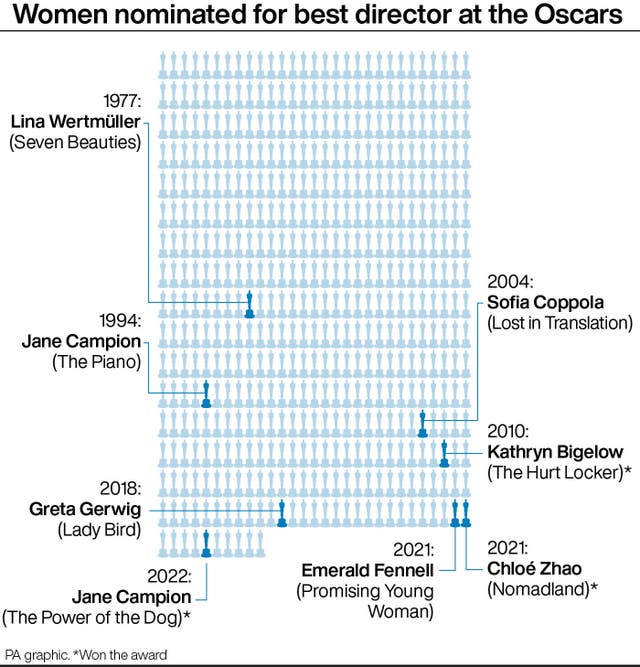 Following their previous successes, The Banshees Of Inisherin and Everything Everywhere All At Once are also expected to be nominated for best picture overall along with Steven Spielberg's The Fabelmans.
That film follows young filmmaker Sammy Fabelman, played by Gabrielle LaBelle, and his burgeoning career in the movie-making business – based in-part on Spielberg's own life story.
If nominated, the trio may come up against blockbuster sequels including James Cameron's Avatar: The Way Of Water, and Tom Cruise's high-octane Top Gun: Maverick.
Spielberg and McDonagh may also be set to continue their rivalry for best director accolades, both having received nominations in the parallel categories at other award shows.
Nominations in all 23 categories will be read out in a live presentation from the Academy's Samuel Goldwyn Theater and via global livestream on Tuesday.
The star-studded Oscars ceremony, due to be hosted by US talk show host and comedian Jimmy Kimmel, will take place on March 12, at the Dolby Theatre in Los Angeles.