English National Opera 'needs proper funding to set up new base outside London'
The boss of the English National Opera has said Arts Council England (ACE) is forcing it to have a new base outside London but hopes the ENO receives proper funding to make sure opera is not "yet again an art form that's only available for the rich".
On Tuesday, the ENO announced that after "negotiations" with ACE, the organisation is set to receive £11.46 million for the next financial year beginning on April 1 from the National Lottery.
It represents a 9% cut from its previous funding and a 20% reduction in real terms given the cost-of-living crisis, ENO chief executive Stuart Murphy said.
In a statement, the ENO said it remains concerned that the funding only gives audiences and the workforce "one year's reprieve" and leaves a "huge amount of uncertainty regarding the ENO's future".
It comes after the ACE announced plans in November to remove the opera company as a national portfolio organisation, instead proposing the ENO receive a £17 million grant over three years – but only if it relocates outside of London, with a move to Manchester suggested.
After Tuesday's announcement, the ACE said the funding had been granted to "sustain a programme of work at the ENO's home, the London Coliseum" and at the same time "help the ENO start planning for a new base outside London by 2026".
Mr Murphy told the PA news agency: "The Arts Council said they want us to move out of London. They said you won't get any funding unless you have a new base outside London and continue to do some stuff at the Coliseum. So the short answer is we don't have a choice. We've got to do it.
"The main thing is, we just need proper funding to make sure that whatever we do out of London isn't a half-baked version of the ENO. People outside London shouldn't feel grateful for getting something that's half-funded of what Londoners normally get.
"If we don't get decent funding for years two and three, then the version of the ENO that people will get will be tiny.
"It won't do all the things that we do, like subsidise tickets, free tickets for under-21s, training for people who aren't rich, opera people who are disabled, all that stuff will just collapse and will be yet again an art form that's only available for the rich."
Mr Murphy said the ENO does not have a problem having a second base outside London "so long as we have enough money to properly set up a base".
He told PA: "We're not worried at all about having a base outside London. I'm originally from Leeds, I partly live in Warwick, quite a lot of people in the ENO live in different parts of Britain.
"If it's going be on half the budget, which is what the Arts Council suggested a while ago, the ENO will basically have to sack huge numbers of people, and we won't be able to do all the brilliant things we've been doing for 100 years."
Mr Murphy confirmed the ENO will be looking for a second location in the next two to three months.
He told PA: "We're going to be visiting a whole bunch of places around Britain with a little team who will go around looking at places. They're split into two types of places: places that already have a lot of culture like the big cities, Birmingham, Liverpool, Manchester, Bristol and Hull.
"And then there's going to be another set of places who don't have much culture at all and we would be the main people in town.
"That's a bit of a harder sell because we're going to have to shift our orchestra and chorus and their families and their partners to a place that potentially has very little cultural provision.
"It'll be hard to get people who live and die for culture to move somewhere that has literally nothing, but we're up for the challenge. The main thing is we just need money to be able to relocate people and encourage people to move."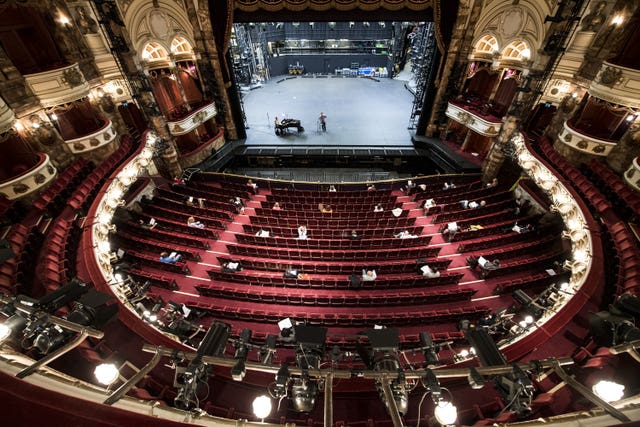 The ENO boss said moving performers to an area without another orchestra when the ACE could decide after three years to cut the funding again is a real risk, but it will make sure whatever is decided "really looks after our world class performers and doesn't just ruin their lives".
He also said the "entire opera industry" has been "pretty confused" with what the ACE is trying to achieve with opera but he is "happy" the ENO has managed to secure a one-year deal.
"It's good news in the current economic climate, getting £11.46 million confirmed from the Arts Council is a big result and will mean the company can continue until March next year.
"We're really aware that with a cost-of-living crisis with people facing energy bills, we don't take on that money lightly," he said.
April marks five years since Mr Murphy joined the ENO as chief executive but he will be staying until September beyond his contract to see the ENO "through this period".
He added: "Hopefully, we'll have an agreement by the end of March, we'll know the state of play for the next few years and by the time I leave in September, it will be hunky dory."
Darren Henley, chief executive of ACE, said: "This grant will provide the ENO with stability and continuity while they plan their future. We want to back an exciting programme of work from the ENO in a new home, and make sure it stays part of the brilliant London arts offer at the Coliseum.
"We know this means a challenging period of change for the company and its staff, but it will also mean opera for more people in the long term and contributes to the levelling up of cultural investment. The funding announced today is on top of a £30 million per year national portfolio commitment to opera and the many talented people who work within it.
"Our financial resources are finite, and today's investment balances the public's desire for high quality arts and culture of all kinds in towns and cities all over England, and the ambitions of artists and creative professionals working across England's arts, museums and libraries."
The opera company embarked on a campaign to reverse ACE's funding decision last year, supporting a petition set up by opera singer Sir Bryn Terfel – which has attracted more than 83,000 signatures – and Mr Murphy held talks with Culture Secretary Michelle Donelan.
ACE said further investment for 2024 to 2026 is available "in principle, subject to discussion and application".