Drag Race's Ella Vaday expects 'magical journey' on 100km charity trek
RuPaul's Drag Race UK star Nick Collier, better known as Ella Vaday, said he hopes to inspire fellow drag queens to "be passionate" about charity work as he prepares to take part in a 100km (62-mile) trek with breast cancer charity CoppaFeel!.
This year's CoppaTrek! will see famous faces, including Collier and 2020 I'm A Celebrity… Get Me Out of Here! winner Giovanna Fletcher, lead teams of up to 30 people for five days across Northumberland from June 10-16 with the aim of increasing awareness and raising £1 million.
Collier, who was a runner-up in series three of the UK version of the cult reality competition, is a celebrity captain for the challenge in Hadrian's Wall Country and spoke to the PA news agency about being inspired by his own mother's experience of breast cancer, from which she has now recovered.
"I think (the trek) is going to be such a magical sort of journey," said the 34-year-old.
"It's just a really nice moment… to celebrate my mum's journey through her cancer battle.
"It's going to be physically really tough, but I think being surrounded by really positive, happy people who want to hear your story and to share their own story, I think it's going to be such a lovely moment."
Collier said he works with CoppaFeel! because it is a charity that "covers all bases" and is not gender-specific.
"In the industry I work in these days, it's so important not to assume someone's gender (or) whatever they want to call their breasts… whether it's chest, pecs, boobs," he said.
"People forget that men can get breast cancer too, everyone has breast tissue.
"And CoppaFeel! work with younger people to be able to identify when there are changes, and I think that's so important because I think you forget when you're young that it can happen at any stage."
Collier hopes to set an example for other Drag Race queens with the trek.
"As someone that's in the public eye, there's so much that we do that means nothing, so it's nice to do things that actually mean something," he said.
"I know some of my sisters, especially from my season, have done some charity work, or at least work that means something to them.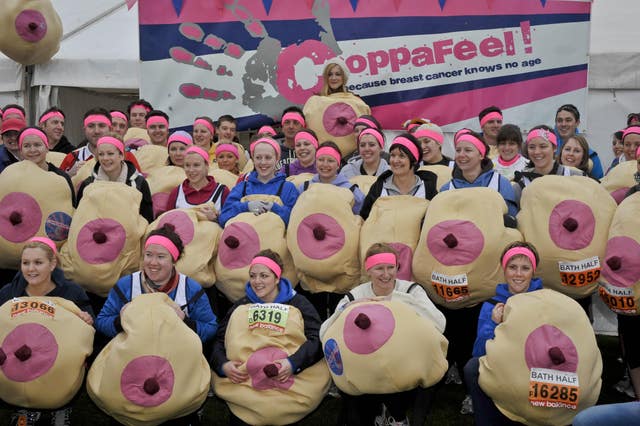 "But I do feel like it is hopefully inspiring them to do more than just putting on a gown, singing a couple of songs.
"I do feel like if you're going to do something, you really have to want to do it and be passionate about it."
He added "I don't think I ever will" adjust to the fame that has come from RuPaul's Drag Race and said the representation it has provided for the LGBTQ+ community is "mind-blowing" compared with the last 10 years.
Collier, who is gay, said he "didn't really understand" who he was until he was 20.
"As a young person, I never had any representation of myself on television," he said.
"So something like Drag Race, where you see many, many different stories from different people who identify in a different way, who are different genders, races… and that's all played out to a whole family audience nowadays.
"I feel like young people now are far more represented than I ever was, and I think that's just brilliant."
But he added: "There's always further to go."
"We need to see drag kings, more people of different abilities…
"In terms of what's needed to do in the queer land, loads more to do, but Drag Race has definitely helped."
And while the forthcoming trek may prove to be a physical challenge, Collier said it will be "such an achievement".
"I've never done anything like this before," he said.
"I hate cardio, to be honest.
"So this is going to be a real test of everyone's spirit."
– To find out more about 2023's CoppaTrek!, go to https://coppafeel.org/