Leah Williamson says she never had body confidence issues due to sport
Leah Williamson said she "never" had "worries" about the way she looked at school as she did sport.
The England captain, who led the Lionesses to glory at last summer's UEFA Women's Euros, added she always viewed herself as "fit and healthy" because she was "happy" doing what she enjoyed.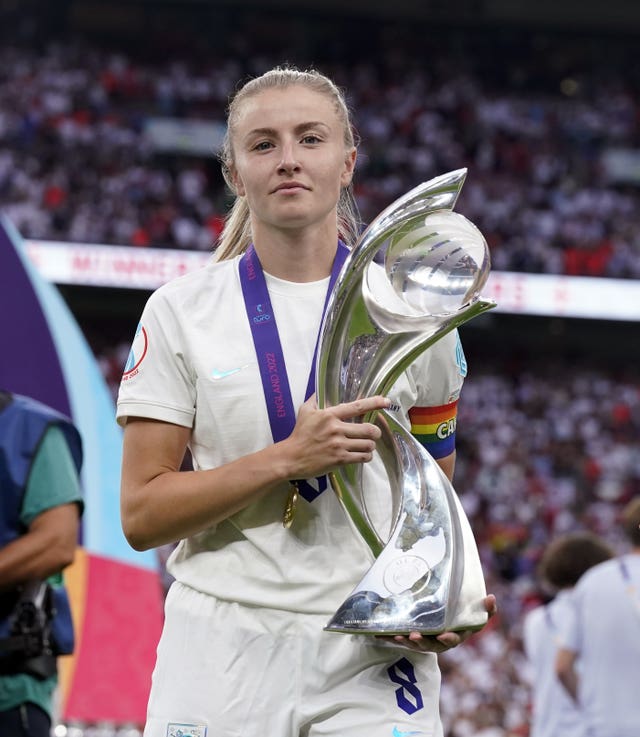 Speaking to Women's Health UK's YouTube channel as the magazine's current cover star, Williamson said: "Being so heavily involved in sport was the best thing that ever could have happened to me going through school.
"When I look back now, when I look at the insecurities of girls that weren't active, I never had those worries, I never had the worry of getting changed in the changing room and not liking my body, because I knew I was strong and powerful.
"Even if someone else might not have liked the way I looked, to me I was fit, I was healthy, and I looked a way that I was happy with because I knew what I was doing made me happy."
Williamson, 25, added the "health benefits and self-confidence" she and her teammates received by playing football was one of the reasons they wrote an open letter to Conservative Party leadership candidates Rishi Sunak and Liz Truss, before they both became PM.
Signed by all 23 members of the squad, the Lionesses in August called on the Government "to make a huge difference" to every girl in the nation by giving them the chance to follow in their footsteps.
Elsewhere, the Arsenal defender also talked about her endometriosis, which can make her periods so debilitating that she is left lying in pain on the bathroom floor.
She said this was the first time she came up against something she did know how to "beat" and learned it is "an inevitable thing that doesn't make you any weaker than anybody else".
Williamson was diagnosed with the condition after she was scanned because of a hamstring injury which led doctors to find a cyst on her ovary.
She also said: "I had it taken out before it became a problem, and at the same time discovered I had endometriosis. So, the painful periods make a lot of sense."

Endometriosis is a long-term condition where tissue similar to the lining of the womb grows in other places, such as the ovaries and fallopian tubes.

Painful periods, pelvic pain and cramping, uncomfortable bowel movements and excessive bleeding are among the various symptoms. Infertility is also possible.
In the New Year's Honour's List, she became an OBE while her teammates Lucy Bronze, Beth Mead and Ellen White all became MBEs.
The full Leah Williamson interview is available on the Women's Health UK's YouTube channel.