'Numb' Harry brought to verge of tears by Sir Elton John at Diana's funeral
The Duke of Sussex has said he felt "numb" before his mother's funeral but was nearly brought to tears while listening to Sir Elton John perform during the service.
The 75-year-old veteran musician was a close friend of Diana, Princess of Wales and famously performed an adapted version of his song Candle In The Wind to reflect her life at her Westminster Abbey funeral.
Following Diana's death in 1997, Sir Elton remained a friend to her sons William, 40, and Harry, 38, over the years and attended both their royal weddings alongside his husband, David Furnish.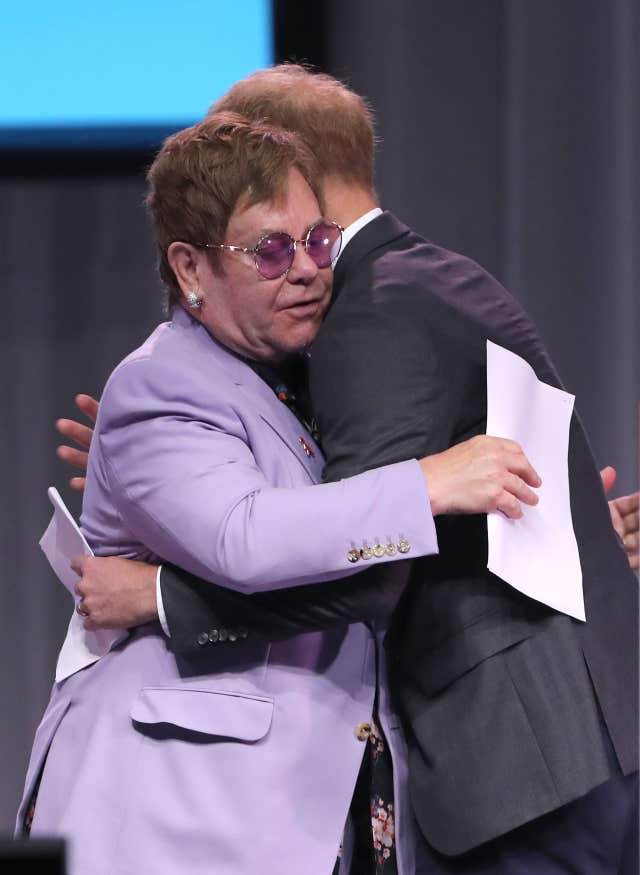 Writing in his memoir Spare, Harry recounted his 12-year-old-self "feeling numb" as he walked with his brother behind his mother's coffin before reaching the Abbey in London.
He said: "The funeral began with a series of readings and eulogies, and culminated with Elton John.
"He rose slowly, stiffly, as if he was one of the great kings buried for centuries beneath the abbey, suddenly roused back to life. He walked to the front, seated himself at a grand piano.
"Is there anyone who doesn't know that he sang Candle in the Wind, a version he'd reworked for Mummy? I can't be sure the notes in my head are from that moment or from clips I've seen since. Possibly they're vestiges of recurring nightmares.
"But I do have one pure, indisputable memory of the song climaxing and my eyes starting to sting and tears nearly falling. Nearly."
Later in the book, the duke remembers hosting the 10th anniversary concert for his mother, with Sir Elton being among the line-up which also included Duran Duran and Sir Rod Stewart.
Harry revealed he asked Sir Elton to play Candle In The Wind once again but the singer refused as he "didn't want to be morbid".
Instead, the musician performed his ballad Your Song, with Harry describing his performance as being done with "a twinkle and a smile, aglow with good memories".
"Willy and I tried for that same energy, but then photos of Mummy began flashing on the screen. Each one more radiant. We went from being crumpled to being swept away", he added.
Elsewhere in the book, officially published on Tuesday, Harry recalled the Duchess of Sussex and himself admitting to Sir Elton that they were "losing it" in the summer of 2019.
He said the singer offered for the couple and their son Archie to visit his home in France where he and his family were staying.
Harry recounted the "best part of the visit was watching Elton and David and their two boys fall in love with Archie."
He added: "Often I'd catch Elton studying Archie's face and I knew what he was thinking: Mummy. I knew because it happened so often to me as well.
"Time and again I'd see an expression cross Archie's face and it would bring me up short.
"I nearly said so to Elton, how much I wished my mother could hold her grandson, how often it happened that, while hugging Archie, I felt her – or wanted to. Every hug tinged with nostalgia; every tuck-in touched with grief."
Harry also revealed he and Sir Elton had a disagreement on the last night of the holiday over the singer planning to serialise his upcoming memoir with the Daily Mail.
The duke said he questioned why he had chosen the newspaper he claimed had made Sir Elton's life "miserable".
Sir Elton said he "wanted people to read it" and Harry did not want to "push" the matter, adding: "I loved him. I'll always love him. And I also didn't want to spoil the holiday."