Natural History Museum aims to be 'digital' attraction to reach new audiences
The Natural History Museum hopes to become a "digital museum" in an effort to engage with new audiences, an official for the attraction has said.
Clare Matterson, executive director of engagement at the London venue, said the museum's online content has proved "incredibly popular" during the pandemic and has been a "lifeline" for some.
She added that new audiences and people who have "never been here, and perhaps might never be able to come here" have benefited from the online resources.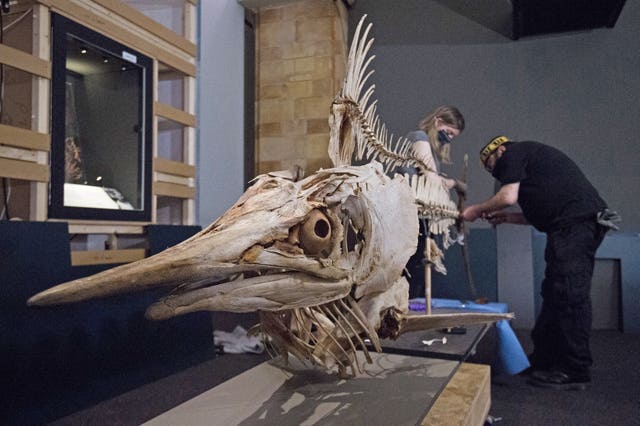 "We have had some of the most wonderful letters from people who have disabilities or particular conditions to really say please don't stop these events, they have been a lifeline during lockdown," Ms Matterson told the PA news agency.
She added the museum wants to "serve people not just in a physical space but in a virtual space" and "be the digital museum".
The tools also help the museum "reach other parts of the country outside London", she added.
Online resources include a nature tour, wildlife guides, interactive talks, videos and games.
The Natural History Museum will open again on Monday after coronavirus restrictions are further eased to allow indoor entertainment venues to reopen.
Social distancing measures will be in place inside the museum and visitors will have to wear face coverings.
Ms Matterson said the pandemic has been "really tough… for all of the cultural sector and all museums".
She said the attraction has had to "look for as many efficiencies as we can across the whole of the organisation" in a bid to save money.
Discussing the reopening, she added: "So I think there's no denying, we all know, it's going to be tough.
"But we want to welcome back visitors, and then build up that recovery over the next year or so, as not only London opens, the UK opens, and then the world opens.
"So we're doing everything we can, but it's been tough on the cultural sector."
Exhibitions on at the Natural History Museum for its reopening include Wildlife Photographer Of The Year and Fantastic Beasts: The Wonder Of Nature.
A new meteor, which landed in the UK in February in Winchcombe, Gloucestershire, is also being displayed in the museum.
It is the first time meteorite samples have been collected in the UK for 30 years and the rock could help provide information about how the solar system was formed, according to the museum.