Bodyguard in top five most-watched programmes of decade
Bodyguard has become one of the top five most-watched programmes of this decade, new figures show.
The final episode of the gripping BBC thriller had a huge television audience of 14.34 million.
Only four other programmes have managed to get higher comparable ratings this decade: The X Factor, EastEnders, The Great British Bake Off and Coronation Street.
The new figures, published by Barb, include those who recorded Bodyguard's finale and watched it up to seven days later.
It means the series has outperformed many of this decade's high-profile dramas including Doctor Who, Sherlock and Downton Abbey.
Bodyguard has also managed to beat this decade's most-watched episodes of Strictly Come Dancing and Britain's Got Talent, along with last year's natural history blockbuster Blue Planet II.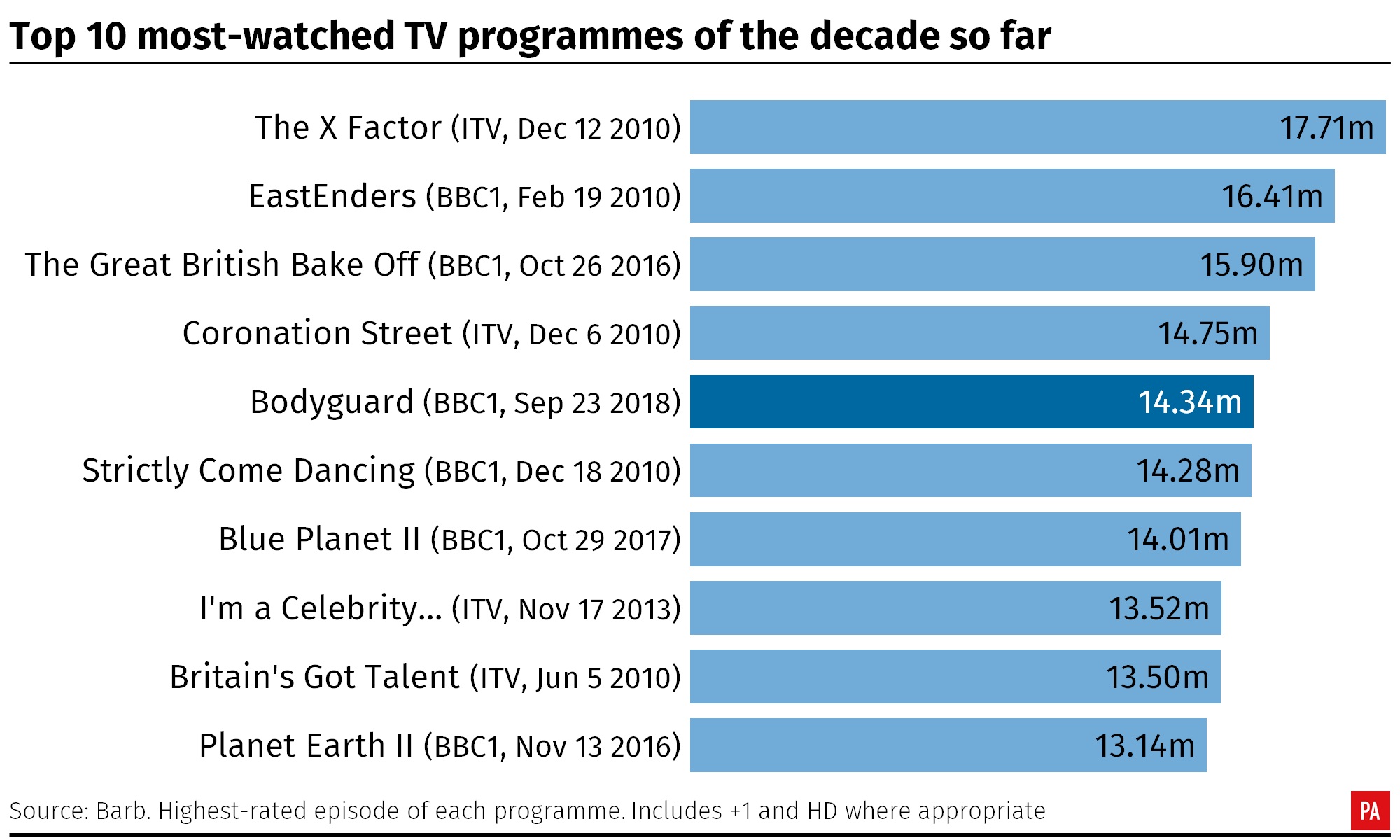 The size of Bodyguard's audience will fuel speculation of a second series, but as yet the BBC and the show's creator Jed Mercurio have said nothing officially about a possible return for Sergeant David Budd (Richard Madden).
When compared with some of this year's live TV events, the final episode of Bodyguard pulled in more viewers than England's World Cup matches against both Panama and Belgium.
But it was still some way behind the 20.73 million who saw England's semi-final against Croatia, which remains the largest TV audience of 2018 so far.
The biggest TV audience of this decade was set by the closing ceremony of the 2012 Olympics, which was watched by 24.46 million people.
Here are the top 10 most-watched TV programmes of this decade so far, compiled by the Press Association from figures published by Barb:
1. The X Factor (ITV, December 12 2010): 17.71 million
2. EastEnders (BBC1, February 19 2010): 16.41 million
3. The Great British Bake Off (BBC1, October 26 2016): 15.90 million
4. Coronation Street (ITV, December 6 2010): 14.75 million
5. Bodyguard (BBC1, September 23 2018): 14.34 million
6. Strictly Come Dancing (BBC1, December 18 2010): 14.28 million
7. Blue Planet II (BBC1, October 29 2017): 14.01 million
8. I'm a Celebrity… Get Me Out of Here! (ITV, November 17 2013): 13.52 million
9. Britain's Got Talent (ITV, June 5 2010): 13.50 million
10. Planet Earth II (BBC1, November 13 2016): 13.14 million