Former Carry On actress Fenella Fielding dies aged 90
Former Carry On actress Fenella Fielding has died aged 90, a spokeswoman for the star said.
Fielding, who enjoyed a showbusiness career spanning seven decades, suffered a stroke two weeks ago and died on Tuesday.
Her career began in 1952, according to her website, when she starred on stage in The Constant Lover.
She went on to appear in two Carry On films, Carry On Regardless (1961) and Carry On Screaming! (1966), and was awarded an OBE in the 2018 Queen's Birthday Honours List.
In a statement, a spokeswoman said: "We are very sad to announce that Fenella Fielding OBE passed away this afternoon on Tuesday September 11.
"This follows a severe stroke two weeks ago. During that time, she has been very comfortable and always looked tranquil and divine. And always wearing her eyelashes!
"Miss Fielding was an incredible talent. That voice! A unique woman, much loved by family, friends and fans. She will be missed tremendously."
Fielding was born in London to a Lithuanian father and a Romanian mother. She is the younger sister of Basil Feldman, Baron Feldman, a former Conservative member of the House of Lords.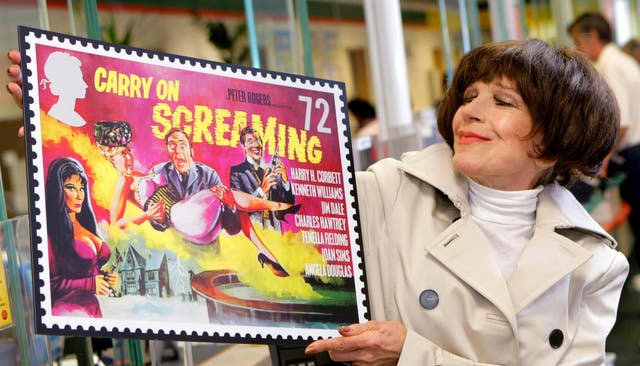 According to her website, her TV roles include The Avengers, The Prisoner and The Morecambe & Wise Show.
Fielding's stage credits include plays by Shakespeare and Henry James.
Perhaps her most famous role was as Valeria in Carry On Screaming! alongside Kenneth Williams.
Her 2017 memoir Do You Mind If I Smoke? is named after a line in the film.
In an interview with the Independent in 2008, Fielding said her roles in the Carry On films led to her being typecast.
She told the newspaper: "You get set on a path and, if you succeed, you get better parts, but of the same kind. If you don't take a lot of trouble, you get stuck like that.
"I've managed to get away from that, time and time again. But people still think of me in a certain way because of the Carry On films."