Beatles memorabilia at museum opened by Pete Best's brother
The son of The Beatles' road manager has put his Fab Four memorabilia on display to the public after opening a museum.
Roag Best, brother of the band's original drummer Pete and son of Neil Aspinall, who went on to be the managing director of the band's business Apple Corps, has opened the Magical History Museum on Liverpool's famous Mathew Street to house just some of the items from his huge Beatles collection.
The 56-year-old, whose mother Mona ran the Casbah Coffee Club where the band started their career, is displaying around 200 rare exhibits from his collection, which he estimates includes more than 1,200 items, in the five-storey building.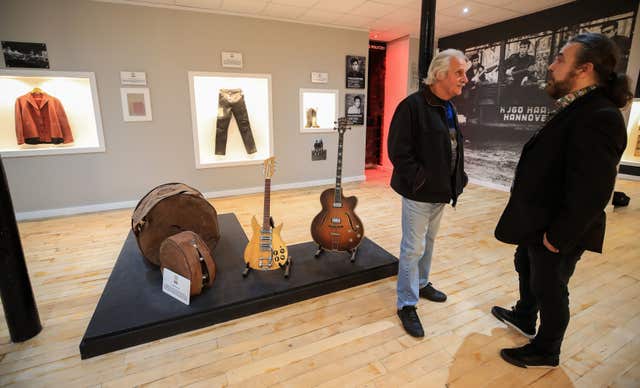 The memorabilia includes a harmonica used by John Lennon and the war medals he wore for the Sergeant Pepper album cover, which were loaned from Mrs Best, as well as costumes, instruments, props and merchandise.
Mr Best said growing up with The Beatles had been "the norm" for him.
He said: "It was only when I got to about 15 or 16 and other people started commenting on it that I thought 'hang on a minute, our family is a bit different' and then the whole penny started to drop that it wasn't the norm to be in George's studio with George on guitar and me sitting on drums having a jam session."
Mr Best's father had been a school friend of Paul McCartney and George Harrison and had an affair with Mrs Best while lodging with the family.
Pete, now 76, was sacked from the group before they went on to worldwide fame but Mr Aspinall, who died in 2008, continued to work for them as road manager, before managing Apple Corps.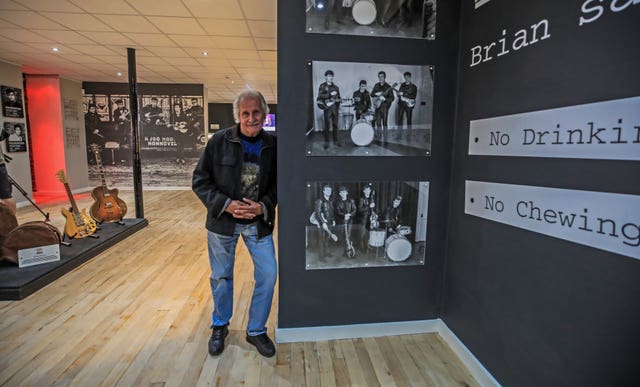 At the opening of the museum on Friday, Pete said he did not feel frustrated at the success the group went on to have.
He said: "That feeling went many, many years ago. It's very much a case of achievement now. We've moved on from that."
He said seeing the costumes and drum kits he used while with the band on display in the museum was a "little bit different from having them in the house".
He added: "It's for people to come and see, that's what it's all about."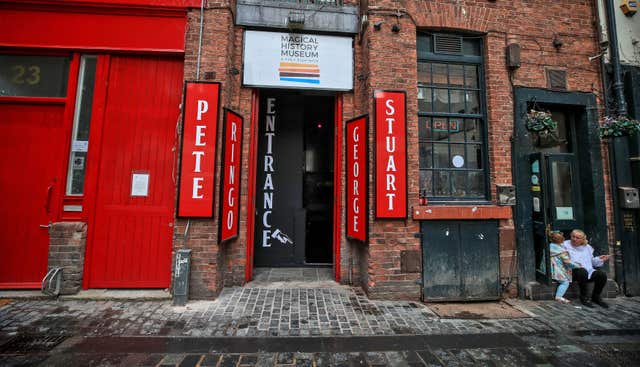 Roag said he began his collection after rescuing the original Casbah Coffee Club sign from a skip after his mother had decided to throw it out.
The sign, which he said Coca Cola later offered an "obscene amount" of money to buy, had been used to mix cement on but he wanted to put it on his bedroom wall.
"Then I got the collecting bug, I've been collecting in my own right for over 30 years," he said.
The items in the museum will be rotated every 12 months so other items from his extensive collection, which he keeps in storage, can go on display.
The Magical History Museum is advertised as open to the public from 9am until 7pm, eight days a week.