Fans hail Peter Kay's return to TV screens for improvised Car Share
Peter Kay has returned to television for the first time since cancelling his live UK tour with an unscripted episode of Car Share.
He introduced the improvised episode of the Bafta-winning sitcom with a short video, saying: "What you're going to watch tonight is called Car Share Unscripted.
"Basically what we've done is we've done something a bit different, what you're about to watch is Sian (Gibson) and myself doing some improvisation.
"We used to drive around quite a bit and we just wanted to see what would happen if we filmed a whole journey without a script, just making it up, reacting to the radio, chatting and basically seeing what happened.
"So here is the result, I hope you enjoy it."
It comes after he cancelled his tour in December due to "unforeseen family circumstances".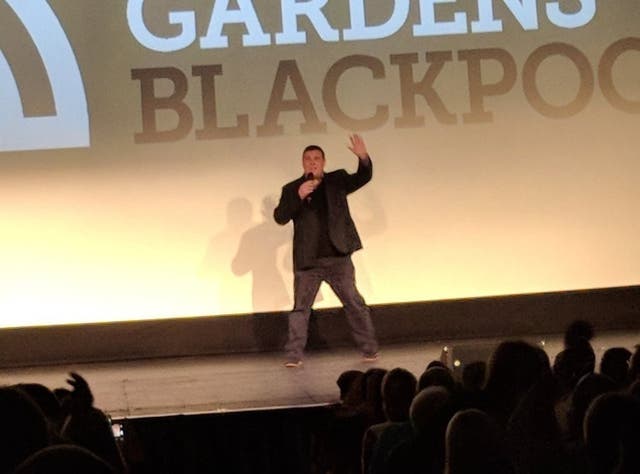 The unscripted episode and the upcoming finale have been shown to audiences in Blackpool, with Kay making a rare public appearance at one screening.
The second series of the show ended on an emotional cliffhanger last year as John (Kay) failed to reciprocate Kayleigh's (Sian Gibson) advances.
Fans celebrated the return of the show to television, with one writing on Twitter "#CarShare is just pure class & brilliant!! The on screen chemistry between @peterkay_co_uk & @Sianygibby is what makes this fine comedy such a huge success. Can`t wait for that final episode."
Another wrote: "Peter Kay's Car Share. Wonderful, hilarious nonsense. Just what Britain needs."
Others shared their enjoyment of the hidden gags in the show, including a shop called Halaldi.
BBC Breakfast presenter Dan Walker wrote on Twitter: "Some gold on #Carshare Halaldi is magical. Did anyone spot the 'struggling to grow a moustache… please take one' on the tree?"
Another viewer said: "Creasing up at the Halaldi shop sign in #CarShareUnscripted."
Another said: "HALALDI! These background gems are pure genius!"
The unscripted episode ended with John inviting Kayleigh over to have a takeaway.