The Ferryman wins top Olivier Awards
THE cast of Northern Ireland-based play The Ferryman were last night celebrating after scopping the top awards at the The Oliviers – the most prestigious awards in theatreland.
As well as Best New Play, Belfast's Laura Donnelly took home the Best Actress award and Sam Mendes was named Best Director for the production.
Meanwhile, Cork-born actress Denise Gough has won the Olivier Award for best actress in a supporting role for Angels In America.
The sister of actress Kelly Gough, the 38-yearold was previously noted for her work in theatre and television and won an Olivier in 2016.
She was awarded, at the star studded event held at the Royal Albert Hall last night, for her electrifying performance as Harper in Marianne Elliot's revival of Tony Kushner's play Angels in America.
We're live with Best Actress Laura Donnelly who just won! https://t.co/EZMAdxcmFf

— Olivier Awards (@OlivierAwards) April 8, 2018
Actress Laura Donnelly on how uncle's IRA murder inspired hit West End play
The West End production of Hamilton swept the boards at the Olivier Awards with seven wins from its record-breaking 13 nominations.
The hip hop musical, which tells the story of American founding father Alexander Hamilton, scooped both best new musical and outstanding achievement in music.
Giles Terera won best actor in a musical for his portrayal of Aaron Burr while his co-star Michael Jibson won the best actor in a supporting role in a musical award.
Terera said: "I am relieved and elated that we did so well.
"We did not take anything for granted. You never know how these things will be received and I knew it was very special."
Asked if the production was a "game changer", Terera said: "Yes, I think so."
Elsewhere, Bryan Cranston took home the award for best actor.
After accepting his prize for the portrayal of Howard Beale in Network, Cranston called for more funding to be made available to the arts.
He urged governments to spend more money on the arts for young people, rather than focusing on them "learning dates of war".
He said: "There is a trend in the United States, when faced with fiscal challenges, to look immediately at the arts as the first red line.
"I think it's very short-sighted because to support children's imagination and ability to grow in a social, emotional way, is more important, I would contend, than learning dates of a war."
Cranston, 62, was then asked if he thought the UK did not have those red lines, and said: "It doesn't seem to be that way. There are challenges everywhere.
"By virtue of the fact I worked at the National Theatre and their first and foremost mission is to put on good stories that resonate with audiences and if it happens to make money, then great. But that's their first and foremost.
"We had a lot of kids come to the show and I talked to a lot of kids and I go to colleges and acting schools to talk to them about the idea of being involved in the arts and trying to continue that."
Time's Up had a prominent presence on the red carpet, with many celebrities wearing the movement's pin.
The movement was set up in the wake of the Hollywood sexual harassment scandal.
Lesley Manville, who was nominated for the best actress award, said: "I think a lot of people, but predominately women, felt intimidated and possibly at times threatened. Just a lot of pressure to put up with things.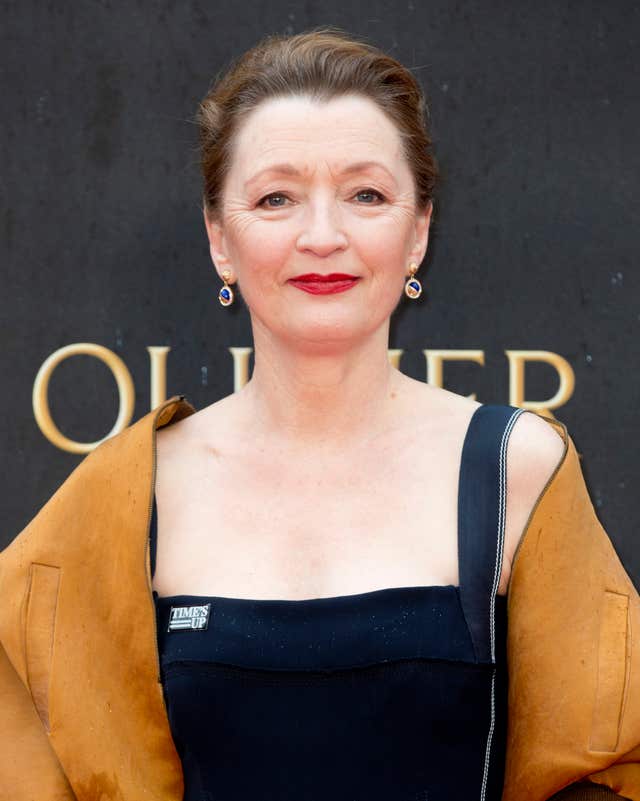 "The strength of the movement is now so huge, I don't think women feel frightened anymore to come forward – and men – when they've been victims of it. The tide has turned."
Bertie Carvel, who won the best actor in a supporting role award, said the Time's Up pin was a "unique and powerful symbol of unity" across the entertainment industry.
He added: "Time's Up was a movement started by women but it's for all of us to stand shoulder to shoulder and say enough is enough. I hope that this year and perhaps even tonight, we'll look back and think that was the hinge, when things really started to change."
Cranston also wore a pin on the red carpet.
He said: "The idea that older white men are controlling the world and having free rein is over. With every person that is brought to the attention, and the aggressors, whether sexually or power oppressors, when they fall, we have the opportunity to rebuild on a foundation of mutual respect. Invisible of gender, of sexual preference, of colour, let's build it up with mutual respect of everyone.
"Right now it's muddy, it's tough, but there's hope in that."