Tickling sticks and Diddymen help give Sir Ken Dodd a colourful send-off
Thousands have gathered to say a final "tatty bye" to much-loved comedian Sir Ken Dodd.
Stars including Jimmy Tarbuck, Les Dennis, Roy Chubby Brown, Claire Sweeney, Ricky Tomlinson, Tom O'Connor, Stephanie Cole, Miriam Margolyes and Stan Boardman joined former BBC chairman and ITV executive chairman Lord Michael Grade and former BBC director general Lord John Birt as well as fans, family and dignitaries at Liverpool Cathedral to pay their final respects to the comic, who died at his home in Knotty Ash earlier this month aged 90.
The cathedral, which has a capacity of 2,700, was full for the ceremony, with the congregation including Diddymen and a dog in a pram, and hundreds of mourners gathered outside where the service was broadcast on a big screen.
Fans had lined the streets as a horse-drawn carriage bearing his coffin, with a bouquet of yellow sunflowers atop and one of his famous trademark Diddymen, made its way from Knotty Ash to the cathedral.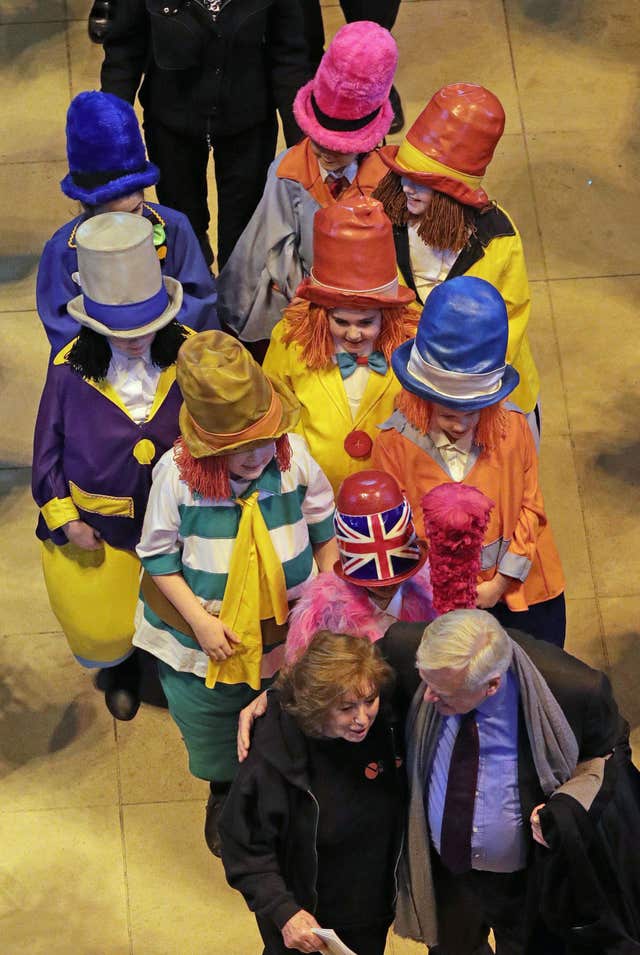 Tickling sticks lined the approach to the cathedral and were placed on landmarks, including Liverpool Town Hall and The Beatles statue on the Pier Head, in tribute to the entertainer.
Tarbuck described him as "perhaps our city's greatest hero".
He said: "I'm pleased for Ken there's yet another full house."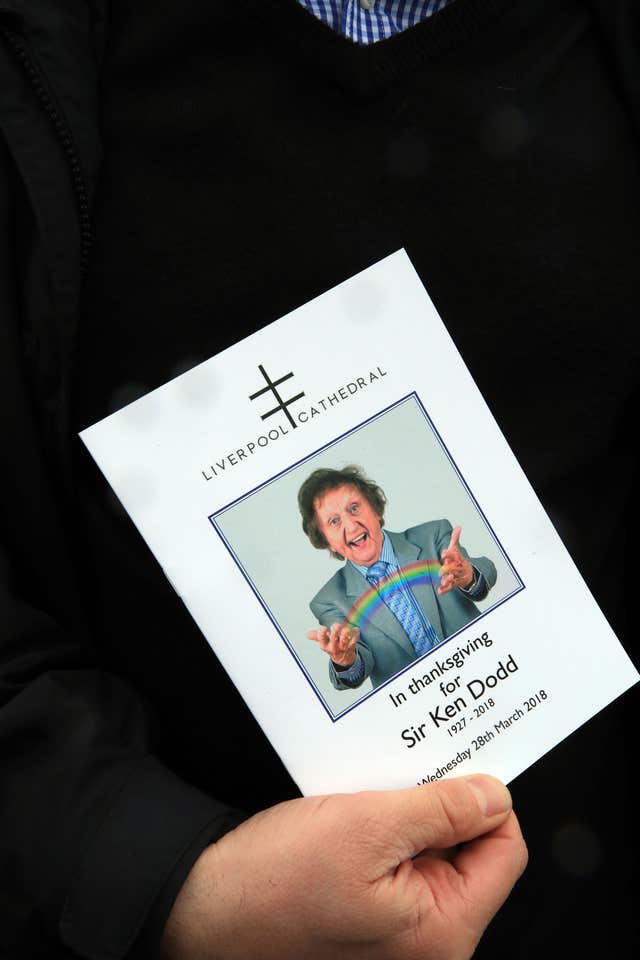 Tarbuck, who spoke before reading a passage based on Psalm 139, said he had met Sir Ken 57 years ago when performing and "just fell in love with him".
He added: "He sang Happiness because he gave happiness."
Irish comic Jimmy Cricket paid tribute to "one of the most different, original, innovative and gifted comedians".
He said: "Ken always said his gift, his talents, were from God and comedians like Ken, they only come once in a lifetime.
"We thank God today that he came during our lifetime."
Actress Stephanie Cole, who has appeared in Open All Hours and Coronation Street, told the congregation this month had seen the loss of two geniuses, Stephen Hawking and "dear Doddy".
She said: "Both introduced us to universes we could not have imagined, both had very original notions of time."
Close friend and author John Fisher described Sir Ken as a "joking, jumping, singing, skipping, verbal, visual whirlwind of laughter".
He said: "Ken Dodd was, no contest, the complete comedian, our greatest entertainer. But he was more. He was a life-enhancing force of nature."
Tributes were also paid by his great-nephew and godson Alex Otley and friend Peter Rogan.
Prayers were led by Rev Julia Jesson, the vicar of St John the Evangelist Church in Knotty Ash, where Sir Ken was a member of the congregation, and the commendation was given by Bishop of Liverpool The Right Revd Paul Bayes.
Acting dean of Liverpool Canon Myles Davies said the service was a wonderful tribute to someone who has spent his life persuading us all to exercise our chuckle muscles".
In reference to the length of the comedian's shows, he joked that the congregation would not "be missing the last bus home" after the funeral, although the service did run for 30 minutes longer than expected.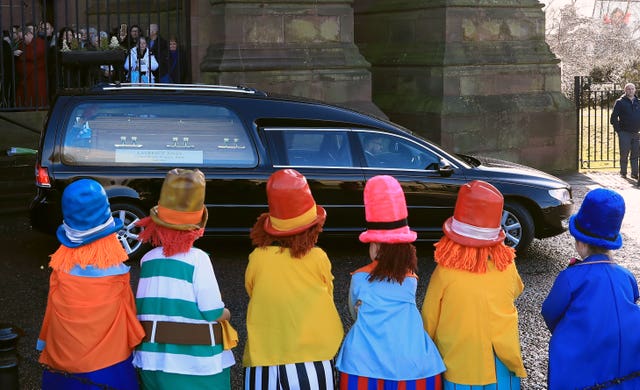 The coffin was followed by Diddymen as it was carried out of the cathedral to applause.
A private interment was due to follow the ceremony.