Fans and fellow stars turn out to farewell Sir Ken Dodd at funeral
Hundreds of mourners have gathered in Liverpool for the funeral of Sir Ken Dodd.
Fans lined the streets outside his home in Knotty Ash as his funeral cortege, led by a horse-drawn carriage, left and travelled to Liverpool Cathedral.
Along with the comedian's fans, stars including Jimmy Tarbuck, Les Dennis, Roy Chubby Brown, Claire Sweeney, Ricky Tomlinson, Tom O'Connor, Stephanie Cole and Stan Boardman were at the cathedral to pay their final respects to Sir Ken, who died last month aged 90.
The comic's trademark tickling sticks were placed around Liverpool landmarks ahead of the service, including on the town hall and a statue of The Beatles at the Pier Head.
The cathedral, which seats 2,700, was full for the ceremony, with guests including his famous Diddy Men.
Friends paid tribute to Sir Ken as they arrived for the service.
Ricky Tomlinson said: "He was just a one off wasn't he? You can't compare anyone with Doddy.
"He inspired everyone in Liverpool and that's why so many people are here today, they loved him."
Comic Stan Boardman said: "He was a Liverpool man. He stayed in Liverpool, was born in Liverpool and died in Liverpool.
"And (he was) respected by everyone in Liverpool, not just as a comedian but as a man. He was a great fella."
Roy Chubby Brown said: "I've been all over the world in my 50 years and I don't know anyone who didn't admire Ken Dodd.
"Everybody loved Ken and when I used to say 'oh he talks to me on the phone and he's a friend' I was more popular than ever."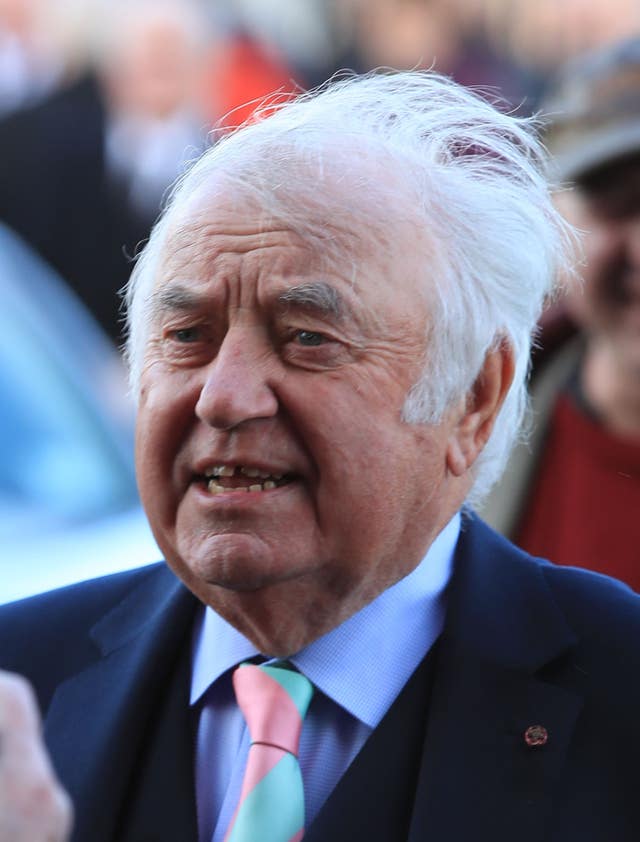 Jimmy Tarbuck, who is due to speak during the service, said: "He was the greatest stage comic I've ever seen. I mean, at the Palladium, he did three seasons there and it was glorious.
"He never got giggle laughter, never little titters, there were roars of laughter like you've never heard. I've never seen anybody get laughs like him."