Miss Piggy angling for royal wedding invitation as Muppets announce London shows
Miss Piggy has said she will be angling for an invitation to the royal wedding when The Muppets come to London for their first ever full-length live shows in Europe.
The beloved pig will be joined by Kermit The Frog, Fozzie Bear, Gonzo and Animal for The Muppets Take The O2 in July, inspired by their hit 1980s variety TV show The Muppet Show.
However, Miss Piggy has said she will be making the trip early in the hopes of landing a coveted spot in St George's Chapel, Windsor Castle in May.
She told the Press Association: "I am going to try to get invited and who knows?
"Maybe I will meet some handsome royalty there and we can have another royal wedding next summer."
Kermit added: "I am happy for both Harry and Meghan and they seem like a great couple and I wish them better luck in their relationship than I have had in mine, with this one."
The frog and the pig announced they had ended their relationship in 2015 but have continued to work together on The Muppets.
Miss Piggy said that she is sad she missed her own chance with Prince Harry, adding: "Unfortunately at that time I was still with this bozo," but said she would be happy to perform at the nuptials.
After Kermit suggested a duet, his former flame replied: "I don't think they want to hear a duet. They want a solo. You can back me up."
She confirmed the pair now travel in separate vehicles when they are on the road and asked what was the secret to staying friends with her ex, she said: "Here's the deal, OK, here's my tip to all you people out there, if you're considering dating an amphibian, that you work with, don't do it, OK?
"We are fine, we work together fine, I'm saying don't date them, OK? Things are much better now we are not dating."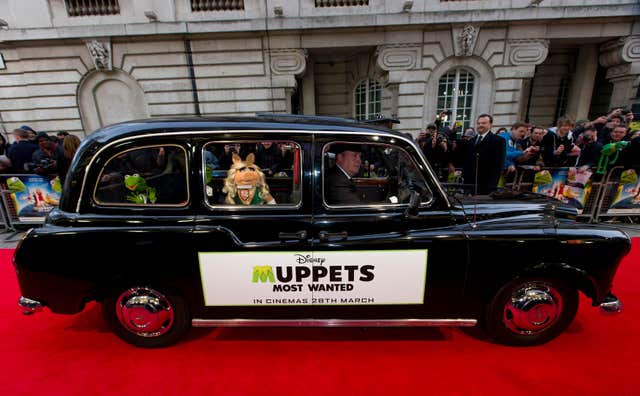 The Muppets Take The O2 will be the first time the group have performed their full-lengh live show outside of the USA, following a trio of shows at the Hollywood Bowl last year.
The show will involve special celebrity guests for musical performances, sketches and Miss Piggy in a musical extravaganza as well as a performance by The Muppets' house band Dr Teeth And The Electric Mayhem, with drummer Animal.
The Muppets Take The O2 will feature an evening performance on July 13 and a matinee and evening performance on July 14.
To celebrate the weekend The O2 will be rolling out Muppet movies, street food, live music and best costume competitions.
Tickets go on sale at 9am on February 28.