Sir Ridley Scott 'hasn't heard from Kevin Spacey'
Sir Ridley Scott has said he has not heard from Kevin Spacey since he replaced the actor in his latest film.
The acclaimed director, who on Sunday night was awarded the prestigious Bafta fellowship, had to reshoot scenes for All The Money In The World after allegations of sexual assault were made against House Of Cards star Spacey.
The drama, about the kidnapping of John Paul Getty III, saw Christopher Plummer replacing Spacey weeks ahead of the film's release.
Speaking during a Bafta: A Life In Pictures event to celebrate his career, which has spanned more than 40 years, he told host Francine Stock: "It took me 20 minutes (to 'swing into action'). Well, you know, I was a bit pissed, actually.
"If Kevin had said 'Dude, I'm sorry about this but that's the way it is', and I'd have said 'Fine, but I'm going to replace you'. Instead I haven't heard from him or anybody representing him since that point.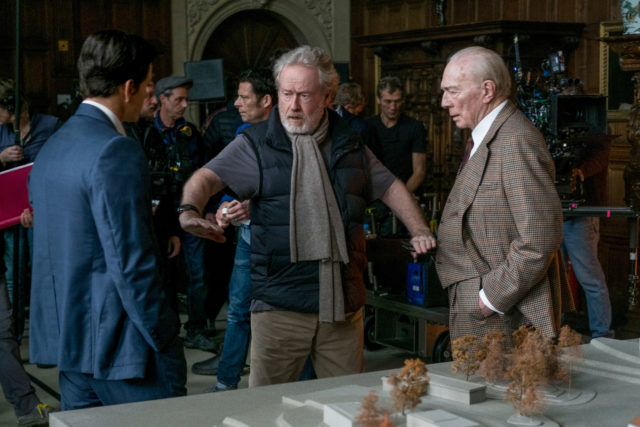 "So I gave him 20 minutes and then I said I can get another man if I fly to New York tonight and meet with him, I'm convinced I can get him.
"So, once I had him and we knew the dates and the locations were available, everyone was available, we were shooting in nine days. So the biggest thing, really the biggest challenge was for our guy to learn 22 scenes, which he did.
"And I absolutely was thrilled to work with him (Christopher Plummer). I've always admired him and never found a role that actually was right for him actually when he was available. But he's one of the greats".
Sir Ridley, 80, whose other renowned films include Alien, Gladiator, Blade Runner and Thelma & Louise, also hailed Tom Hardy as "one of the finest actors we've got".
He cast Hardy in 2001's war film Black Hawk Down, which was based on the book of the same name.
The pair have also recently worked on the BBC drama series Taboo, which Sir Ridley has executive produced and in which Hardy starred.
Asked by an audience member about Hardy, he said: "Tom, when I met Tom – I think Tom used to do a bit of rapping. And I met him because Black Hawk Down was (a) very distinct casting thing because all the guys — there's no big, specific role, so asking guys to do it like Orlando Bloom … Tom was brand new, Orlando Bloom was already, I think, rolling quite well in Lord Of The Rings and things like that.
"So Tom, I put him with Ewen Bremner because I thought Ewen would kind of look after him because those are the two Laurel and Hardy characters that got lost, literally they got left behind, and that's … So those two characters are actually part of the actual story, two people got left behind, so they had to make their way back to the main pack in that place, Mogadishu.
"And so they became a kind of amusing relief in that film, but I noticed Tom always made the right decisions, he had great intuition as an actor. So I fully expected him to surface and I watched him surface gradually very high in the BBC in particular.
"The show with him, I'm jointly producing a show Taboo with him because his dad came in with the idea, wrote a very good four-page piece on saying what it was and so Tom sweetly brought it to me and said 'Take a look', and we made the first series last year. I think we're doing the next one this year in September.
"So I'd work with him in a flash but he's never available. Part of the thing is finding time when I'm available and he's available. But definitely he's probably one of the finest actors we've got."