Tom Hanks: My singing voice was too bad for Mamma Mia!
Tom Hanks says he would have loved to star in the Mamma Mia! films – but he cannot sing.
The Hollywood star, 61, produced the hit musical-movie, which is returning for a sequel.
He tells The Graham Norton Show: "I was a producer of Mamma Mia! and I tried out for a role.
"I wanted to hire myself, but my singing voice would have scared the children".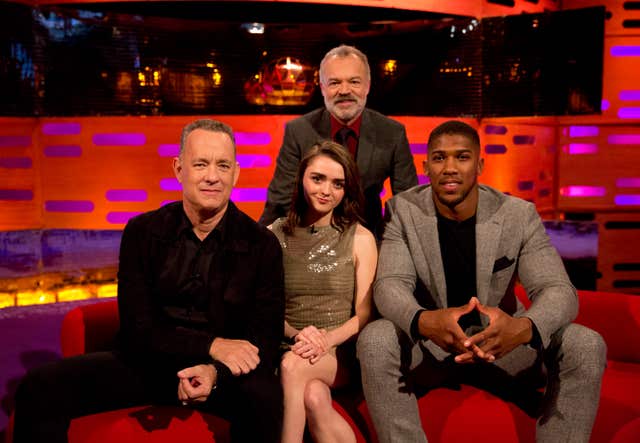 Hanks currently stars alongside Meryl Streep in The Post, which tells the story of the Washington Post's fight to report a damning classified study about the Vietnam War.
He says: "It really does capture the zeitgeist of the moment – it takes place in 1971 but it's written as though it's 2017.
"The issues are the same as now – people don't change, politics don't change and the quest for power is always there. Someone is always chasing the dragon of power."
He adds: "We reflected the historic record and it just happens to be ripped right out of today's headlines."
Talking about portraying living people, the double Oscar winner says: "I like to meet them. I seek them out and say to them, 'Look, I'm playing you for good or bad, deal with it.
"'As you, I'm going to say things you never said, I'll go places you never were, and I will do things you never did, but, that being the case, I'd like to be as authentic as possible!'"
Fellow guests include world heavyweight boxing champion Anthony Joshua and Game Of Thrones actress Maisie Williams.
Williams said of the final Game Of Thrones series, to air next year: "We're still making it. It is so much fun now there is only a small group of us left."
The Graham Norton Show airs today (Friday) at 10.35pm on BBC1.