Michael Morpurgo offers his knighthood to War Horse Joey
Michael Morpurgo has said he will "give" his knighthood to the equine character Joey from his acclaimed story War Horse.
The 74-year-old has been awarded the title for his services to literature and charity in this year's New Year Honours list.
The former Children's Laureate told the Press Association the honour was "about one book".
He said: "I think in a way the only reason this wonderful honour has been given, it is for charity, but it is because, probably if I'm honest with myself, it is about one book.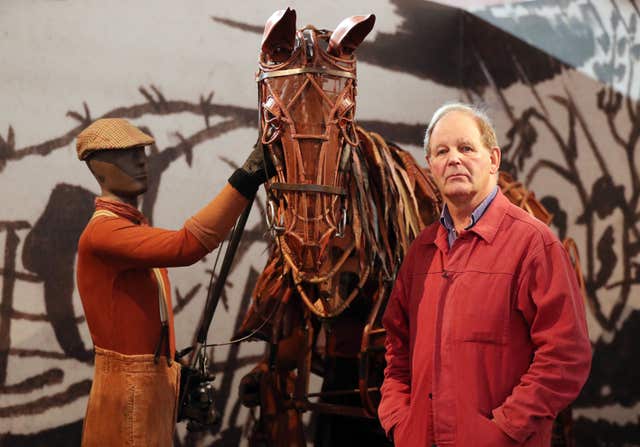 "And it's about one story and one play, the great good fortune of my writing life in terms of, I suppose, circumstance and bringing the kind of success you can't dream of in terms of rewards and awards – it's the play of War Horse."
He added: "There was never a knight that has owed so much to his horse as this one – and in fact, we will give the knighthood to Joey and call him Sir Joey."
Morpurgo's 1982 children's book of the same name was adapted into the now world-famous play, which premiered at the National Theatre in 2007.
The play, which uses true-to-size horse puppets, is set during the outbreak of the First World War and documents the extraordinary friendship between a young boy named Albert, and his horse Joey.
It has been a staple on London's West End for eight years, and has been seen by more than seven million people, having been shown in 11 countries, the official website says.
In 2011 it was adapted for the big screen as a film directed by Steven Spielberg.
Morpurgo, a former school teacher, was born in Hertfordshire and after completing his schooling at The King's School in Canterbury, attended the Royal Military Academy, Sandhurst.
The military path was not for him and he went on to King's College London.
He married Clare when he was 19. They have three children.
"The whole business of listening to stories and the magic of stories and I have to say the music in words, came from my mother," he said.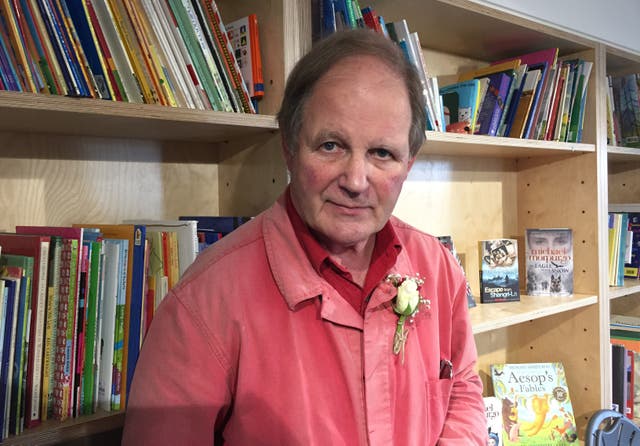 He and Clare – daughter of Sir Allen Lane who founded Penguin Books – also started the Farms for City Children charity together in 1976.
The charity gives children the chance to experience farm life first-hand and there are three working farms to date.
He said: "I've been lucky, I married very young and I happened to marry the right person who has encouraged me all the way through."
He also paid tribute to a secondary school teacher who sparked his interest in reading beyond his love of rugby and cricket.
"He reached up and got a book, I think it was Wordsworth, and he said to me 'Michael, you really do have to learn that there is something else that's interesting in this world besides a rugby ball. Go away and read this'," he said.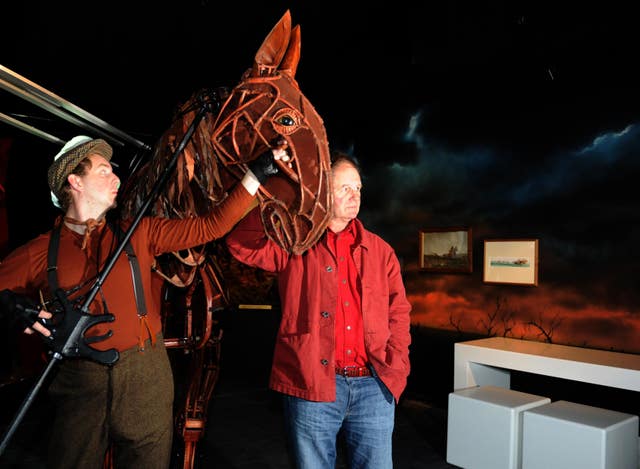 Talking about other pivotal influences, he listed author Robert Louis Stevenson as "my first inspiration" as well as the late poet Ted Hughes, who was a mentor and good friend.
Morpurgo fondly recalls Hughes' words to him when War Horse lost out on winning the prestigious Whitbread book prize (known today as the Costa Book Awards) in 1982.
He said: "He (Hughes) leaned across the table and said 'You know Michael, prizes aren't the most important thing in life. In fact, frankly, they're not important at all. It's what you do that's important and you've written a fine book and you'll write a finer one'."
Morpurgo has to date, according to his official website, written 130 books including Private Peaceful, Why The Whales Came, Farm Boy, The Butterfly Lion and Kensuke's Kingdom.
The V&A Museum of Childhood has also had a showcase of his manuscripts and notebooks on display since July.