Dame Julie Walters on Victoria Wood's death: I still find it difficult
Dame Julie Walters has said that she still speaks to a photograph of long-time friend Victoria Wood following her death 18 months ago.
The Harry Potter star was a long-time collaborator and close friend of comedian Wood, who died aged 62 in April last year after a battle with cancer.
Dame Julie told Radio Times magazine, referring to a picture of Wood in her house: "I always look at that picture when I go past.
"Sometimes, when there's nobody around, I look at it and say 'where are you?'
"I still find it difficult to take in."
The pair's professional collaborations made a huge contribution to British television and comedy through the 1980s and 1990s, and they worked together on many programmes, including sketch show Wood And Walters, soap opera parody Acorn Antiques and sitcom Dinnerladies.
Although Dame Julie, 67, had plenty of Hollywood offers during that time, she said she doesn't regret turning them down.
"Because I'm British, I guess, and I like British writing and British work, and I love it here," she said.
"I think the way you look is much more important in Hollywood than possibly it is here."
Dame Julie, whose film credits include Billy Elliot, Mamma Mia!, Calendar Girls and seven of the eight Harry Potter films, said that recent sexual harassment allegations have made her "very angry more than anything".
She said she only once worked with film producer Harvey Weinstein – who has been at the centre of dozens of allegations from women in the industry – and "didn't see it", but that the revelations were "shocking – but also not shocking, somehow".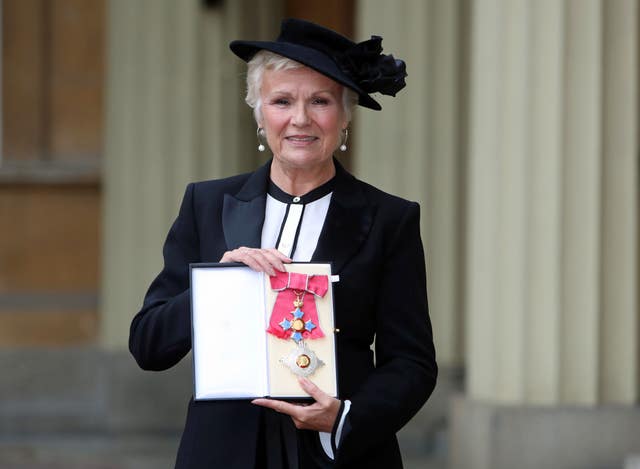 Dame Julie is currently working on Mamma Mia! Here We Go Again, a follow-up to the 2008 hit, with Lily James, Amanda Seyfried, Pierce Brosnan and Colin Firth.
Dame Julie was named Dame Commander of the British Empire by the Queen in a ceremony at Buckingham Palace earlier this month.
:: Radio Times is out now