Johnny Depp backs new biography of Guildford Four prisoner Gerry Conlon
A close friend of Gerry Conlon has spoken movingly of his late "brother" at the launch of a new biography of the Guildford Four prisoner, which features a foreword by Hollywood superstar Johnny Depp.
Richard O'Rawe, who grew up with Conlon in West Belfast in the 1960s, said his childhood companion had personally asked him to write his story just months before he died in 2014, aged 60.
Conlon, who was wrongly convicted of playing a part in the notorious 1974 Guildford pub bombings, became close friends with Depp after Conlon went on a trip to Los Angeles in the 1990s.
Speaking from the London Irish Centre in Camden, north London, on Friday, Mr O'Rawe said: "They were in LA and Gerry was trying to meet with agents to sell a book and one of the agents just happened to be Johnny Depp's.
"They clicked – they went for lunch and that's how it started.
"They became great friends and Johnny Depp even holidayed with Gerry in the south of Ireland in 1991."
In the foreword, Depp describes Conlon as his "long lost brother" and remembers him as "chivalrous, loyal and highly sensitive to any injustice, no matter how large or minute".
In The Name Of The Son: The Gerry Conlon Story, recalls the title of a 1993 film, In The Name Of The Father, for which Daniel Day Lewis received critical acclaim for his portrayal of Conlon and his journey to freedom.
Mr Conlon and the rest of the Guildford Four were given life sentences in 1975 for the attack the previous year which killed five people and injured 65, before their convictions were overturned in 1989.
Mr O'Rawe, who acted as the Provisional IRA press contact in Long Kesh prison, County Down, during the 1981 protest hunger strikes, welled-up with emotion as he recalled the devastating effects the wrongful incarceration wrought on his young "football mad" friend, whose father was also falsely imprisoned for the bombings.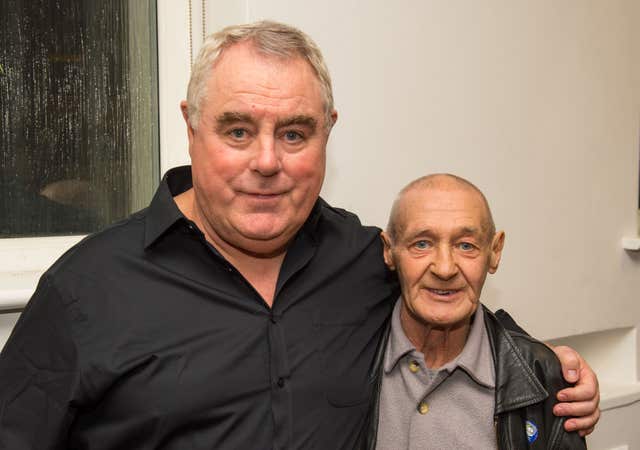 He said: "It's no secret that Gerry was very, very dramatically affected by it all.
"He came out after 15 years, his father (Giuseppe) died in prison and he was truly a totally innocent man.
"And he never ever moved on from the death of his father – he carried it to the grave with him."
Mr O'Rawe said despite many attempts to rouse him from unbearable grief, neither he nor Depp were able to convince him that he was not responsible for his father's death behind bars.