Check out the best celeb moments from the Met Gala last night
Outrageous fashion choices, bathroom selfies and backstage kissing made sure that Monday night's Met Gala was talk of the town in showbusiness this weekend.
As the glamorous New York event tops social media trends for another day, here are some of the best celebrity posts.
Shortly after Tweeting a photo of herself in her gorgeous black and crimson gown, Girls star Lena Dunham shared a shot of the moment she was caught gazing at singer Joe Jonas, wearing an almost matching outfit, on the red carpet. Unashamed, she wrote: "In my rightful place, lurking behind a Jonas #MetGala."
The writer and actress also shared a candid snap of her Girls co-star Andrew Rannells "testing" the healthy supply of sangria in the venue's lobby.
Actress Sarah Paulson also had an awkward moment on the red carpet when cameras snapped her awestruck stare at Madonna. The American Horror Story star could do little more than stand and point, her jaw almost hitting the ground, when she spotted the singer in her camouflage outfit. Apparently Madonna thought it was pretty funny too…
But the best photos of the night came not from the red carpet, but the bathroom, with Kylie Jenner leading the charge of star-studded selfies. Her bathroom mirror photo featured her sisters Kim Kardashian West and Kendall Jenner, as well as Oscar-winning actress Brie Larson and rappers Sean "Puff Daddy" Combs, Frank Ocean and ASAP Rocky.
Singer Rita Ora shared a similar bathroom photo via Snaphchat, while another picture featured Bella Hadid and Paris Jackson taking a break from their high heels as they sat and chatted on the floor.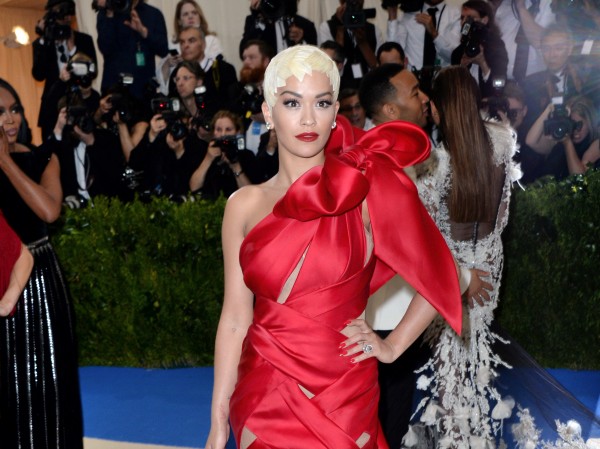 Young love was in the air as Selena Gomez and The Weeknd publicised their relationship with cuddles on the red carpet, but one insider photo saw them sharing a passionate kiss among the exhibits at the Metropolitan Museum of Art's Costume Institute.
Meanwhile, Chrissy Teigen's bedroom photo with husband John Legend gave a cosy image of romance as the pair reach four years of marriage. She posted a picture of the couple kicking back in bed before the big event on Instagram with the caption: "Readddddy. #metball."
Model Cara Delevingne dazzled on the red carpet, wearing a sparkling trouser suit complemented by a futuristic silver design painted on her recently shaved head. Later she posted an Instagram selfie showing her chipped nail polish, a lipstick print on her head and the mysterious caption: "About last night… "
We already can't wait to see what gems next year bring!